Author: Linda Ballou
Narrator: Scott Glennon
Length: 8 hours 56 minutes
Publisher: Winddancer Press
Released: Oct. 12, 2017
Genre: Fiction

Synopsis:
Gemcie and her Irish Hunter, Marshal, are about to capture the World Cup when a nasty fall dashes their chances. While she is mending, her arch rival seizes this opportunity to catch a ride on Marshal, and to seduce her young husband. Confused and dazed by her new circumstances, Gemcie heads for the high Sierras hoping the majestic spires that captured the heart of the father she never met will provide the answers she seeks.

She finds strength and solace riding solo on the John Muir Trail, but a bear attack ends her time of introspection and places her in the care of a solitary cowboy manning a fire lookout. Brady shows her love and gives her the courage to get back in the saddle. Haunted by images of Marshal being abused by his owners, Gemcie returns to rescue him and fly high with him once more.

Ballou's prose gallops ahead at breakneck speed as she takes you along on this wild ride.
Buy Links:

Author Bio:
Nothing pleases, Los Angeles based, adventure-travel writer, Linda Ballou, more than seeing gorgeous country from the back of a good horse. She has had the pleasure of staying at guest ranches in Montana, Wyoming, Colorado, Arizona and California, along with horse treks in Ireland and Ecuador. Her articles have appeared in Equus, Horse Illustrated, Western Horseman, California Riding Magazine and numerous travel publications. Her story Irish Mist recounting her cross-country jumping adventure in Ireland appeared in the anthology Why We Ride. Writing The Cowgirl Jumped Over Moon was her way of dealing with an injury that forced her to leave the jumping world behind.
Linda is also the author of Lost Angel Walkabout-One Traveler's Tales a travel memoir detailing her most meaningful adventures about the globe. Her proudest achievement is her historical novel Wai-nan-A Voice from Old Hawai'i inspired by the life of Ka'ahumanu who rose to become the most powerful woman in ancient Hawai'i. Learn more about Linda's work at www.LindaBallouAuthor.com
Note
The Cowgirl Jumped Over the Moon was a finalist in the Indie Excellence Awards and is receiving 5-Star reviews from horse lovers, as well as those who love an action-adventure story with a sizzling love triangle. The Cowgirl Jumped Over the Moon was the Founder's Choice at the 2017 Equus Film Fest in New York.
Schedule:
Jul. 13th:
Jul. 14th:
Jul. 15th:
Jul. 16th:
Jul. 17th:
Jul. 18th: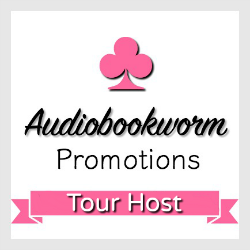 ➜Sign up as a host here
My name is Elena. Since I was a little child I loved science fiction and fantasy, and I can't resist a good novel. In 2015, while wait I started to listen to audiobooks and I discovered the pleasure in being able to read while doing my daily tasks, so there's always an audiobook playing on my phone. If you see me with my Bluetooth headphones on, please be gentle, I get easily startled.
I live with my boyfriend, which I met during my six-year stay in Belgium, four cockatiels, eight lovebirds, and a hamster in Madrid, Spain; and I like to spend my free time knitting and sewing while listening to audiobooks.