Air and Ash
by
Alex Lidell
Narrator:
Kaitlin Bellamy
Series:
Tides #1
Published by
Danger Bearing Press
on 09-08-17
Genres:
Fantasy
,
Young Adult
Length:
6 hrs and 57 mins
Format:
Audiobook
Source:
Audiobookworm
Goodreads
Overal Rating:

Author: Alex Lidell
Narrator: Kaitlin Bellamy
Length: 6 hours and 57 minutes
Publisher: Danger Bearing Press
Released: Sep. 8, 2017
Genre: YA Fantasy

Synopsis:
Master and Commander meets Sarah J Maas in a seafaring adventure of duty, love, magic, and a princess's quest to protect her kingdom on her own terms.

After a lifetime of training, 17-year-old Princess Nile Greysik, a lieutenant on the prestigious Ashing navy flagship, sails into battle with one vital mission – and fails.

Barred from the sea and facing a political marriage, Nile masquerades as a common sailor on the first ship she can find. With a cowardly captain, incompetent crew, and a cruel, too-handsome first officer intent on making her life a living hell, Nile must hide her identity while trying to turn the sorry frigate battle worthy. Worse, a terrifying and forbidden magic now tingles in Nile's blood. If anyone catches wind of who Nile is or what she can do, her life is over.

But when disaster threatens the ship, Nile may have no choice but to unleash the truth that will curse her future.

Air and Ash is the thrilling first installment of the TIDES series. Recommended for fans of Sarah J. Maas, Tamora Pierce, and David Weber.
Buy Links:


Author Bio:
Alex Lidell is the author of Amazon best sellers AIR AND ASH and WAR AND WIND (Danger Bearing Press, 2017) and an Amazon Breakout Novel Awards finalist author of THE CADET OF TILDOR (Penguin, 2013). She is an avid horseback rider, a (bad) hockey player, and an ice-cream addict. Born in Russia, Alex learned English in elementary school, where a thoughtful librarian placed a copy of Tamora Pierce's ALANNA in Alex's hands. In addition to becoming the first English book Alex read for fun, ALANNA started Alex's life long love for YA fantasy books.
Narrator Bio:
Kaitlin Bellamy is a freelance performer and acting coach residing in Central Florida, with a theatrical history spanning more than twenty-five years.

Since relocating to Orlando in 2012, she has worked at multiple theme parks and various theatrical venues, in a career style she calls "Buffet Performing:" or, the idea of keeping several jobs active at any given time, so she may pick and choose where to work, and life never gets boring. Her specialties include Shakespeare, Voice Acting, and Puppetry. But above all, she is passionate about the performing arts, and all they stand for.
Review:
Nile Greysik is princess of the Ashen Kingdom but also lieutenant aboard one of the best ships of the Ashen navy. After failing on an important mission, she is commanded to accept the marriage proposal from a prince from another kingdom and start a life far from her loved sea. In order to escape this life and also to help her brother, who suffers from a strange ailment, she secretly enrolls on a League ship.
I tread carefully with YA fantasy. I have high standards for both genres, but I was gladly surprised by this book. It hooked me from the start with its beautiful language and an amazing world building. The mentioned League is composed by six kingdoms, each one with distinctive cultural characteristics. There are rich nuances in the different people and countries mentioned in the book, which helped with the setting and background necessary to create an elaborate story.
What was absolutely amazing in this book were the characters. From the very beginning they feel like real people, with their backgrounds, words, and actions. I really connected to Nile, I could understand her motivations, and I really cared for her. The descriptions of people and places are so vivid that I could almost feel the salty air on my face while I was listening to this audiobook.
Nile is an independent and a feminist, both qualities popular on the Ashen Kingdom. I think this is why it was easy to connect to this character, and why I would absolutely recommend this book. We need more stories about strong women who are not afraid to live in a world of men and make it theirs. The time for useless princess is already gone.
The story kept me intrigued and interested from beginning to end, but about halfway I begun to expect something else to happen. This book is about the evolution of Nile and the Aurora's crew, and this became clear at the end of the story. The ending felt a bit anticlimactic since I expected 'more' than just this evolution. The tension between Nile and Dominick helped to weave this story, but there was too much romance and unsaid words towards the end for my liking.
Kaitlin Bellamy did a wonderful job with the narration of this book. Her voice and characters' interpretations trapped me in a way that I could not stop listening. This was a great book, but Bellamy's narration skills made it even better. She had different voices and accents for all the characters in this story, and she transmitted the characters emotions in a powerful way that gave me goosebumps. The only setback I can mention is that at times her swallowing was audible, probably due to her proximity to the mic. For the rest, the audio production was very good, and this was just a minor detail.
I am looking forward to the rest of the books of this series, and see the 'something more' I expected. I think the rest of the story will be an interesting one, with all the aspects already presented in the first book.
I received this audiobook as part of my participation in a blog tour with Audiobookworm Promotions. The tour is being sponsored by Alex Lidell. The gifting of this audiobook did not affect my opinion of it.
Shedule:
Oct. 18th:
The Audiobookworm
History from a Woman's Perspective
Oct. 19th:
Oct. 20th:
Oct. 21st:
Dab of Darkness Audiobook Reviews
Oct. 22nd:
Oct. 23rd:
Oct. 24th:
Pregnant, Barefoot, in the Kitchen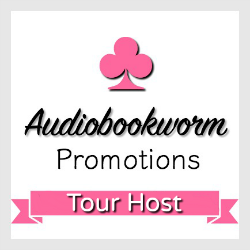 ➜Sign up as a host here
| | |
| --- | --- |
| Story (Plot) | |
| Narration | |
| Overall: | |
My name is Elena. Since I was a little child I loved science fiction and fantasy, and I can't resist a good novel. In 2015, while wait I started to listen to audiobooks and I discovered the pleasure in being able to read while doing my daily tasks, so there's always an audiobook playing on my phone. If you see me with my Bluetooth headphones on, please be gentle, I get easily startled.
I live with my boyfriend, which I met during my six-year stay in Belgium, four cockatiels, eight lovebirds, and a hamster in Madrid, Spain; and I like to spend my free time knitting and sewing while listening to audiobooks.