Author: Amy McNulty
Narrator: Kaitlin Descutner
Length: 5 hours 50 minutes
Publisher: Patchwork Press
Released: Jul. 18, 2017
Genre: Fantasy

Synopsis:
As her fingers move across the strings of her family's heirloom harp, 16-year-old Clarion can forget. She doesn't dwell on the recent passing of her beloved father or the fact that her mother has just sold everything they owned, including that very same instrument that gives Clarion life. She doesn't think about how her friends treat her like a feeble, brittle thing to be protected. She doesn't worry about how to tell the elegant Elena, her best friend and first love, that she doesn't want to be her sweetheart anymore. She becomes the melody and loses herself in the song.

When Mack, a lord's dashing young son, rides into town so his father and Elena's can arrange a marriage between the two youth, Clarion finds herself falling in love with a boy for the first time. Drawn to Clarion's music, Mack puts Clarion and Elena's relationship to the test, but he soon vanishes by climbing up a giant beanstalk that only Clarion has seen. When even the town witch won't help, Clarion is determined to rescue Mack herself and prove once and for all that she doesn't need protecting. But while she fancied herself a savior, she couldn't have imagined the enormous world of danger that awaits her in the kingdom of the clouds.

A prequel to the fairytale Jack and the Beanstalk that reveals the true story behind the magical singing harp.
Buy Links:


Author Bio:
Amy McNulty is a freelance writer and editor from Wisconsin with an honors degree in English. She was first published in a national scholarly journal (The Concord Review) while in high school and currently writes professionally about everything from business marketing to anime. In her down time, you can find her crafting stories with dastardly villains and antiheroes set in fantastical medieval settings.
Narrator Bio:
In 2010, I graduated from California University….of Pennsylvania (yes, you read that correctly) with a BA in Theatre and Dance. I have been a professional actress for 7 years in Columbus, OH working in both Musical Theatre shows and Dramatic plays ranging from Classic, Rock & Roll, Modern, British, American Southern, etc. I work as a Children's Theatre teacher as well as a Commercial Actress where I specialize in voice acting, photo, commercial and tutorial video work. I am interested in new projects and pursuing new opportunities.
I am a big, avid reader, and listen to audio books more than the radio in my car. My favorite genres are historical fiction, fiction, nonfiction and biographies/ memoirs. This is a new endeavor for me, and I am thrilled to explore different characters through storytelling. Reading is a big passion of mine. Bring on the books!
Audio Excerpt:

Giveaway:
Ballad of the Beanstalk Giveaway: $10 Amazon Gift Card

Schedule:
Sep. 27th:
Adventures Thru Wonderland
Lomeraniel
Sep. 28th:
Dab of Darkness Audiobook Reviews
Bookwormerz

Sep. 29th:
Jazzy Book Review
abookandalattee
Sep. 30th:
Hall Ways Blog
Notes from 'Round the Bend
Turning Another Page

Oct. 1st:
Up 'Til Dawn Book Blog

Oct. 2nd:
History from a Woman's Perspective
The Book Junkie Reads . . .

Oct. 3rd:
The Book Addict's Reviews
It's Novel to Me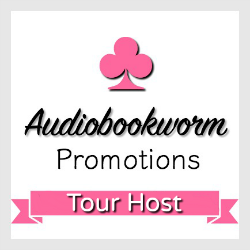 ➜Sign up as a host here
My name is Elena. Since I was a little child I loved science fiction and fantasy, and I can't resist a good novel. In 2015, while wait I started to listen to audiobooks and I discovered the pleasure in being able to read while doing my daily tasks, so there's always an audiobook playing on my phone. If you see me with my Bluetooth headphones on, please be gentle, I get easily startled.
I live with my boyfriend, which I met during my six-year stay in Belgium, four cockatiels, eight lovebirds, and a hamster in Madrid, Spain; and I like to spend my free time knitting and sewing while listening to audiobooks.