Author: C.A. Gray
Narrator: Melissa Williams
Series: The Liberty Box series, Book 2
Length: 7 hours 19 minutes
Publisher: Wanderlust Publishing
Genre: Young Adult, Science Fiction

Synopsis:
The refugee caves have been destroyed, and most of the refugees are dead. The Potentate now knows of their existence and will stop at nothing to wipe them out completely. He suspects that terrorist Jackson MacNamera is among them, as well as reporter Kate Brandeis's fiancé, hacker Will Anderson – and probably therefore Kate herself. Now that the Potentate is aware of security threats, most of the strategies the rebels used to get back onto the grid before now no longer work. The Potentate knows the rebels are on foot, and he knows they were at the caves not long ago. They can't get far.

The remaining rebels, among them Jackson and Kate, have Kate's fiancé Will to thank for their survival: he arrived back from the dead and in the nick of time, bearing classified information about the Potentate's plans to expand his influence internationally. But the remaining rebels and the Council cannot agree on whether their top priority should be spreading truth far and wide and freeing as many citizens from government control as possible, knowing that they will likely die in the process, or escaping to New Estonia, in hopes that they might live out the rest of their days in peace.

Kate, meanwhile, finds herself torn between Jackson and the fiancé she thought she lost, and between the damsel-in-distress she once was, and the rebel she believes she has always been underneath. Whether the other hunters will support her or no, she knows she must use her influence over the people of the Republic to tell them the truth, no matter the cost. But is she strong enough to withstand the government's lies?
Buy Links:

Author Bio:
By day, C.A. Gray is a Naturopathic Medical Doctor (NMD) with a primary care practice in Tucson, AZ, and she writes medical books under her real name (Dr. Lauren Deville). She lives with her husband, with whom she maintains a facetiously contentious movie review blog, and travels as often as they can get away. When not writing or seeing patients, she does yoga, drinks red wine while eating dark chocolate, and consumes audiobooks like there's no tomorrow!
Narrator Bio:
Melissa lives with her family, including two dogs and a cat, in the foothills of the Rocky Mountains near Denver, Colorado.

After having a corporate job for most of her life, and as a self-proclaimed introvert, she decided to leave corporate America to work from home. Voice overs had always tugged at her heart as something she would like to explore, so she attended some classes and landed with a company that taught her how to break in to the industry.

Loving to read, she explored the fast growing world of audiobooks and fell in love with it. She has ten audiobooks under her belt and is currently working on the 11th. Understanding that she should always be learning how to improve her skills, she is currently working with Sean Pratt.

When not talking to herself in a padded room, she can be found walking her dog, singing or fishing the Arkansas River.

Giveaway:
The Liberty Box Series Giveaway: $10 Amazon Gift Card

Schedule:
BOOK ONE
Jul. 8th:
Dab of Darkness Audiobook Reviews
Jul. 9th:
Jul. 10th:
Jul. 11th:
Jul. 12th:
Jul. 13th:
Jul. 14th:
BOOK TWO
Jul. 15th:
Dab of Darkness Audiobook Reviews
Jul. 16th:
Jul. 17th:
Jul. 18th:
Jul. 19th:
Jul. 20th:
Jul. 21st:
BOOK THREE
Jul. 22nd:
Dab of Darkness Audiobook Reviews
Jul. 23rd:
Jul. 24th:
Jul. 25th:
Jul. 26th:
Jul. 27th:
Jul. 28th: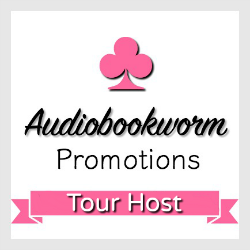 ➜Sign up as a host here
My name is Elena. Since I was a little child I loved science fiction and fantasy, and I can't resist a good novel. In 2015, while wait I started to listen to audiobooks and I discovered the pleasure in being able to read while doing my daily tasks, so there's always an audiobook playing on my phone. If you see me with my Bluetooth headphones on, please be gentle, I get easily startled.
I live with my boyfriend, which I met during my six-year stay in Belgium, four cockatiels, eight lovebirds, and a hamster in Madrid, Spain; and I like to spend my free time knitting and sewing while listening to audiobooks.