Author: Patricia Loofbourrow
Narrator: Machelle Williams
Length: 8 hours 4 minutes
Series: The Red Dog Conspiracy, Book 3
Publisher: Red Dog Press, LLC
Genre: Noir Mystery, Steampunk Crime Fiction

Synopsis:
Trapped. Betrayed. Desperate.

Could you betray your family to buy your freedom?

From NY Times and USA Today best-selling author Patricia Loofbourrow….

The one secret which could destroy everything….

After financial disaster and the zeppelin bombing, the far-future, domed, neo-Victorian city of Bridges is reeling. Three of the four Families are implicated, and an inquest is called to investigate.

After her failure to prove Jack Diamond's guilt in David Bryce's kidnapping and the murders of her informants, private eye and mobster's moll Jacqueline Spadros has had enough. While she and her former lover Joseph Kerr try to learn who killed their family friend, they also begin making plans to leave the city.

Her tormentors, however, are just getting started. As their web of lies and forgery draws ever tighter, Jacqui begins to see how deep the conspiracy against her and the Spadros Family really goes.

When she's called as a witness in the inquest, the secrets Jacqui has kept over the years come back to cause her serious trouble. Will she be able to escape Bridges? Or will she be forced to face the terrible consequences of her lies and trickery once and for all?
Buy Links:



Author Bio:
Patricia Loofbourrow, MD is a NY Times and USA Today best-selling science fiction writer, PC gamer, ornamental food gardener, fiber artist, and wildcrafter who loves power tools, dancing, genetics and anything to do with outer space. She was born in southern California and has lived in Chicago and Tokyo. She currently lives in Oklahoma with her husband and three grown children.
Narrator Bio:
As an audiobook narrator with 23 years of experience moving audiences with her voice through corporate facilitation and public speaking, Machelle knows how to connect with the intent of the author to bring their vision to life. Her compelling yet casual voice draws the listener close, transporting them deep into the story and keeping them hanging on every word with full attention and anticipation.

Machelle's voice is nuanced and delivers reads that range from soft and soothing to dramatic and smoky. She specializes in Mysteries & Thrillers, but her Bespoke repertoire also includes Non-Fiction, Religious, Urban and Noire.

Machelle is based in Northern Virginia with her two Boston Terriers, Daphne and Lilah, and her fully equipped studio from which she provides quick turn-around of professional quality recordings.

When you need a narrator to take your listener to the edge of their seat and their breath away – trust the telling to Machelle.
Giveaway:
The Red Dog Conspiracy Series Giveaway: Custom Flash Drive with Red Dog Conspiracy Series Books

Schedule:
Book 1
Apr. 10th:
Apr. 11th:
Dab of Darkness Audiobook Reviews
Apr. 12th:
Apr. 13th:
Apr. 14th:
Apr. 15th:
Apr. 16th:
Book 2
Apr. 17th:
Apr. 18th:
Apr. 19th:
Dab of Darkness Audiobook Reviews
Apr. 20th:
Apr. 21st:
Apr. 22nd:
Apr. 23rd:
Book 3
Apr. 24th:
Apr. 25th:
Apr. 26th:
Dab of Darkness Audiobook Reviews
Apr. 27th:
Apr. 28th:
Apr. 29th:
Apr. 30th: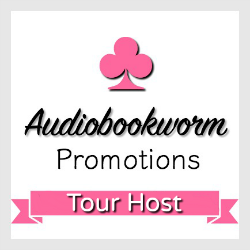 ➜Sign up as a host here
My name is Elena. Since I was a little child I loved science fiction and fantasy, and I can't resist a good novel. In 2015, while wait I started to listen to audiobooks and I discovered the pleasure in being able to read while doing my daily tasks, so there's always an audiobook playing on my phone. If you see me with my Bluetooth headphones on, please be gentle, I get easily startled.
I live with my boyfriend, which I met during my six-year stay in Belgium, four cockatiels, eight lovebirds, and a hamster in Madrid, Spain; and I like to spend my free time knitting and sewing while listening to audiobooks.