by
James Maxey
Narrator:
Jake Urry
Series:
Dragon Apocalypse #1
Published by
James Maxey
on 05-29-17
Genres:
Epic Fantasy
,
Fantasy
Length:
13 hrs and 20 mins
Format:
Audiobook
Source:
Audiobookworm
Overal Rating:

Author: James Maxey
Narrator: Jake Urry
Series: Dragon Apocalypse, Book One
Length: 13h 20m
Publisher: James Maxey
Released: May 29, 2017
Genre: Epic Fantasy

Synopsis:
Greatshadow is the primal dragon of fire, an elemental evil whose malign intelligence spies upon mankind through every candle flame, waiting to devour any careless victim he can claim.

The Church of the Book has assembled a team of twelve battle-hardened adventurers to slay the dragon once and for all. But tensions run high between the leaders of the team who view the mission as a holy duty and the super-powered mercenaries who add power to their ranks, who view the mission primarily as a chance to claim Greatshadow's vast treasure trove. If the warriors fail to slay the beast, will they doom mankind to death by fire?
Buy Links:


Author Bio:
James Maxey's mother warned him if he read too many comic books, they would warp his mind. She was right. Now an adult who can't stop daydreaming, James is unsuited for decent work and ekes out a pittance writing down demented fantasies about masked women, fiery dragons, and monkeys. Oh god, so many monkeys.
​In an effort to figure out how Superman could fly, James read a lot of science, books by Carl Sagan and Stephen Jay Gould and Stephen Hawking. Turns out, Superman probably wasn't based on any factual information. Who would have guessed? Realizing it was possible to write science fiction without being constrained by the actual rules of science proved liberating for James, and led to the psuedo-science fiction of the Bitterwood series, superhero novels like Nobody Gets the Girl, and the steam-punk visions of Bad Wizard.
​In 2015, James was honored as the Piedmont Laureate by the United Arts Councils representing Orange County, Durham County, and Wake County. This is almost certainly a sign of the ongoing cultural decay gripping the nation.
​James lives in Hillsborough, North Carolina with his lovely and patient wife Cheryl and too many cats.
Narrator Bio:
Jake Urry has been narrating and producing Audiobooks since February 2016, and in that time has released 17 titles, including The Cryptic Lines by Richard Storry, White is the Coldest Colour by John Nicholl, and the PI Harlan Ulrich series by Ambrose Ibsen. His narration work is often dark and suspenseful, and he is developing a reputation for Mysteries, Thrillers and Horrors. In 2017 Jake will be working on more work by John Nicholl and Richard Storry, along with a sprinkling of Fantasy adventures.
Audio Excerpt:

Review:
Greatshadow, who dwells in the Isle of Fire, is one of the called primal dragons. His power is the power of fire, which he can use to spy on men, control them, and even kill them. The Church of the Book has decided to send a mission to slay Greatshadow, and has enlisted twelve member on this quest, but their backgrounds are so diverse, that tensions grow amongst the group.
Even though I like fantasy, I am quite picky with this genre, and I found that many fantasy books do not fulfill my needs. When I came across this book though, I knew I was against something different, something special, and later I discovered that it was just not due to the story, but also because of how it was told. The book is told from the point of view of Stagger, a bounty hunter which is always seen in the company of Infidel, an indestructible and super strong woman, who doubles as Stagger's friend and bodyguard. The curious thing is that Stagger dies on the first chapter of the book, but he continues to be the narrator of the story in the form of a ghost.
There quite some characters (just the company is formed by twelve members). A tip for this is writing down the names and main characteristics so not to get lost. The characters are varied and interesting, and their relationships create a dynamic driving the story forward. The most developed characters are Stagger and Infidel, and we will discover new things about them along the story, like peeling layers upon layers.
There is adventure, action in this book, but also humor, love, and mystery. Listening the story from the point of view of a dead man was sometimes heartbreaking. A good sign of how well developed the characters are and how well the book is written.
The most amazing thing of this book is the world building. The events happen on the Isle of Fire. I am not sure what is beyond this Isle, since only the Silver City was mentioned, and it was not clear to me if it was on it. I especially liked the description of Common Ground, a village made out of docks and ships on a bay. This part totally made me think of 'The Secret of Monkey Island', and it left me wanting for more. I would also like to learn more about the Vanished Kingdom and how evolved their society was.
Again, with this kind of book I would appreciate having a map on hand. I ignore whether the printed and the ebook versions have one. It is a pity that audiobooks get ignored regarding this. Since audiobook distributors do not include a map, I think it would be a great idea for the authors to include this on their website.
The main story arc is complete, but the book ends on a kind of a cliffhanger and opens a door to new adventures. Nevertheless the end gave me a feeling of closure in a way that I was not annoyed by the cliffhanger. I was mystified by the Black Swan, and I suspect that we will hear a lot more from her in future books.
One of the reasons for the success of this book is Jake Urry's great narration. His deep voice and interpretation skills trapped me from the start in a way that I could not let go. I finished this 13-hour book in just two days, so this shows how this book got me hooked. Each character had a unique voice and style, which helped in bringing them to life. I was surprised at first at hearing a British narrator for an American book, but after some minutes through the story I realized that Urry had the perfect voice and skills for this book. No one else would have been the same. The audio production was spotless. I have to mention that in the first chapter, when Stagger is still alive, there are some sound effects not present in the rest of the book. I wonder if this was intentioned. They were okay but I am happy that Urry did not use them for the rest of the book since I found them a bit distracting. I think they add an extra dimension to the story, but since this is not often used in audiobooks, it mainly distracts me from the story. And adds more "interferences" to the background noise outside (sometimes I listen to audiobooks while walking on the street or taking the metro).
It was a very enjoyable listen, and I am looking forward to the sequels and other audiobooks narrated by Jake Urry.
I received this audiobook as part of my participation in a blog tour with Audiobookworm Promotions. The tour is being sponsored by Jake Urry. The gifting of this audiobook did not affect my opinion of it.
Giveaway:
Greatshadow Giveaway: $10 Amazon Gift Card

Schedule:
Aug. 20th:
Seitenwinde
Reading for the Stars and Moon
Aug. 21st:
Dab of Darkness
Aug. 22nd:
Shh I Am Reading
CGB Blog Tours
Aug. 23rd:
Notes From 'Round the Bend
Adventures Thru Wonderland
Aug. 24th:
terriluvsbooks
Jazzy Book Reviews
Aug. 25th:
The Book Addict's Reviews
Lomeraniel
The Page Unbound
Aug. 26th:
WTF Are You Reading?
My World in Words and Pages
Book Lover's Life
Elsie's Audiobook Digest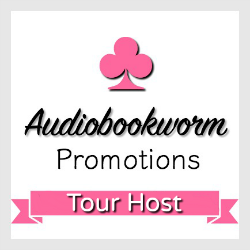 ➜Sign up as a host here
| | |
| --- | --- |
| Story (Plot) | |
| Narration | |
| Overall: | |
My name is Elena. Since I was a little child I loved science fiction and fantasy, and I can't resist a good novel. In 2015, while wait I started to listen to audiobooks and I discovered the pleasure in being able to read while doing my daily tasks, so there's always an audiobook playing on my phone. If you see me with my Bluetooth headphones on, please be gentle, I get easily startled.
I live with my boyfriend, which I met during my six-year stay in Belgium, four cockatiels, eight lovebirds, and a hamster in Madrid, Spain; and I like to spend my free time knitting and sewing while listening to audiobooks.