Aranya
by
Marc Secchia
Narrator:
Shiromi Arserio
Series:
Shapeshifter Dragons #1
Published by
Mac Secchia
Genres:
Epic Fantasy
,
Fantasy
,
Young Adult
Format:
Audiobook
Source:
Audiobookworm
Goodreads
Overal Rating:


Author: Marc Secchia
Narrator: Shiromi Arserio
Length: 14h 33m
Publisher: Marc Secchia
Released: April 05, 2015
Series: Shapeshifter Dragons, Book 1
Genre: Fantasy

Synopsis:
Chained to a rock and tossed off a cliff by her boyfriend, Aranya is executed for high treason against the Sylakian Empire. Falling a league into the deadly Cloudlands is not a fate she ever envisaged. But what if she did not die? What if she could spread her wings and fly?

Long ago, Dragons ruled the Island-World above the Cloudlands. But their Human slaves cast off the chains of Dragonish tyranny. Humans spread across the Islands in their flying Dragonships, colonising, building and warring. Now, the all-conquering Sylakians have defeated the last bastion of freedom–the Island-Kingdom of Immadia.

Evil has a new enemy. Aranya, Princess of Immadia. Dragon Shapeshifter.
Buy Links:



Author Bio:
Marc is a South African-born dragon masquerading as an author, who loves writing about dragons and Africa, preferably both at the same time. He lives and works in Ethiopia with his wife and 4 children, 2 dogs and a variable number of marabou storks that roost on the acacia trees out back. On a good night there are also hyenas patrolling the back fence.
He's the author of 21 fantasy books in 3 languages (2 more languages coming this year – watch this space!), including 8 rip-roaring dragon fantasy bestsellers. Dragonfriend won a Gold Award for Fantasy in the 2016 IPPY Book Awards. Look out for Whisper Alive, his latest release. The 4th tale in the Dragonfriend series, Dragonstar, is coming soon!
When he's not writing about Africa or dragons Marc can be found travelling to remote locations. He thinks there's nothing better than standing on a mountaintop wondering what lies over the next horizon.
Narrator Bio:
A native of London, England, Shiromi Arserio is a stage actor, voice talent and audiobook narrator. She holds a B.A. in Theatre from Rose Bruford College of Theatre and Performance. In addition to narrating dozens of audiobooks, her voice can be heard in documentaries, e-learning projects and video games such as Nancy Drew: The Shattered Medallion. Shiromi currently resides in the Seattle area with her husband and her two furbabies.
Audio Excerpt:

Review:
Decided to dominate all the World above the Cloudlands, the Sylakians finally conquered Immadia, one of the few islands still resisting to be invaded. The protocol is the same for all the conquered islands: their princess has to go to Sylakia and be imprisoned in a high tower. The deal is for the princesses to remain in the tower until the end of their days, and if one happens to die, they should get replaced by another sister. There Aranya, princess of Immadia, will meet Zip, a princess from another island, and although there is at the beginning a clear rivalry between them, they soon find out that they are much stronger when allied. By protecting Zip, Aranya is thrown off the top of the tower, but instead of dying on her fall, Aranya will discover a secret within herself.
I read some mixed reviews of this book due to being YA, and I was a bit afraid, since I can read YA but only if the story is really good and the main focus is not the young adults and their dramas. If I get a good story and/or well developed characters, then I do enjoy YA books. This is one of those rare YA novels that I really loved.
This is the coming of age story of Aranya and her friend Zip. The characters are well depicted, and even though the main characters are teenagers I did not completely feel that this book was aimed only at YA readers. Both friends engage in banters typical of their age, but the main subjects in this book are shapeshifters and how to help Immadia from the Sylakian attack. The dialogs are fresh and sound natural, and I had to laugh several times at their incidents during flight.
The story starts a bit slow, presenting the world, but soon gathers some speed and from a specific point there is plenty of action. Aranya had a lot on her plate, and she and Zip did not have a moment of respite.
There is an amazing world building at play here. Imagine a world where countries are little islands separated not by a sea but by never ending clouds, and the only means of transportation among the islands it by dragonship or by dragon. Marc Secchia left a lot of unanswered questions about the amazing world he created: what is under the clouds? where did dragons go? I guess the only way of knowing more about the World above the Cloudlands will be continuing the saga. And I am planning to do so. I do want to know more about this world.
The book is the first on a series, but the main story arc is closed. Nevertheless there are some questions towards the end of the book which will surely find answers in following books.
Like with other fantasy books, I missed a map. I ignore whether there is one in the printed version and ebook, but I think it would be a good idea. I am always bummed by the fact that this is never included in audiobooks.
It took me some time to get into the story, due to the narration. Shiromi Arserio's voice is calming and soothing, but I found it a bit monotone at times. I found it relaxing, but somehow I tended to zone out due to this. She did a good job with accents to differentiate characters, but during a couple of times I found them mixed up. She did not do very well with male voices though, and I struggled a lot at the beginning of the book to follow the dialogues between Aranya and her father. I think this was part of what it took me so much effort to get into the book. During the part with the two girls, she used more accents to differentiate, and this worked better. The audio production has a couple of minor issues, like variation in volume and numerous cell phone interference noises. These last ones are very low, but they are definitely there. At first I thought they came from my own cell phone, but I rewinded several times on several spots, and the noises are clearly on the recording. I find it strange that no one else seemed to notice this, since it is noticeable when listening with headphones.
I like epic fantasy, but I am quite picky with it, since many times the books I find do not completely fulfill my expectations or they seem a copy of other books. This is why sometimes I hesitate in listening to epic fantasy audiobooks. I am very happy though that I decided to listen to this one, since I think it a unique story with a unique world. Thank you, Marc, for creating such an amazing series!
I received this audiobook as part of my participation in a blog tour with Audiobookworm Promotions. The tour is being sponsored by Marc Secchia. The gifting of this audiobook did not affect my opinion of it.
Giveaway:
Aranya Giveaway: $50 Amazon Gift Card

Schedule:
Aug. 9th:
Candid Ceillie
Dab of Darkness
Aug. 10th:
terriluvsbooks
The Bookworm Lodge
Turning Another Page
Aug. 11th:
Notes From 'Round the Bend
Lilly's Book World
Aug. 12th:
The Book Addict's Reviews
Jazzy Book Reviews
Aug. 13th:
Working Mommy Journal
Up 'Til Dawn
Aug. 14th:
Lomeraniel
WTF Are You Reading?
The Page Unbound
Aug. 15th:
The Book Junkie Reads
Desert Rose Reviews
Life As Freya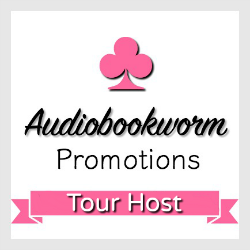 ➜Sign up as a host here
| | |
| --- | --- |
| Story (Plot) | |
| Narration | |
| Overall: | |
My name is Elena. Since I was a little child I loved science fiction and fantasy, and I can't resist a good novel. In 2015, while wait I started to listen to audiobooks and I discovered the pleasure in being able to read while doing my daily tasks, so there's always an audiobook playing on my phone. If you see me with my Bluetooth headphones on, please be gentle, I get easily startled.
I live with my boyfriend, which I met during my six-year stay in Belgium, four cockatiels, eight lovebirds, and a hamster in Madrid, Spain; and I like to spend my free time knitting and sewing while listening to audiobooks.