by
Kathryn Guare
Narrator:
Wayne Farrell
Series:
The Virtuosic Spy #1
Published by
Katrhyn Guare
Genres:
Suspense
,
Thriller
Format:
Audiobook
Source:
Audiobookworm
Overal Rating:

Author: Kathryn Guare
Narrator: Wayne Farrell
Length: 11h 19m
Publisher: Kathryn Guare
Series: The Virtuosic Spy, Book One
Genre: Suspense
Synopsis:
Meet Conor McBride. He's even more interesting than the trouble he gets into. A talented Irish musician reluctantly reinvents himself, disappearing into an undercover identity to search for the man who ruined his career: his own brother. On a journey from the west of Ireland to the tumultuous city of Mumbai, Conor McBride's only goal is to redeem the brother who betrayed him. But he's becoming a virtuoso of a different kind in a dangerous game where the rules keep changing–and where the allies he trusted to help him may be the people he should fear the most.
Buy Links:
Author Bio:
Kathryn Guare lives in the Vermont town where she grew up, part of the third generation of her family to call the tiny capital city of Montpelier home. She spent ten years as an executive with a global health membership and advocacy organization, worked as a tour coordinator in a travel agency, and has traveled extensively in Europe and India. She has a passion for Classical music, all things Celtic, and loves exploring ethnic foods and diverse cultures. Her first novel, Deceptive Cadence was awarded the Audiobook Gold Medal in the Readers Favorite Awards.
Narrator Bio:
Internationally acclaimed voice actor Wayne Farrell began his professional career at The National Theatre of Ireland, where he met the legendary Irish seanachai Eamon Kelly and became fascinated with the art of storytelling. Using skills learned during this time, Farrell has worked extensively in both documentary and audiobook narration and is widely admired for the rich clarity and versatility of his voice. His credits include award-winning authors such as Donal Ryan, whose debut novel The Spinning Heart won The Guardian's First Book Award as well as Irish Book of the Year; and New York Times and USA Today bestsellers such as Morgan Rice, author of the fantasy epic The Sorcerer's Ring.
Audio Excerpt:


Review:
I received this audiobook as part of my participation in a blog tour with Audiobookworm Promotions. The tour is being sponsored by Kathryn Guare. The gifting of this audiobook did not affect my opinion of it.
Connor McBride used to be a virtuous and successful Irish musician who now is relegated to take care of the family farm to pay the debts of his brother Thomas, a con artist, which stole grant money from other farmers and fled the country to filter it into the IRA. One day Connor receives the visit from Frank Emmons Murdoch, an agent within the British Secret Intelligence Service (MI6), asking Connor for help to uncover the operation in which Thomas got mixed up. In order to assist, Connor will have to become an undercover agent and travel to India, where he will make contact with Thomas and try to find the head of the organization and set a trap for them.
This was a book that got me hooked from the start. The beautiful language coupled with an almost melodic narration, and a very interesting story are the good ingredients of this novel.
The characters are pictured with great sensitivity, and one can feel the love and camaraderie among them. We do not get exhaustive information about the characters, but Gaure wove the story in a way that they became alive. None of them is perfect, and this contributes to feeling that we are dealing with real people.
We assist to Connor's drastic metamorphose. From farmer with a background in music to a very efficient undercover agent, with sharp reflexes and unique abilities which demonstrate an innate talent for the job. Something that Connor never imagined before.
There are great subjects treated in the book, being family bonds one of the most important, and how one can be deceived but not by the one who is suspected the most. There is also important character evolution to the point where I could feel the pain in Connor about how everything turned out.
This is a complex and quite convoluted story, and at times I was as lost as Connor was. I am not sure if this was due to some missing information or how it was exposed. Anyway, little by little pieces started falling into place, and I was left with the fuzzy feeling one has after falling in love with a story and its characters.
Wayne Farrell did an excellent job narrating this story and becoming Connor McBride. His musical Irish accent helped in setting at special atmosphere, and made me feel that I was watching a movie. Thanks to Guare's descriptions and Farrell narrations, I was able to see the landscapes and feel the characters' emotions from what was said and what was not. Farrell used different accents, more than a different range of voices, for the characters (there are Irish, American, Indian and Russian). The differences were very subtle and I did not feel that the accents were overdone. I noticed a couple of words with British pronunciation said by the American character, which I found odd. Something that I struggled with was differentiating between Connor and Thomas. Both brothers sounded the same to me, and as they interact a lot during the second half of the book, this complicated things a bit. Fortunately the book was very well written and the narration in general was very good, so my attention did not wander and I guessed quite fast who was talking from the two. The audio production was very professional.
Despite these little details I loved the story, and loved the characters. I felt for them and miss them now that I have finished the book. I will definitely continue with these series so I hope Guare and Farrell will not have us waiting for too long.
Giveaway:
Deceptive Cadence Audio Tour Giveaway

Schedule:
Jul. 12th:
CGB Blog Tours
Spunky 'N Sassy
Brian's Book Blog
Jul. 13th:
Dab of Darkness
Ali the Dragon Slayer
Jul. 14th:
Book Reviews By Jasmine
Lilly's Book World
Jul. 15th:
Between the Coverz
Jul. 16th:
Buried Under Books
Lynn's Romance Enthusiasm
Jul. 17th:
The Bookworm Lodge
Lomeraniel
Bound 4 Escape
Jul. 18th:
The Book Addict's Reviews
Shh I Am Reading
What Is That Book About?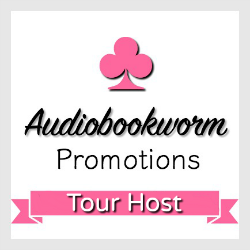 ➜Sign up as a host here
| | |
| --- | --- |
| Story (Plot) | |
| Narration | |
| Overall: | |
My name is Elena. Since I was a little child I loved science fiction and fantasy, and I can't resist a good novel. In 2015, while wait I started to listen to audiobooks and I discovered the pleasure in being able to read while doing my daily tasks, so there's always an audiobook playing on my phone. If you see me with my Bluetooth headphones on, please be gentle, I get easily startled.
I live with my boyfriend, which I met during my six-year stay in Belgium, four cockatiels, eight lovebirds, and a hamster in Madrid, Spain; and I like to spend my free time knitting and sewing while listening to audiobooks.