Author: Jason Dias
Narrator: Jennifer Jill Araya
Length: 7 hours and 54 minutes
Publisher: Jason Dias
Released: Feb. 11, 2019
Genre: Science Fiction; Post-Apocalyptic

Synopsis:
When the last man on Earth reveals he has a nuclear weapon pointed at the tiny Martian colony, the colonists can only survive by working together. Jaye, a Trueborn Child of Mars, isn't like her father, Merlin. Like all the Trueborn, she is cursed with perfect memory and deep sensitivity. But not even the knowledge that Merlin killed her mother can change the fact: They need each other for more than survival.
Buy Links:

Author Bio:
Jason Dias is a neurodivergent existential psychologist and author. He lives, loves and works in Colorado Springs, Colorado and keeps largely to himself.
Narrator Bio:
Jennifer Jill Araya has been listening to audiobooks since she was a young child, and the fact that she now gets to narrate audiobooks for a living is a dream come true. Jennifer's training as an opera singer and orchestral cellist lend a musicality and depth of understanding to her narration that help bring her authors' stories to life. She loves nothing more than giving life and breath to the printed word.
When she's not narrating, Jennifer can be found hiking, biking, running, or generally exploring her home city of Cincinnati with her husband Arturo (aka "Partner in Crime") and their two children.
Author Interview:
Q&A with Jason Dias, Author of Finding Life On Mars
Tell us about the process of turning your book into an audiobook.

The technical side was easy. I put it up for audition and waited. Jill made an offer, I accepted, and the rest is history.




The emotional side was a bit more tumultuous. This story is very personal to me. I cried the whole time I wrote it, the whole time I edited it, and every moment I listen to it. Farming out the work of narration to a stranger was a stretch for me. But I'm glad that I did.




It was scary getting the first samples back. What if it's bad? But it wasn't bad – it was great. Then again, getting the completed novel back. I worried, but the worries were groundless. Jill is not only totally professional, but also extremely talented.




So, now I have one more way to cry over this story: I can listen to Jill's audio version.

Was a possible audiobook recording something you were conscious of while writing?

It hadn't occurred to me. I knew vaguely that audiobooks existed. My family listen to them, usually while driving. If I had written with audio in mind, I might have included more dialogue tags. But Jill's narration and characterizations are good enough you won't notice.

How closely did you work with your narrator before and during the recording process? Did you give them any pronunciation tips or special insight into the characters?

Jill makes a list of weird names at the start of the process so she can get the pronunciations exactly right. This work contains a fair number of scientific words and usages, and she did a remarkable job with it.

Were there any real life inspirations behind your writing?

I'm autistic, and an existential psychologist. Sometimes I have emotions or just notions that I can't tell you about simply. A sentence or two don't cut it. That feeling you're left with at the end of the novel… I worked two years and wrote 150,000 words to communicate that feeling to you.

I wanted, too, for people to grasp some of the experience of being autistic. Autism covers a lot of ground; we're people, and each of our experiences is correspondingly different. I'm in the broad camp that feels things more deeply than average – the empathetic camp.




Then, there's the existential philosophy. Unlike feelings, the philosophy is easily stated: Live while you're alive. But the statement, easily made and simply accepted, doesn't convey any of the importance of the underlying truth. I hope this story does that work.

How do you manage to avoid burn-out? What do you do to maintain your enthusiasm for writing?

A psychotherapy client a long time ago gave me some simple advice: Write when it's time to write. It works for me. When I don't want to, I don't force it. When I want to, the words come naturally.

Is there a particular part of this story that you feel is more resonating in the audiobook performance than in the book format?

There is this little scene where Merlin talks to a vacuum tube. He's breaking it down for parts, repeating to it elements of an argument Jaye had made to him about the extinction of humanity. I'd meant it to be mostly about Merlin, his character. Ruminating, holding back his grief and indignation from his daughter, expressing it later harmlessly. Jaye overhears him and, in the novel just reports it to the reader.




But in the audiobook, she's really astounded by Merlin's performance, almost outraged by the weirdness of a grown man talking to a piece of trash.




Jennifer Araya clearly identified that the novel isn't about Merlin; it's about Jaye. And this scene plays much differently – and better – from that perspective.

If you had the power to time travel, would you use it? If yes, when and where would you go?

I DO have the power to time travel. Every day, I slip 24 hours into the future. For better or worse, it's a one-way ticket.

If this title were being made into a TV series or movie, who would you cast to play the primary roles?

I think Gary Sinise could pull off the Merlin character. He could manage the switch between technical language and emphatic, emotional discourse. We find out later in the story that on Earth, Merlin was a very dangerous man – Sinise could also bring that sense of latent menace.




The world is crawling with up and coming actors in the 21 age range. I'm tagging Rowan Blanchard, though, as having the right look. I could see her taking on the muddy, faraway gaze.




And I could see Jada Pinkett as Selene, dreaming of her wall of paints, crying over the memory of a bear in the city. It would be easy to take Selene over the top and I think Pinkett would bring a sensitivity to the role that would keep her grounded and believable.

How did you celebrate after finishing this novel?

Writing is mostly thinking. By the time I was wrapping up the final words, I'd thought them through weeks before. What tends to happen to me at the end of a novel is the next novel intrudes; all I can think of is this crazy new world that wants to be built.




In all honesty, I celebrated finishing Finding Life on Mars by opening a new document and typing out the title, "The Worst of Us."

In your opinion, what are the pros and cons of writing a stand-alone novel vs. writing a series?

A series doesn't have to do much world-building. The world is built, we know the main characters, and we can focus on the drama.




I think that could be upside or downside, depending what you like to do with your time. I for one love worldbuilding. I like to read it and I like to write it. My favorite struggle is to inform the reader about the universe they now inhabit without devolving into a ton of explication.




Really masterful writers can manage this. I succeed at varying levels depending on the day and the world in question.

What bits of advice would you give to aspiring authors?

Write.




Do it your way. Do what you want.




There are over ten million books listed on Amazon.com. Nobody needs another story just like all the other stories, but folks are going to tell you to conform in a thousand little ways. You don't need to fit in; you need to stand out. So write what you want to, how you want to.

What's next for you?

I'm wrapping up a zombie novel. The central premise, the world-building premise, is that there are no good scientific explanations for zombies. Suspending disbelief, for me, requires accepting a supernatural premise. So I went with that.




But in my work, there's always manifest and latent content. That is, what it's about on the surface, and what it's really about.




The main character is a black trans woman who has the power to awaken a small number of zombies back to life. Doing so is a difficult moral choice, because awake, they must face up to what they did as monsters, and also an indefinite future in a world of similar monsters. This character also sits with the way others have treated her – zombies aren't the first monsters she's ever encountered.




That project might be a year out. It's the longest single-point-of-view narrative I ever constructed, and it's going to take a lot of editing passes to drive up the tensions early in the story. But I hope the end result is worthwhile.
Giveaway:
Prize: $50 Amazon Gift Card
Finding Life On Mars Giveaway: $100 Amazon Gift Card

Schedule:
Mar. 31st:
Apr. 1st:
Apr. 2nd:
Apr. 3rd:
Apr. 4th:
Apr. 5th:
Lomeraniel
Apr. 6th: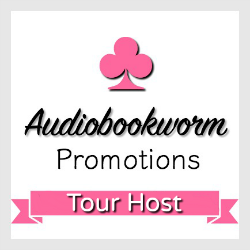 ➜Sign up as a host here
My name is Elena. Since I was a little child I loved science fiction and fantasy, and I can't resist a good novel. In 2015, while wait I started to listen to audiobooks and I discovered the pleasure in being able to read while doing my daily tasks, so there's always an audiobook playing on my phone. If you see me with my Bluetooth headphones on, please be gentle, I get easily startled.
I live with my boyfriend, which I met during my six-year stay in Belgium, four cockatiels, eight lovebirds, and a hamster in Madrid, Spain; and I like to spend my free time knitting and sewing while listening to audiobooks.