Dark Harvest (A Holt Foundation Story Book 2)
by
Chris Patchell
,
Lisa Stathoplos
Narrator:
Corey Gagne
Series:
A Holt Foundation Story #2
Published by
Audible Studios
on 09-27-17
Genres:
Thriller
Length:
11 hrs and 7 mins
Format:
Audiobook
Source:
Audiobookworm
Buy on Amazon/Audible
Goodreads
Overal Rating:
Becky Kincaid ventures out in the middle of a snowstorm to buy a car seat for her unborn baby and never makes it home. When a second pregnant woman disappears, Marissa Rooney and the team at the Holt Foundation fear a sinister motive lurks behind the crimes.

Lead investigator Seth Crawford desperately searches for the thread that binds the two cases together, knowing that if he fails, another woman will soon be gone. While Seth hunts for clues, a madman has Marissa in his sights and she carries a secret that could tear her whole world apart.

Can Seth stop the killer before he reaps his...dark harvest?
Marissa is facing new challenges at the Holt Foundation after Elizabeth's death. And not only this: Brooke is having a break down after what happened to her in book 1, her relationship with Seth is becoming complicated, and they have a new case in which a pregnant woman has disappeared. Time presses because the delivery time is just two weeks ahead.
I really enjoyed the first book in the series, so I was looking to this one. The style is very similar to the previous book: lots of action, interesting characters, a great plot with good subplots. It has all the ingredients to make of this an amazing book.
I enjoyed how Marissa and Seth's relationship evolved, and how that subplot was woven with the main story. I didn't like the fact that they got involved in the previous book, but I understand that this makes it more interesting for this one and future books.
Overall I really enjoyed this book, but somehow I found it a bit more predicable than the first one, without any real twist, and this is why I give it only 4 stars. Nevertheless, the way Patchell's style traps you makes this worth listening.
About the narration, I have similar feelings to the ones about the first book. Lisa Stathoplos delivered a top notch narration, with an ample voice range and excellent character's interpretations. Corey Gagne was also very good, regarding voices and interpretations, but there were several noticeable audio edits, not enough to be distracting, but sadly unworthy of a 5 star review.
I received this audiobook as part of my participation in a blog tour with Audiobookworm Promotions. The tour is being sponsored by Chris Patchell. The gifting of this audiobook did not affect my opinion of it.
Author Bio:
Chris Patchell is the bestselling author of In the Dark, Dark Harvest, and the Indie Reader Discovery Award winning novel Deadly Lies. Having recently left her long-time career in tech to pursue her passion for writing full-time, Chris pens gritty suspense novels set in the Pacific Northwest, where she lives with her family and two neurotic dogs.
Narrator Bio:
Lisa Stathoplos has been a professional actor working onstage, in film and commercial VO work for many years as well as narrating books and performing in Audiodramas for Audible.com and Hachette Audio. Most recently, Lisa played Nina Locke in Joe Hill and Gabriel Rodriguez' epic multiple Audie award-winning 13-hour audio drama of their wildly popular graphic novel LOCKE AND KEY produced by Pocket Universe Productions' AudioComics division and Finalrune Productions for Audible Studios.

Narrator Bio:
Corey Gagne is an audiobook narrator, stage, and voice actor from Portland, Maine. Corey trained at Mountview Theater Conservatory (now Mountview Academy) in London, England, and has appeared on stage in London, New York, Philadelphia, Austin, and Portland. His work as an audiobook narrator includes Inci by Mike Resnick and Tina Gower, The Constable's Tale by Donald Smith, the Sin du Jour series by Matt Wallace, The Goblin Crown by Robert Hewitt Wolfe, The Twilight of the Gods Series by Christopher G. Nuttall, The Black Wolves of Boston by Wen Spencer, The Builders by Daniel Polanski, and Dark Harvest and In the Dark by Chris Patchell.
Giveaway:
The Holt Foundation Stories Giveaway: Amazon Echo Dot

Schedule:
In the Dark
, Book 1
Feb. 11th:
Feb. 12th:
Feb. 13th:
Dab of Darkness Audiobook Reviews
Feb. 14th:
Feb. 15th:
Feb. 16th:
Feb. 17th:
Dark Harvest
, Book 2
Feb. 18th:
Feb. 19th:
Feb. 20th:
Dab of Darkness Audiobook Reviews
Feb. 22nd:
Feb. 23rd:
Feb. 24th:
Feb. 25th: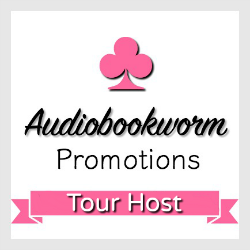 ➜Sign up as a host here
| | |
| --- | --- |
| Story (Plot) | |
| Narration | |
| Overall: | |
My name is Elena. Since I was a little child I loved science fiction and fantasy, and I can't resist a good novel. In 2015, while wait I started to listen to audiobooks and I discovered the pleasure in being able to read while doing my daily tasks, so there's always an audiobook playing on my phone. If you see me with my Bluetooth headphones on, please be gentle, I get easily startled.
I live with my boyfriend, which I met during my six-year stay in Belgium, four cockatiels, eight lovebirds, and a hamster in Madrid, Spain; and I like to spend my free time knitting and sewing while listening to audiobooks.