Hell to Pay (Detective Kay Hunter #4)
by
Rachel Amphlett
Narrator:
Alison Campbell
Series:
Detective Kay Hunter #4
Published by
Saxon Publishing
on 02-01-18
Genres:
Thriller
Length:
7 hrs and 14 mins
Format:
Audiobook
Source:
Audiobookworm
Buy on Amazon/Audible
Goodreads
Overal Rating:
When a road traffic accident on a dark autumn night uncovers a disturbing conspiracy, Detective Sergeant Kay Hunter's investigation exposes a ruthless serial killer exploiting vulnerable young women.

With her enemies unmasked and her career spiralling out of control, Kay's determination to seek vengeance for the victims brings her dangerously close to those who want to silence her.

Undeterred, she uncovers the real reason behind a plot to destroy her career and sets in motion a terrifying chain of events.

Could Kay's need for revenge be her undoing, or will she survive to see justice served?

Hell to Pay is a gripping fast paced crime thriller, and the fourth in the Detective Kay Hunter series:

1. SCARED TO DEATH2. WILL TO LIVE3. ONE TO WATCH4. HELL TO PAY 5. CALL TO ARMS (2018)

A page-turning whodunit for fans of Peter Robinson, David Baldacci and James Patterson.
A woman's body is found in the trunk of a crashed car, and while checking for her identity, Kay Hunter discovers a gruesome conspiracy that might put even herself in danger.
I absolutely love this series, and I was looking forward to this fourth book, especially after all the ramifications that we got in the previous book. We face again a fast paced book with lots of action, twists, and interesting characters. Because at the precinct nothing is what it seems, and political issues sometimes come first.
This book almost feels like the last one of the series, since the main series arc seems to be completed. We meet in this book Kay's nemesis, Demiri, making the story reach high levels of tension and interest. There is though a fifth book that I will be listening to as soon as I can because I just need to know what happens next.
I also want to mention that apart from weaving a gripping and intricate story, and building fully-fleshed characters, Rachel Amphlett's writing style is very addictive. Every action is detailedly described, making you feel like you are watching a movie scene. I think this is what hooked me to the series, everything is crystal clear, and you can see the characters acting and nothing is amiss.
I am convinced that Alison Campbell was the perfect narrator for this series. She didn't only become Kay, but her pace and style perfectly matched the atmosphere Amphlett wanted to recreate.
I received this audiobook as part of my participation in a blog tour with Audiobookworm Promotions. The tour is being sponsored by Rachel Amphlett. The gifting of this audiobook did not affect my opinion of it.
Author Bio:
Before turning to writing, Rachel Amphlett played guitar in bands, worked as a TV and film extra, dabbled in radio as a presenter and freelance producer for the BBC, and worked in publishing as a sub-editor and editorial assistant.

She now wields a pen instead of a plectrum and writes crime fiction and spy novels, including the Dan Taylor espionage novels and the Detective Kay Hunter series.

Originally from the UK and currently based in Brisbane, Australia, Rachel cites her writing influences as Michael Connelly, Lee Child, and Robert Ludlum. She's also a huge fan of Peter James, Val McDermid, Robert Crais, Stuart MacBride, and many more.

She's a member of International Thriller Writers and the Crime Writers Association, with the Italian foreign rights for her debut novel, White Gold sold to Fanucci Editore's TIMECrime imprint, and the first four books in the Dan Taylor espionage series contracted to Germany's Luzifer Verlag.
Giveaway:
The Detective Kay Hunter Series Giveaway: Signed Paperback & Bookmark Set

Schedule:
Book 1
Mar. 29th:
Dab of Darkness Audiobook Reviews
Mar. 30th:
Mar. 31st:
Apr. 1st:
Apr. 2nd:
Apr. 3rd:
Apr. 4th:
Book 2
Apr. 5th:
Dab of Darkness Audiobook Reviews
Apr. 6th:
Apr. 7th:
Apr. 8th:
Apr. 9th:
Apr. 10th:
Apr. 11th:
Book 3
Apr. 12th:
Dab of Darkness Audiobook Reviews
Apr. 13th:
Apr. 14th:
Apr. 15th:
Apr. 16th:
Apr. 17th:
Apr. 18th:
Book 4
Apr. 19th:
Dab of Darkness Audiobook Reviews
Apr. 20th:
Apr. 21st:
Apr. 22nd:
Apr. 23rd:
Apr. 24th:
Apr. 25th: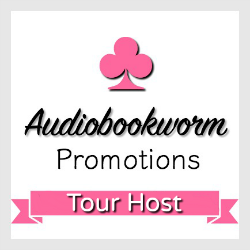 ➜Sign up as a host here
| | |
| --- | --- |
| Story (Plot) | |
| Narration | |
| Overall: | |
My name is Elena. Since I was a little child I loved science fiction and fantasy, and I can't resist a good novel. In 2015, while wait I started to listen to audiobooks and I discovered the pleasure in being able to read while doing my daily tasks, so there's always an audiobook playing on my phone. If you see me with my Bluetooth headphones on, please be gentle, I get easily startled.
I live with my boyfriend, which I met during my six-year stay in Belgium, four cockatiels, eight lovebirds, and a hamster in Madrid, Spain; and I like to spend my free time knitting and sewing while listening to audiobooks.