Scared to Death (Detective Kay Hunter #1)
by
Rachel Amphlett
Narrator:
Alison Campbell
Series:
Detective Kay Hunter #1
Published by
Saxon Publishing
on 10-02-17
Genres:
Thriller
Length:
8 hrs and 27 mins
Format:
Audiobook
Source:
Audiobookworm
Buy on Amazon/Audible
Goodreads
Overal Rating:
A serial killer murdering for kicks.

A detective seeking revenge.

When the body of a snatched schoolgirl is found in an abandoned biosciences building, the case is first treated as a kidnapping gone wrong.

But Detective Kay Hunter isn't convinced, especially when a man is found dead with the ransom money still in his possession.

When a second schoolgirl is taken, Kay's worst fears are realised.

With her career in jeopardy and desperate to conceal a disturbing secret, Kay's hunt for the killer becomes a race against time before he claims another life.

For the killer, the game has only just begun…

Scared to Death is a gripping fast paced crime thriller from author Rachel Amphlett, in a new series introducing Kay Hunter – a detective with a hidden past and an uncertain future…
A schoolgirl is kidnapped and found dead in terrible circumstances. Detective Kay Hunter is assigned to the case, but finding the culprit seems to be very difficult since the motives are not clear. Why was the girl kidnapped and killed, since the ransom was just a small amount of money and it was not even claimed?
Thrillers are not my main favorite genre, but I enjoy them from time to time to take a rest from other books. This was a really good thriller, with realistic characters, a good plot with several twists and turns, and the right amount of tension to have me glued to my headphones. The audiobook is almost eight hours and a half, but I listened to it in less than a weekend (I managed to complete a lot of chores). There is a lot of action, but not only that. The main character is well developed and has a back story that I expect to be of importance in the next books. Her marriage differs somewhat from other couples seen in thrillers, which I found refreshing.
We know who the killer is from quite early in the story, but we know we are still missing a lot of information, and there are several twists that made me want to know more. The killer profile is not completely original, but that makes it believable and interesting in equal parts.
I loved Alison Campbell's narration. She delivered great character's interpretations and and gave different voices and styles to all the characters. This was done in a very subtle way avoiding interfering with the story. It was the perfect match for this book.
I'm looking forward to the rest of the series, and to know more about Kay's past and how she came to be where she is now.
I received this audiobook as part of my participation in a blog tour with Audiobookworm Promotions. The tour is being sponsored by Rachel Amphlett. The gifting of this audiobook did not affect my opinion of it.
Author Bio:
Before turning to writing, Rachel Amphlett played guitar in bands, worked as a TV and film extra, dabbled in radio as a presenter and freelance producer for the BBC, and worked in publishing as a sub-editor and editorial assistant.

She now wields a pen instead of a plectrum and writes crime fiction and spy novels, including the Dan Taylor espionage novels and the Detective Kay Hunter series.

Originally from the UK and currently based in Brisbane, Australia, Rachel cites her writing influences as Michael Connelly, Lee Child, and Robert Ludlum. She's also a huge fan of Peter James, Val McDermid, Robert Crais, Stuart MacBride, and many more.

She's a member of International Thriller Writers and the Crime Writers Association, with the Italian foreign rights for her debut novel, White Gold sold to Fanucci Editore's TIMECrime imprint, and the first four books in the Dan Taylor espionage series contracted to Germany's Luzifer Verlag.
Giveaway:
The Detective Kay Hunter Series Giveaway: Signed Paperback & Bookmark Set

Schedule:
Book 1
Mar. 29th:
Dab of Darkness Audiobook Reviews
Mar. 30th:
Mar. 31st:
Apr. 1st:
Apr. 2nd:
Apr. 3rd:
Apr. 4th:
Book 2
Apr. 5th:
Dab of Darkness Audiobook Reviews
Apr. 6th:
Apr. 7th:
Apr. 8th:
Apr. 9th:
Apr. 10th:
Apr. 11th:
Book 3
Apr. 12th:
Dab of Darkness Audiobook Reviews
Apr. 13th:
Apr. 14th:
Apr. 15th:
Apr. 16th:
Apr. 17th:
Apr. 18th:
Book 4
Apr. 19th:
Dab of Darkness Audiobook Reviews
Apr. 20th:
Apr. 21st:
Apr. 22nd:
Apr. 23rd:
Apr. 24th:
Apr. 25th: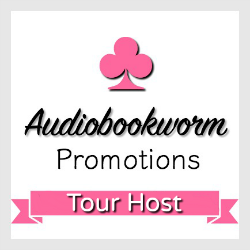 ➜Sign up as a host here
| | |
| --- | --- |
| Story (Plot) | |
| Narration | |
| Overall: | |
My name is Elena. Since I was a little child I loved science fiction and fantasy, and I can't resist a good novel. In 2015, while wait I started to listen to audiobooks and I discovered the pleasure in being able to read while doing my daily tasks, so there's always an audiobook playing on my phone. If you see me with my Bluetooth headphones on, please be gentle, I get easily startled.
I live with my boyfriend, which I met during my six-year stay in Belgium, four cockatiels, eight lovebirds, and a hamster in Madrid, Spain; and I like to spend my free time knitting and sewing while listening to audiobooks.