One to Watch (Detective Kay Hunter #3)
by
Rachel Amphlett
Narrator:
Alison Campbell
Series:
Detective Kay Hunter #3
Published by
Saxon Publishing
on 10-03-17
Genres:
Thriller
Length:
7 hrs and 27 mins
Format:
Audiobook
Source:
Audiobookworm
Buy on Amazon/Audible
Goodreads
Overal Rating:
Sophie Whittaker shared a terrifying secret. Hours later, she was dead.

Detective Kay Hunter and her colleagues are shocked by the vicious murder of a teenage girl at a private party in the Kentish countryside.

A tangled web of dark secrets is exposed as twisted motives point to a history of greed and corruption within the tight-knit community.

Confronted by a growing number of suspects and her own enemies who are waging a vendetta against her, Kay makes a shocking discovery that will make her question her trust in everyone she knows.

One to Watch is a gripping murder mystery thriller, and the third in the Detective Kay Hunter series:

1. SCARED TO DEATH2. WILL TO LIVE3. ONE TO WATCH4. HELL TO PAY5. CALL TO ARMS (2018)

A page-turning whodunit for fans of Jeffery Deaver, Peter James, David Baldacci and James Patterson.
A young aristocratic girl is found murdered with a blunt force trauma during a family party in which she was pledging to remain chaste until her marriage to a rich boy. Kay Hunter is assigned to the case, but she will also be dealing with his superior and some strange events that may indicate she could be in danger.
I'm absolutely loving these series. The story kept me hooked from beginning to end, and on the edge of my seat. Where the plot of the last book was a bit less appealing to me, this one got me interested from the beginning. Maybe because I found it easier to empathize with the young girl. Also the multiple twists and the fact that nothing was what it seemed kept the story engaging.
The series arc also evolved in this book, reaching high creepy levels and asking more questions. We know more not only about Kay but also about her colleagues.
I loved Alison Campbell's narration. Her tone kept me glued to my headphones, she beautifully interpreted the characters and gave them distinct voices and styles. Her diction is clear and the audio production was good.
I thoroughly enjoyed the story and I just want more. This is one of the best thriller series I have read in a long time. I can sew it being made into a successful tv show.
I received this audiobook as part of my participation in a blog tour with Audiobookworm Promotions. The tour is being sponsored by Rachel Amphlett. The gifting of this audiobook did not affect my opinion of it.
Author Bio:
Before turning to writing, Rachel Amphlett played guitar in bands, worked as a TV and film extra, dabbled in radio as a presenter and freelance producer for the BBC, and worked in publishing as a sub-editor and editorial assistant.

She now wields a pen instead of a plectrum and writes crime fiction and spy novels, including the Dan Taylor espionage novels and the Detective Kay Hunter series.

Originally from the UK and currently based in Brisbane, Australia, Rachel cites her writing influences as Michael Connelly, Lee Child, and Robert Ludlum. She's also a huge fan of Peter James, Val McDermid, Robert Crais, Stuart MacBride, and many more.

She's a member of International Thriller Writers and the Crime Writers Association, with the Italian foreign rights for her debut novel, White Gold sold to Fanucci Editore's TIMECrime imprint, and the first four books in the Dan Taylor espionage series contracted to Germany's Luzifer Verlag.
Giveaway:
The Detective Kay Hunter Series Giveaway: Signed Paperback & Bookmark Set

Schedule:
Book 1
Mar. 29th:
Dab of Darkness Audiobook Reviews
Mar. 30th:
Mar. 31st:
Apr. 1st:
Apr. 2nd:
Apr. 3rd:
Apr. 4th:
Book 2
Apr. 5th:
Dab of Darkness Audiobook Reviews
Apr. 6th:
Apr. 7th:
Apr. 8th:
Apr. 9th:
Apr. 10th:
Apr. 11th:
Book 3
Apr. 12th:
Dab of Darkness Audiobook Reviews
Apr. 13th:
Apr. 14th:
Apr. 15th:
Apr. 16th:
Apr. 17th:
Apr. 18th:
Book 4
Apr. 19th:
Dab of Darkness Audiobook Reviews
Apr. 20th:
Apr. 21st:
Apr. 22nd:
Apr. 23rd:
Apr. 24th:
Apr. 25th: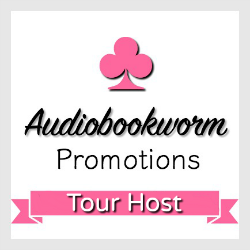 ➜Sign up as a host here
| | |
| --- | --- |
| Story (Plot) | |
| Narration | |
| Overall: | |
My name is Elena. Since I was a little child I loved science fiction and fantasy, and I can't resist a good novel. In 2015, while wait I started to listen to audiobooks and I discovered the pleasure in being able to read while doing my daily tasks, so there's always an audiobook playing on my phone. If you see me with my Bluetooth headphones on, please be gentle, I get easily startled.
I live with my boyfriend, which I met during my six-year stay in Belgium, four cockatiels, eight lovebirds, and a hamster in Madrid, Spain; and I like to spend my free time knitting and sewing while listening to audiobooks.