Author: Vicky Loebel
Narrators: Nick Podehl & Emily Beresford
Length: 12 hours 49 minutes
Publisher: Pentachronistic Press
Released: Jun. 17, 2013
Genre: Paranormal

Synopsis:
The Road to Hell is Paved with Bad Intentions. Get ready for Keys to the Coven, a witty, tightly plotted, (adult) urban-fantasy/romance set in an original universe where karma is power, sex is karma, and it's not who you know but whose soul you own that matters.*

To become a demon, you must die in complete and utter despair. Three hundred years ago, Max passed that test with flying colors and joined the afterlife resolving never again to have innocent blood on his hands. Now Max has been given the job of breaking a young witch's family curse. But what she doesn't know, what Max can't bring himself to tell her, is that completing his mission almost certainly means her death.

When Felicity Woodsen inherits her mother's coven, she learns each firstborn Woodsen daughter must become the consort of an evil-arch demon. Felicity's only hope is to ally with the mysteriously charming Max. But is saving her body from one demon worth risking her soul with another?

Roxashael became a demon when his Roman captors sent his family, one by one to be devoured by lions. The lesson was clear: power is good; lots of power is better. Two-thousand years later, Rocky has power. He's purchased hundreds of souls, and he's created the Minsk Homunculus, a magic artifact that, by binding a human witch as his consort, turns him into an arch-demon and places him above the goody-two-shoes laws of karma.

Unfortunately, Rocky made a mistake. He fell in love with Felicity's mother and in a moment of weakness promised to give up his demon-consort charm. Now Felicity's mother is dead, the Minsk Homunculus is slated for destruction, and Rocky's power as an arch-demon is about to end.

No demon can break a promise. If Rocky refuses to give up the Minsk Homunculus, he'll become the lowest, most abject slave in Hell. But then, why break promises when they're so easy to corrupt?

**Caution: This book contains violence, strong sexual themes, moderately explicit sex between consenting adults, (unfulfilled) threats against children, and one completely gratuitous reference to unicorns.
Buy Links:


Author Bio:
Vicky Loebel began her professional life as a systems programmer for NASA and moved through successively more challenging careers before settling in as a writer of tightly-plotted, romantic fiction. She lives on the slopes of Mt. Lemmon, AZ with her sister, three dogs, a rotating assortment of children, and a husband who has the patience of a saint.
Narrator Bio:
Nick Podehl is a professional Voice Actor. He has narrated over 200 audio books, many of which have won various awards.
Narrator Bio:
Emily Beresford is a professional audiobook narrator who is a nerd for books, no matter the genre. In 2013 she was nominated for an Audie Award and received an Earphones Award from AudioFile magazine, for her work on the Multi-Voice title October Mourning. She lives in Michigan with her wonderful husband, and two amazing children.

Audio Excerpt:
Giveaway:
Keys to the Coven Giveaway: $10 Starbucks Gift Card- 2 Winners!

Schedule:
Oct. 8th:
Oct. 9th:
Dab of Darkness Audiobook Reviews
Oct. 10th:
Oct. 11th:
Oct. 12th:
Oct. 13th:
Oct. 14th: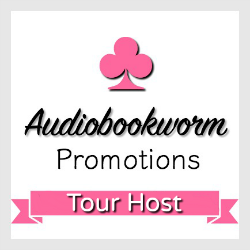 ➜Sign up as a host here
My name is Elena. Since I was a little child I loved science fiction and fantasy, and I can't resist a good novel. In 2015, while wait I started to listen to audiobooks and I discovered the pleasure in being able to read while doing my daily tasks, so there's always an audiobook playing on my phone. If you see me with my Bluetooth headphones on, please be gentle, I get easily startled.
I live with my boyfriend, which I met during my six-year stay in Belgium, four cockatiels, eight lovebirds, and a hamster in Madrid, Spain; and I like to spend my free time knitting and sewing while listening to audiobooks.