Author: Nathan Van Coops
Narrator: Neil Hellegers
Series: In Times Like These, Book 2
Publisher: Skylighter Press
Released: Oct. 23, 2015
Length: 19 hours 43 minutes
Genre: Science Fiction; Time Travel

Synopsis:
Run from the past. Run from the future. Run for your lives.

He's a novice time traveler in a big universe.

Ben just wants time with the scientist's daughter who got him into this, but when he's rooked into competing in a chronothon – an Amazing Race through time – getting the girl means he'll need to make the finish line. When he finds out this competition is more than just a sprint through history, winning takes a back seat to surviving. To save the people he loves, he'll have to conquer the real dangers hidden in the shadows of the chronothon.

The world of time travelers expands in this next installment of the In Times Like These series. Fans of book one will find more to love, but new listeners can jump right in and enjoy this stand-alone story. Expect action, adventure, and romance on this journey through past and future. Fresh dangers will arise for Ben and company in a quest for the finish line, where failure to keep up will cost more than just a shot at glory – it could mean the end for them all.
Buy Links:


Author Bio:
Nathan Van Coops lives in St. Petersburg Florida on a diet comprised mainly of tacos. He enjoys old planes, motorcycles, and Volkswagens; and contends that there is such a thing as "dressy" flip-flops. He is the author of three time travel adventure novels: In Times Like These, The Chronothon, and The Day After Never. You can also check out his sci-fi sky pirate adventure, Faster Than Falling.
Narrator Bio:
Neil hails from the green hills and not-so-busy streets of River Vale, NJ, where he divided his time between theatre, literature, percussion, and policy debate. He is happy to note that he has managed to maintain this balance for the entirety of his adult life.

After graduating from the University of Pennsylvania, in Philadelphia, PA, with a B.A. in Theatre Arts and a Minor in Psychology, Neil acquired a M.F.A in Acting from the Trinity Rep Conservatory, in Providence, RI. He returned to NYC in 2003, and, since then, has made a career of theatrical performance, percussion, theatre education, and audiobook narration, and is currently living in Brooklyn, NY, with his wife, rambunctious son, and their mutt!

Starting his professional acting career working at festivals and and international tours performing Shakespeare opened his mind to the sweeping potential of theatre in performance to inspire and delight, a sensibility he has carried into contemporary theatre, new play workshops, film, TV and commercial work, and audiobook narration. Neil also has sought and developed educational opportunities, considering teaching as a means of advancing the craft of both student and teacher, and also a vehicle for social and political change. Neil has played drums in a wide variety of bands and musical groups, from punk, to prog, to jazz, to folk, and in theatrical performance, most notably for the Philly-based-90s-progressive-instrumental-rock-band, Lexicon.

As an audiobook narrator, Neil specializes in fiction, genre and non. A voracious reader of science fiction and fantasy, Neil strives to bring the same thrill of the possible to the actual, with non-fiction ranging from self-help both spiritual and practical, history, and cultural studies. Recording at home from a Studiobricks One Plus, he is an Audible Approved Producer, and has worked for numerous publishers, including Tantor Media, Penguin Random House Audio, Blackstone Audio, Audible Studios, Deyan Audio, Spoken Realms, and more. He is a proud member of SAG AFTRA.

Schedule:
BOOK ONE
Oct. 25th:
Dab of Darkness Book Reviews

Oct. 26th:
T's Stuff

Oct. 27th:
Lynn's Romance Enthusiasm

Oct. 28th:
Writers N Authors

Oct. 29th:
Jazzy Book Reviews
In Pattis Imagination

Oct. 30th:
Lilly's Book World
Oct. 31st:
Lomeraniel
The Book Addict's Reviews
BOOK TWO
Nov. 1st:
Dab of Darkness Book Reviews

Nov. 2nd:
T's Stuff
In Pattis Imagination

Nov. 3rd:
Lynn's Romance Enthusiasm

Nov. 4th:
Jazzy Book Reviews
Nov. 5th:
Writers N Authors

Nov. 6th:
Lilly's Book World
The Book Addict's Reviews

Nov. 7th:
Lomeraniel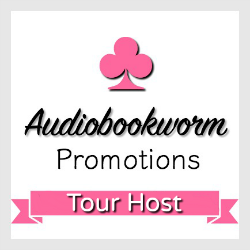 ➜Sign up as a host here
My name is Elena. Since I was a little child I loved science fiction and fantasy, and I can't resist a good novel. In 2015, while wait I started to listen to audiobooks and I discovered the pleasure in being able to read while doing my daily tasks, so there's always an audiobook playing on my phone. If you see me with my Bluetooth headphones on, please be gentle, I get easily startled.
I live with my boyfriend, which I met during my six-year stay in Belgium, four cockatiels, eight lovebirds, and a hamster in Madrid, Spain; and I like to spend my free time knitting and sewing while listening to audiobooks.