Author: Kathy Coopmans
Narrators: Lacy Laurel & Logan McAllister
Length: 7 hours and 30 minutes
Publisher: Kathy Coopmans
Released: Sep. 29, 2017
Genre: Romance

Synopsis:
From USA Today Bestselling Author Kathy Coopmans comes a soul crushing story of second chance love.

Come Back To Me.

What does one do when everyone you love dies?
How much is a woman supposed to take before she crumbles?
How much?
Adriana Jensen is the woman to ask.
She's lost too many people to count.
The one death that destroyed her the most
was her husband's.

Only… he didn't die.

What does one do when forced to walk away from his wife?
How much will it take to win her back?
How much?
Blake Jensen, Adriana's estranged husband, is the man to ask.
He has one question to ask himself.
How much will it take for her to come back to me?
Buy Links:


Author Bio:
USA Today Best Selling Author Kathy Coopmans is a Michigan native where she lives with her husband, Tony. They have two son's Aaron and Shane.
She is a sports nut. Her favorite sports include NASCAR, Baseball, and Football.
She has recently retired from her day job to become a full-time writer.
She has always been an avid reader and at the young age of 50 decided she wanted to write. She claims she can do several things at once and still stay on task. Her favorite quote is "I got this."
Narrator Bio:
Lacy lives the life of a full time wife, mother and household manager. Needing a temporary escape from time to time Lacy returned back to her first love – reading! After devouring everything she could get her hands on she thought, -what if she could mix her love of performance and literature in a professional capacity? Once getting involved in the world of book narration she quickly became hooked and when not with her family you can find her in her studio working hard to grow in her own storytelling abilities.
Narrator Bio:
Logan McAllister first stepped into a sound booth in college while working part time for his school TV station. From those humble beginnings many years ago, and after many, many hours of study under some truly great coaches and teachers, he has developed a portfolio that includes multiple bestselling audiobooks, along with successful commercials, interviews, teasers, animation characters and the like. When he is not working long hours in the studio, Logan likes to stay active. For something completely different from his day job, he loves training, coaching and competing in mixed martial arts — keeping the body fit and the mind clear helps him return to the mic refreshed and ready to bring stories to life!
Audio Excerpt:
https://soundcloud.com/user-183194142/come-back-to-me-audio-loves

Giveaway:
Come Back To Me Giveaway: $20 Amazon Gift Card

Schedule:
Oct. 11th:
Oct. 12th:
Oct. 13th:
Oct. 14th:
Oct. 15th:
Oct. 16th:
Oct. 17th: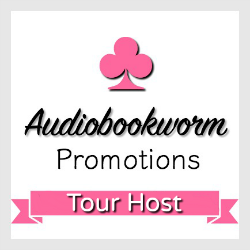 ➜Sign up as a host here
My name is Elena. Since I was a little child I loved science fiction and fantasy, and I can't resist a good novel. In 2015, while wait I started to listen to audiobooks and I discovered the pleasure in being able to read while doing my daily tasks, so there's always an audiobook playing on my phone. If you see me with my Bluetooth headphones on, please be gentle, I get easily startled.
I live with my boyfriend, which I met during my six-year stay in Belgium, four cockatiels, eight lovebirds, and a hamster in Madrid, Spain; and I like to spend my free time knitting and sewing while listening to audiobooks.