Author: Lilly Atlas
Narrators: Noah Michael Levine and Erin deWard
Series: No Prisoners, Book Three
Length: 9 hours 53 minutes
Publisher: Lilly Atlas Books LLC
Released: July 17, 2017
Genre: MC Romance

Synopsis:
After one unforgettable night with a dangerous outlaw, Fia knows she must limit contact with the kind of man who could never fit in her wealthy circle. Unfortunately, she can't keep their brief but passionate encounter far from her thoughts. When she seeks him out for reasons unrelated to their chemistry, the worst happens, and Fia is attacked by a madman. With her life turned upside down, she seeks help from the one person she can't get out of her mind.

Betrayed by someone he should have been able to trust above all, Acer spends the next two decades of his life avoiding entanglements that have any chance of ending with a knife in his back. The MC life provides a safe way to have personal connections and loyalty due to its simple rule: betray the club and punishment will be severe. Still, he keeps a large part of himself locked away inside, hidden even from his MC brothers. When the woman who's been messing with his head for months reappears in his life needing sanctuary, Acer jumps to her aid. He's committed to help her reclaim her life, but determined to keep her at arms-length in the process.

As Acer and Fia fight their growing feelings, his club is in danger from a new and different kind of enemy. Will his refusal to put his full trust in anyone, including the woman he's falling for, end up destroying more than betrayal ever could?
Buy Links:


Author Bio:
Lilly Atlas is the contemporary romance author of the award-nominated No Prisoners MC series. She's a proud Navy wife, mother of two spunky girls, and one crazy pug. Every time Lilly downloads a new EBook, she expects her Kindle to tell her it's exhausted and beg for some rest. Thankfully that hasn't happened yet, so she can often be found absorbed in a good book.
Narrator Bio:
Noah Michael Levine is an Audie Award-Winning audiobook narrator and producer living in beautiful Nyack, NY. His over 180 titles include almost every genre. While he loves his work completely – and collaborating with all kinds of different authors, he does not love writing about himself in the third person.
Narrator Bio:
Erin deWard is an Audie Award-Winning narrator with over sixty titles in genres ranging from Spirituality to Young Adult to Adult Contemporary and others. She's worked on stage, screen, and behind the mic for over thirty years. She is beyond grateful to have come to this place in her life and thanks all of the people and organizations that sped her on her way.

In addition to her love of acting, Erin is passionate about her work as an audio describer, translating visual images in media and performance into aural pictures for people who have low or no vision. She studies and performs Shakespearean text and can most frequently be seen cavorting onstage with The Strange Bedfellows, the adult troupe of the Children's Shakespeare Theatre of New York.

Erin lives in lovely Nyack on Hudson, New York with her husband, daughter, sometimes her college-aged son, and two ill-behaved but loveable dogs, Annie and Benevolio.

Proud member of SAG/AFTRA
Audio Excerpt:

Giveaway:
Acer Giveaway: $25 Amazon Gift Card

Schedule:
Sep. 8th:
From the TBR Pile
Sep. 9th:
Up 'Til Dawn Book Blog
Lilly's Book World

Sep. 10th:
Between the Coverz
Spunky N Sassy
Loves Great Reads

Sep. 11th:
The Book Junkie Reads
Haddie's Haven
Sep. 12th:
Lomeraniel
Jazzy Book Reviews
What Is That Book About

Sep. 13th:
Lynn's Romance Enthusiasm
The Bookworm Lodge
Sep. 14th:
The Book Addict's Reviews
Elsie's Audiobook Digest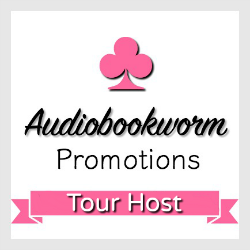 ➜Sign up as a host here
My name is Elena. Since I was a little child I loved science fiction and fantasy, and I can't resist a good novel. In 2015, while wait I started to listen to audiobooks and I discovered the pleasure in being able to read while doing my daily tasks, so there's always an audiobook playing on my phone. If you see me with my Bluetooth headphones on, please be gentle, I get easily startled.
I live with my boyfriend, which I met during my six-year stay in Belgium, four cockatiels, eight lovebirds, and a hamster in Madrid, Spain; and I like to spend my free time knitting and sewing while listening to audiobooks.