This post contains affiliate links you can use to purchase the book. If you buy the book using that link, I will receive a small commission from the sale.
In Times Like These (In Times Like These, #1)
by
Nathan Van Coops
Narrator:
Neil Hellegers
Series:
In Times Like These #1
Published by
Skylighter Press
on 09-12-16
Genres:
Science-Fiction
,
Time Travel
Length:
13 hrs and 47 mins
Format:
Audiobook
Source:
Audiobookworm
Buy on Amazon/Audible
Goodreads
Overal Rating:
"We broke something. How do you break time? Can something so bad happen that you fracture the world?" Benjamin Travers has been electrocuted. What's worse, he and his friends have woken up in the past. As the friends search for a way home, they realize they're not alone. There are other time travelers, and some of them are turning up dead. When Ben meets an enigmatic scientist and his charming, time-traveling daughter, salvation seems at hand, but escaping the dangers of the past may lead to a deadly future. If he hopes to save his friends, Ben must learn to master space and time, and survive a journey where past and future violently collide.
A group of friends is electrocuted and transported to the 80's, where they will have to search for a way home. In the meantime, they will witness some events and have the moral dilemma about whether or not act upon things and maybe change the future.
This book is pure old school time-travel, with the character's questions about time paradoxes and meeting acquaintances and family members in the past. It was a roller coaster and a lot of fun, and I liked joining this group of friends on their quest.
Something I missed was a bit more character development, and somehow the characters seemed much younger than what they really were. This prevented me from fully connecting to them, and immerse myself in the story. Doctor Quick is the typical quirky genius that seems to take things lightly to the despair of Benjamin and his friends.
There is a lot of the techie babble about time-travel that we usually find in this kind of stories, about particles, electricity and such. It was a funny touch but maybe not for everybody.
I found a lot of the stereotypes that we usually find in classic time-travel stories, like babble, the likeable (and not fully developed) characters, and the crazy genius. This is not a criticism, just an opinion, and I think this book will work well for people into this kind of literature, since this could be a perfect example of it. I just use to like more mature stories with a bit more developed characters.
Neil Hellegers was the perfect match for this book, and he did a great job expressing Benjamin's emotions. He did also a great job interpreting the rest of the characters, and providing them with differentiated voices. I only struggled a bit with the rhythm of the narration, since it seemed to happen in bursts, and it took me a while to get used to its pace.
It was a good book, and I would absolutely recommend it to anyone into time-travel, especially if they enjoyed Back to the Future (which is mentioned several times throughout the book) and are nostalgic about the 80's in general.
I received this audiobook as part of my participation in a blog tour with Audiobookworm Promotions. The tour is being sponsored by Nathan Van Coops. The gifting of this audiobook did not affect my opinion of it.
Author Bio:

Nathan Van Coops lives in St. Petersburg Florida on a diet comprised mainly of tacos. He enjoys old planes, motorcycles, and Volkswagens; and contends that there is such a thing as "dressy" flip-flops. He is the author of three time travel adventure novels: In Times Like These, The Chronothon, and The Day After Never. You can also check out his sci-fi sky pirate adventure, Faster Than Falling.
Narrator Bio:
Neil hails from the green hills and not-so-busy streets of River Vale, NJ, where he divided his time between theatre, literature, percussion, and policy debate. He is happy to note that he has managed to maintain this balance for the entirety of his adult life.

After graduating from the University of Pennsylvania, in Philadelphia, PA, with a B.A. in Theatre Arts and a Minor in Psychology, Neil acquired a M.F.A in Acting from the Trinity Rep Conservatory, in Providence, RI. He returned to NYC in 2003, and, since then, has made a career of theatrical performance, percussion, theatre education, and audiobook narration, and is currently living in Brooklyn, NY, with his wife, rambunctious son, and their mutt!

Starting his professional acting career working at festivals and international tours performing Shakespeare opened his mind to the sweeping potential of theatre in performance to inspire and delight, a sensibility he has carried into contemporary theatre, new play workshops, film, TV and commercial work, and audiobook narration. Neil also has sought and developed educational opportunities, considering teaching as a means of advancing the craft of both student and teacher, and also a vehicle for social and political change. Neil has played drums in a wide variety of bands and musical groups, from punk, to prog, to jazz, to folk, and in theatrical performance, most notably for the Philly-based-90s-progressive-instrumental-rock-band, Lexicon.

As an audiobook narrator, Neil specializes in fiction, genre and non. A voracious reader of science fiction and fantasy, Neil strives to bring the same thrill of the possible to the actual, with non-fiction ranging from self-help both spiritual and practical, history, and cultural studies. Recording at home from a Studiobricks One Plus, he is an Audible Approved Producer, and has worked for numerous publishers, including Tantor Media, Penguin Random House Audio, Blackstone Audio, Audible Studios, Deyan Audio, Spoken Realms, and more. He is a proud member of SAG AFTRA.
Schedule:
BOOK ONE
Oct. 25th:
Dab of Darkness Book Reviews

Oct. 26th:
T's Stuff

Oct. 27th:
Lynn's Romance Enthusiasm

Oct. 28th:
Writers N Authors

Oct. 29th:
Jazzy Book Reviews
In Pattis Imagination

Oct. 30th:
Lilly's Book World
Oct. 31st:
Lomeraniel
The Book Addict's Reviews
BOOK TWO
Nov. 1st:
Dab of Darkness Book Reviews

Nov. 2nd:
T's Stuff
In Pattis Imagination

Nov. 3rd:
Lynn's Romance Enthusiasm

Nov. 4th:
Jazzy Book Reviews
Nov. 5th:
Writers N Authors

Nov. 6th:
Lilly's Book World
The Book Addict's Reviews

Nov. 7th:
Lomeraniel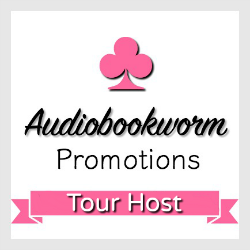 ➜Sign up as a host here
| | |
| --- | --- |
| Story (Plot) | |
| Narration | |
| Overall: | |
My name is Elena. Since I was a little child I loved science fiction and fantasy, and I can't resist a good novel. In 2015, while wait I started to listen to audiobooks and I discovered the pleasure in being able to read while doing my daily tasks, so there's always an audiobook playing on my phone. If you see me with my Bluetooth headphones on, please be gentle, I get easily startled.
I live with my boyfriend, which I met during my six-year stay in Belgium, four cockatiels, eight lovebirds, and a hamster in Madrid, Spain; and I like to spend my free time knitting and sewing while listening to audiobooks.