Author: Jennifer Alsever
Narrator: Moira Todd
Series: Trinity Forest Series, Book 2
Publisher: Sawatch Publishing
Released: May 30, 2018
Genre: Young Adult, Paranormal

Synopsis:
OSHUN has everything a young pop star could ever want—fame, fortune, and beauty to spare. But there's something dark inside of her, rising like the tide, fighting to be heard. Something that terrifies her. Because once she lets it out, she knows there's no going back.

EMBER is drowning. Fighting for consciousness, struggling to make sense of the strange dreams she's been having—prophecies of murder, deception, and blackmail. But once she begins to untangle them, she realizes that they might not be dreams at all…and if she doesn't find a way to stop what she's seeing, more people will die.

MADDIE is barely staying afloat. How can she be expected to care about school when her best friend Ember is still missing, presumed dead? So when Ember's brother calls and tells her about his theory about a pop star who may be involved in Ember's disappearance, she rallies him to take a road trip to check it out.
Buy Links:
Author Bio:
A teenager still lives inside author Jennifer Alsever. She spent two decades as a professional journalist, contributing to such publications as Fortune Magazine, the New York Times, Inc Magazine and the Wall Street Journal, before letting her imagination run wild in 2016. The result is Ember's story told in the three-book Trinity Forest Series, her first published fiction work.
When not absorbed in writing, Alsever enjoys a good hike, doing some yoga, hanging with her boys, some moguls on skis, a rigorous mountain bike ride or indulging in the simple pleasures of life. Her favorites: untouched snow, frozen chocolate chips, savasina on a yoga mat and yes, bowls of pan fried brussels sprouts. Jennifer is working on her upcoming novel, Psychic Monkeys, to be released in 2019.
Narrator Bio:
Moira Todd is a Washington, DC-based actor. She originally hails from Mt. Hood, Oregon where the trees are always green, the mountain is always pointy, and the weather is usually rainy. It was there that she learned the secret arts of alpine skiing and whistling at the same time as you hum. While neither has proved useful in her theatre career, she remains hopeful. These days she spends most of her free time swimming, baking bread, and watching whale documentaries.
Schedule:
BOOK ONE
Jun. 24th:
Jun. 25th:
Jun. 26th:
Jun. 27th:
Jun. 28th:
Jun. 29th:
Jun. 30th:
BOOK TWO
Jul. 1st:
Jul. 2nd:
Jul. 3rd:
Jul. 4th:
Jul. 5th:
Jul. 6th:
Jul. 7th: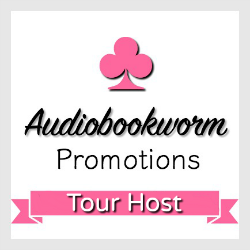 ➜Sign up as a host here
My name is Elena. Since I was a little child I loved science fiction and fantasy, and I can't resist a good novel. In 2015, while wait I started to listen to audiobooks and I discovered the pleasure in being able to read while doing my daily tasks, so there's always an audiobook playing on my phone. If you see me with my Bluetooth headphones on, please be gentle, I get easily startled.
I live with my boyfriend, which I met during my six-year stay in Belgium, four cockatiels, eight lovebirds, and a hamster in Madrid, Spain; and I like to spend my free time knitting and sewing while listening to audiobooks.