Ember Burning (Trinity Forest, #1)
by
Jennifer Alsever
Narrator:
Mora Todd
Series:
Trinity Forest #1
Published by
Sawatch Publishing
on 09-07-17
Genres:
Fantasy
,
Paranormal
,
Young Adult
Length:
8 hrs and 47 mins
Format:
Audiobook
Source:
Audiobookworm
Goodreads
Overal Rating:
Senior year was supposed to be great--that's what Ember's friend Maddie promised at the beginning of the year. Instead, Ember TrouvE spends the year drifting in and out of life like a ghost, haunted by her parents' recent, tragic death.

At home, she pores over her secret obsession: pictures of missing kids-- from newspaper articles, from grocery store flyers-- that she's glued inside a spiral notebook. Like her, the people are lost. Like her, she discovers, they had been looking for a way to numb their pain when they disappeared.

When Ember finds herself in Trinity Forest one day, a place locals stay away from at all costs, she befriends a group of teenagers who are out camping. Hanging out with them in the forest tainted with urban legends of witchcraft and strange disappearances, she has more fun than she can remember having. But something isn't right.

The candy-covered wickedness she finds in Trinity proves to be a great escape, until she discovers she can never go home. Will Ember confront the truth behind her parents' death, or stay blissfully numb and lose herself to the forest forever?
Ember is in the prime of life; she is young, smart, and talented, and she should be ready for graduation. But she is not. After their parents' death and the terrible secret she harbours related to this tragedy, Ember is not the same anymore. Without any motivations in life she drifts towards the Trinity Forest, a mysterious place where people disapears. Why is Ember so attracted to this place and will she ever come back from there?
I usually don't read paranormal but the blurb of this book called my attention and decided to go for it. I especially enjoyed the first part, where Ember deals with a problem with drugs, and how the Trinity Forest could be interpreted as a metaphor for being high and out of the world. The character is well developed, although not completely likable. It is easy to feel her pain in her new situation, but the guilt is more difficult to understand, since we do not learn about what exactly happened the day her parents die until the end. Somehow that was one of the reasons that kept me going, since this terrible secret is mentioned several times throughout the book but no clues are given to the reader.
From the very beginning it is clear that there is something wrong with the Trinity Forest and the people she meets there. The scenes have an oniric quality that is difficult to miss. Things don't make sense, and events appear blurry, like in a dream. Also, Ember's sinesthesia seems to work in a different way than ouside the Forest.
The end of the book focus more on the paranormal side of the story, which I am sure will be enjoyed by fans of paranormal, but was not my cup of tea. There is also romance, the kind you find in YA books, so I would absolutely recommend this book to anyone into Paranormal and Young Adult. For those not into these two topics it may still work, since the chracter evolution and the experinces lived by Ember are interesting enough.
Mora Todd's narration was really good. It was possible to identify all the characters by their voices and styles, and her interpretation of Ember was top notch.
I received these audiobooks as part of my participation in a blog tour with Audiobookworm Promotions. The tour is being sponsored by Jennifer Alsever. The gifting of these audiobooks did not affect my opinion of them.
Author Bio:
A teenager still lives inside author Jennifer Alsever. She spent two decades as a professional journalist, contributing to such publications as Fortune Magazine, the New York Times, Inc Magazine and the Wall Street Journal, before letting her imagination run wild in 2016. The result is Ember's story told in the three-book Trinity Forest Series, her first published fiction work.
When not absorbed in writing, Alsever enjoys a good hike, doing some yoga, hanging with her boys, some moguls on skis, a rigorous mountain bike ride or indulging in the simple pleasures of life. Her favorites: untouched snow, frozen chocolate chips, savasina on a yoga mat and yes, bowls of pan fried brussels sprouts. Jennifer is working on her upcoming novel, Psychic Monkeys, to be released in 2019.
Narrator Bio:
Moira Todd is a Washington, DC-based actor. She originally hales from Mt. Hood, Oregon where the trees are always green, the mountain is always pointy, and the weather is usually rainy. It was there that she learned the secret arts of alpine skiing and whistling at the same time as you hum. While neither has proved useful in her theatre career, she remains hopeful. These days she spends most of her free time swimming, baking bread, and watching whale documentaries.
Schedule:
BOOK ONE
Jun. 24th:
Jun. 25th:
Jun. 26th:
Jun. 27th:
Jun. 28th:
Jun. 29th:
Jun. 30th:
BOOK TWO
Jul. 1st:
Jul. 2nd:
Jul. 3rd:
Jul. 4th:
Jul. 5th:
Jul. 6th:
Jul. 7th: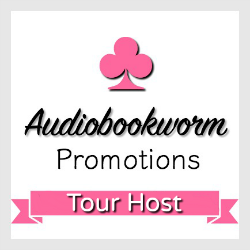 ➜Sign up as a host here
| | |
| --- | --- |
| Story (Plot) | |
| Narration | |
| Overall: | |
My name is Elena. Since I was a little child I loved science fiction and fantasy, and I can't resist a good novel. In 2015, while wait I started to listen to audiobooks and I discovered the pleasure in being able to read while doing my daily tasks, so there's always an audiobook playing on my phone. If you see me with my Bluetooth headphones on, please be gentle, I get easily startled.
I live with my boyfriend, which I met during my six-year stay in Belgium, four cockatiels, eight lovebirds, and a hamster in Madrid, Spain; and I like to spend my free time knitting and sewing while listening to audiobooks.