My Name is Nelson
by
Dylan Fairchild
Narrator:
Erik Johnson
Published by
James George
on 06-18-18
Genres:
Contemporary Fiction
,
Fiction
,
Humor
Length:
8 hrs and 14 mins
Format:
Audiobook
Source:
Audiobookworm
Buy on Amazon/Audible
Goodreads
Overal Rating:
President Andrew MacIntyre was having a pretty good first year in the Oval Office. Suddenly, with Christmas rapidly approaching, he's facing one of the worst national security crises in American history. And, it's being masterminded out of a sleazy, New Mexico strip joint? What the hell?

It's little wonder White House National Security Advisor Chet Addington* said this was, "Pretty much the best novel ever."**

* Absolutely, positively, not a real person
** He's been known to be wrong about stuff
Nelson Troutman han one of the most brilliant minds in the scientific community, but he is also quite damaged due to an episode in his life where he was heavily bullied. In his mature years he is in charge of an important investigation, but one day he totally flips out and seeks refuge in a strip club, and from there he will try to make the world right again without caring about the casualties left behind.
This is, at the same time, a hilarious and endearing story. On one hand, we have Nelson, a brilliant scientist but so dysfunctional that he isn't able to have a normal conversation. He's one of those remarkable characters like Forrest Gump, that will make himself a place in our heart. He has great scientific knowledge, but has a very simplistic view about life: the good and the bad people, black or white. I enjoyed the characters in the book, and also how the story switches between different point of view. There's a little twist tying some parts of the story that I quite enjoyed.
I wonder why the author says this is a thriller, when it doesn't feel like it. I would place it between humor, drama, and fiction. Someone may say that it could also be catalogued under science-fiction, but I wouldn't dare to say so, since the science in the book was really far fetched, and it's not even a central aspect in the book.
The story was very good, but I am unable to give it five starts, because it didn't completely click with me. I think it was because I found very hard to connect to Nelson, and even though we get some background story, there is still something missing to make him human. I also found his talk very repetitive, and I know that it was intentional, but I would have liked that his quirkiness would have been shown in a more sophisticated way.
Erick Johnson delivered an excellent narration, switching voices and styles in an amazing way, creating the illusion of having several different people. He also inflected the exact dose of humor to his speech at the right moments, providing a colorful narration, and adding real value to the audiobook.
All in all it was a very enjoyable listen, and I would like to know what other adventures Dylan Fairchild has in store for us.
I received this audiobook as part of my participation in a blog tour with Audiobookworm Promotions. The tour is being sponsored by Dylan Fairchild. The gifting of this audiobook did not affect my opinion of it.
Author Bio:
Dylan Fairchild is the pen name of a Virginia-based author. He usually writes much more serious books in a different genre.

"My Name is Nelson" is the author's first thriller. It's a genre-busting blend of comedy, action, romance, politics, and science fiction. "The Indie View" awarded it "five-plus" stars and said, "In terms of sheer storytelling mastery, it's one of the best books we've seen in a while."

The author is happy to respond to any questions and witty comments about his awesome author photo.
Narrator Bio:
Erik Johnson grew up in a "show biz" household, the son and grandson to a family of actors, singers, and dancers. This pretty much guaranteed that normal job prospects were out of the question.

Erik is a voiceover professional for clients such as McDonalds and Seminole Hard Rock Hotel & Casinos, an audiobook narrator and producer, and a singer/songwriter with his hard rock band Bombay Black. He also works as a session player and singer for other rock acts.
Giveaway:
My Name Is Nelson Giveaway: $25 Amazon Gift Card

Schedule:
Jul. 10th:
Jul. 11th:
Jul. 12th:
Jul. 31st:
Aug. 1st:
Aug. 2nd:
Aug. 3rd:
Aug. 4th:
Aug. 5th:
Aug. 6th: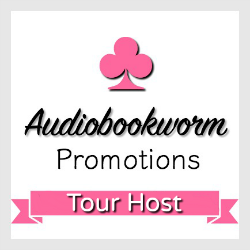 ➜Sign up as a host here
| | |
| --- | --- |
| Story (Plot) | |
| Narration | |
| Overall: | |
My name is Elena. Since I was a little child I loved science fiction and fantasy, and I can't resist a good novel. In 2015, while wait I started to listen to audiobooks and I discovered the pleasure in being able to read while doing my daily tasks, so there's always an audiobook playing on my phone. If you see me with my Bluetooth headphones on, please be gentle, I get easily startled.
I live with my boyfriend, which I met during my six-year stay in Belgium, four cockatiels, eight lovebirds, and a hamster in Madrid, Spain; and I like to spend my free time knitting and sewing while listening to audiobooks.