Author: Jacob Holo
Narrator: Tess Irondale
Series: Time Reavers, Book One
Length: 8 hours 36 minutes
Publisher: Holo Writing
Released: July 13, 2017
Genre: YA Urban Fantasy

Synopsis:
The monsters are real, and time is their weapon.

Fed up with bad teachers and daily fights with her sister, 16-year-old Nicole Taylor yearns for something better. Sadly, she's in for a letdown, because the world ends next week.

Nicole discovers she has a rare gift. She can bend time around her and even stop it completely. With her powers awakening, she must face the Reavers: horrific killing machines that exist outside our time.

Plagued with nightmares and ambushed by monsters at every turn, Nicole has one chance to stop their genocidal invasion. With help from a chain-smoking pyrokinetic, a neurotic sword-wielding assassin, and an icy goth chick with a crossbow, she may stand a chance.

But the Reavers are tireless foes, and time is on their side.
Buy Links:


Author Bio:
Jacob Holo is a former-Ohioan, former-Michigander living in sunny South Carolina. He describes himself as a writer, gamer, hobbyist, and engineer. Jacob started writing when his parents bought that "new" IBM 286 desktop back in the 80s. Remember those? He's been writing ever since.
Narrator Bio:
Tess​ Irondale​ is a professional audiobook narrator and voice actress, credited with bringing ​nearly ​5​0 titles to life. ​She ​specializes ​in ​Fantasy, Adventure, and Erotica, although ​her​ work ​has covered​ nearly every genre including Young Adult, Humor, Spirituality, ​LGBTQ, Sci-Fi, Self Help and ​Mystery​. ​She is on Audible's in-house voice roster, and ​also works directly with authors through ACX.​ When not in the recording booth, she can be found hiking in the woods or hunkered over a crossword puzzle.
Audio Excerpt:

Giveaway:
Time Reavers Giveaway: Signed Copy of Time Reavers

Schedule:
Sep. 20th:
Dab of Darkness Audiobook Reviews
Sep. 21st:
Sep. 22nd:
Sep. 23rd:
Sep. 24th:
Sep. 25th:
Sep. 26th:
Pregnant, Barefoot, in the Kitchen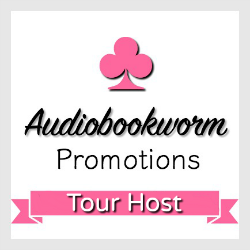 ➜Sign up as a host here
My name is Elena. Since I was a little child I loved science fiction and fantasy, and I can't resist a good novel. In 2015, while wait I started to listen to audiobooks and I discovered the pleasure in being able to read while doing my daily tasks, so there's always an audiobook playing on my phone. If you see me with my Bluetooth headphones on, please be gentle, I get easily startled.
I live with my boyfriend, which I met during my six-year stay in Belgium, four cockatiels, eight lovebirds, and a hamster in Madrid, Spain; and I like to spend my free time knitting and sewing while listening to audiobooks.