by
James W. George
Narrator:
Angus Freathy
Genres:
Fiction
,
Historical
Format:
Audiobook
Source:
Audiobookworm
Overal Rating:


Author: James W. George
Narrator: Angus Freathy
Length: 6h 18m
Publisher: James W. George
Genre: Historical Fiction

Synopsis:
In 1620, more than 100 devout men and women crossed the treacherous Atlantic Ocean and established a colony in the New World where they could build a righteous and Godly society. Without the fortuitous friendship of the Wampanoag people and their charismatic leader Massasoit, however, it is doubtful the holy experiment would have survived.

Fifty years later Plymouth Colony has not only survived, it has prospered, and more and more Englishmen are immigrating to New England. The blessed alliance with the Wampanoag, however, is in severe jeopardy. Massasoit has passed away along with most of the original settlers of Plymouth Colony, and their children and grandchildren have very different ideas about their historic friendship.

Thrust into the center of events is Reverend Israel Brewster, an idealistic young minister with a famous grandfather and a tragic past. Meanwhile, Massasoit's son, known as "King Philip" by the English, is tormented by both the present and the past. He is watching the resources and culture of the Wampanoag nation fade away at the hands of the English and desperately wishes to restore hope and security to his people.

In a world of religious fervor, devastating sickness, and incessant greed, can the alliance of their forefathers survive? Or will New England feel the wrath of tragic, bloody war?
Buy Links:

Author Bio:
James W. George is a debut author currently residing in Virginia. He is a graduate of Boston University, a military veteran, and a lover of historical fiction.
Narrator Bio:
Angus Freathy was born and educated in London – that's the one in England, for you Ohio folks!
After qualifying as a Chartered Accountant, he went to Switzerland to join Nestlé for a 2-year wandering assignment, which lasted 37 years and involved travel and work on every continent (except the cold ones at the top and bottom).
Periods of residence in the U.S., Hong Kong and Switzerland have resulted in a network of friends and acquaintances with an amazing range of world insight and a wide repertoire of mostly excellent jokes.
Since retirement, Angus and his (still working) wife, Debra have lived in Oregon, Maryland and are now in Dublin, Ohio, 'the only place we have actually chosen to live since we have been married!'.
Following a crushing rejection by the BBC at the age of 19, Angus is re-activating a long-held ambition and launching a new career in voice-over, with the sole intention of having some fun and being in touch with some very talented people.


Audio Excerpt:
Review:
I received this audiobook as part of my participation in a blog tour with Audiobookworm Promotions. The tour is being sponsored by James W. George. The gifting of this audiobook did not affect my opinion of it.
This book relates the story of a colony in the New World fifty years after its arrival, and how they related to the people which had to share the land with: the Wampanoag. The new arrivals received a lot of help in the beginning, but later on they became much stronger than the Wampanoag and it seemed impossible to keep their agreements since their ideals and ways were too different.
I was not sure what to expect from a book in which the word puritan was included in the title. As an atheist I am not very interested in stories with a religious background, but I found the subject historically interesting and this is why I decided to listen to this book. First I have to say that the fear I had was unfounded. There was some religion and religious men in this book, but this was inherent to the society of the time, and James W. George did a very good job in depicting 17th century people's ways in the New World. His writing had such beauty that listening to this book was a delight.
It was at first a bit difficult to keep track of all the Indian names but making a quick list saved me some trouble later on. This is one of the things to take into account regarding audiobooks. With written books one can always go some pages back and check but with audiobooks if we are up against many new characters with exotic names at once, I find that lists are a must.
When writing historical fiction I think it is difficult to find a balance between narrating what really happened and making it accessible to the general public. George did a wonderful job by making this subject known to people who did not know much about it like me. His characters were not very developed, but nevertheless it was easy to connect to them, even though I found difficult to understand why they acted like they did. I guess it was a different place and time, and with a much different mentality.
I find this part of American History sad, but it is something that should become well known so that we can learn to avoid making the same mistakes. George has managed to make this history interesting and attractive to the reader. We all know how it went afterwards, but nevertheless I am looking forward to the sequel.
Angus Freathy's style matched perfectly George's style. He did a wonderful job with the narration and the characters' interpretations. I noticed some different voices in some occasions, but most of the time I have to say that the characters sounded the same to me. The book was very well written, so there was no confusion possible, but I just wanted to mention this. There were some little issues like swallowing noises or noticeable breath intakes through the nose, but I was fine with it. Almost towards the end of the book (5:51:01) there is a little hesitancy when pronouncing a word, something that should have been edited, in my opinion. There was also a tiny background noise almost all the time during the recording, but not enough to spoil the narration.
I really enjoyed this piece of history, and I am looking forward to the continuation of the series. If you are interested in history, just do not let it pass because it may seem too religious. It is not, but we have to keep in mind how important religion was at the time.
Giveaway:
My Father's Kingdom Giveaway: $25 Amazon Gift Card

Schedule:
Jul. 30th:
Book Reviews By Jasmine
Jul. 31st:
Dab of Darkness
Aug. 1st:
Lomeraniel

Aug. 2nd:
CGB Blog Tours
Aug. 3rd:
Working Mommy Journal
Aug. 4th:
The Maiden's Court
Aug. 5th:
The Book Addict's Reviews
WTF Are You Reading?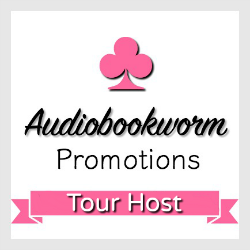 ➜Sign up as a host here
| | |
| --- | --- |
| Story (Plot) | |
| Narration | |
| Overall: | |
My name is Elena. Since I was a little child I loved science fiction and fantasy, and I can't resist a good novel. In 2015, while wait I started to listen to audiobooks and I discovered the pleasure in being able to read while doing my daily tasks, so there's always an audiobook playing on my phone. If you see me with my Bluetooth headphones on, please be gentle, I get easily startled.
I live with my boyfriend, which I met during my six-year stay in Belgium, four cockatiels, eight lovebirds, and a hamster in Madrid, Spain; and I like to spend my free time knitting and sewing while listening to audiobooks.