Author
: Alec Birri
Narrator
: Jonathan Keeble
Length
: 6 hours 34 minutes
Publisher
: Essential Music Limited⎮2018
Genre
: Science Fiction
Series
: The Condition Trilogy, Book 3
Release date
: Jan. 17, 2018

Synopsis:
The third and final part of a dystopian trilogy based on the author's command of a top secret government unit.

So, Professor Savage has been unmasked as the monster Alex Salib always knew he was. But what was their agreement, and why is she still determined to see it through? The war on terror appears to be back on track, but why does President Kalten seem hell-bent on ramping it up – are the Americans seriously intent on starting World War Three?

And what of the treatment itself? Despite Savage's arrest, the "corrections" go on, but to what end? The laws of unintended consequences are about to cause a seismic shift in the very nature of our existence. But then our new master knows that and won't let it happen until we're ready….

Ready to accept the unacceptable.
Buy Links:

Author Bio:
Alec Birri served thirty years with the UK Armed Forces. He commanded an operational unit that experimented in new military capabilities classified at the highest level (Top Secret Strap 3) and it is this that forms the basis of his novels. Although semi-autobiographical, for national security and personal liberty reasons, the events and individuals portrayed have to be fiction but are still nonetheless in keeping with his experiences.
Narrator Bio:
If you regularly enjoy listening to audiobooks then this Shakespearean actor will need no introduction. Winner of a 2016 SOVAS award, Jonathan's voice is rightly recognized as being one of the best, and his narration of The Condition Trilogy is no exception.
Giveaway:
The Condition Trilogy Giveaway: $100 Amazon Gift Card

Schedule:
Book One
Mar. 6th:
Dab of Darkness Audiobook Reviews
Mar. 7th:
Mar. 8th:
Mar. 9th:
Mar. 10th:
Mar. 11th:
Mar. 12th:
Carolyn M. Walker, Fiction Author
Book Two
Mar. 13th:
Dab of Darkness Audiobook Reviews
Mar. 14th:
Mar. 15th:
Mar. 16th:
Mar. 17th:
Mar. 18th:
Mar. 19th:
Carolyn M. Walker, Fiction Author
Book Three
Mar. 20th:
Dab of Darkness Audiobook Reviews
Mar. 21st:
Mar. 22nd:
Mar. 23rd:
Mar. 24th:
Carolyn M. Walker, Fiction Author
Mar. 25th:
Mar. 26th: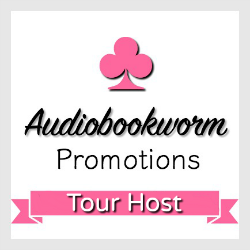 ➜Sign up as a host here
My name is Elena. Since I was a little child I loved science fiction and fantasy, and I can't resist a good novel. In 2015, while wait I started to listen to audiobooks and I discovered the pleasure in being able to read while doing my daily tasks, so there's always an audiobook playing on my phone. If you see me with my Bluetooth headphones on, please be gentle, I get easily startled.
I live with my boyfriend, which I met during my six-year stay in Belgium, four cockatiels, eight lovebirds, and a hamster in Madrid, Spain; and I like to spend my free time knitting and sewing while listening to audiobooks.