A Medical Miracle? (Condition, #1)
by
Alec Birri
Narrator:
Jonathan Keeble
Series:
Condition #1
Published by
Essential Music Limited
on 01-17-18
Genres:
Dystopian
,
Science-Fiction
Length:
01-17-18
Format:
Audiobook
Source:
Audiobookworm
Buy on Amazon/Audible
Goodreads
Overal Rating:
The first in a dystopian trilogy based on the author's command of a top secret government unit.

if Orwell's 1984 was a warning, we're not listening.

What if all brain disorders were treatable? Few would lament the passing of dementia or autism, but what if the twisted mind of a sex-offender or murderer could be cured too? Or how about a terrorist or maybe a political extremist? What if we could all be 'corrected'?

It's 1966 and RAF pilot Dan Stewart awakes from a coma following an aircraft accident into a world where nothing seems to make sense anymore. Not being able to recall the crash might be expected, but what about the rest of his life? And what's stopping him from taking his medication? Is it brain damage that's causing paranoia about the red pill or is he right to think there's something more sinister going on?

His horrific injuries don't make any sense either – a post-crash fire caused him to suffer almost 100% burns. How is it even possible to survive that? Are the hallucinations and strange dreams trying to tell him something? They are, and he'll soon find out what, but not before his doctor's sure the shock won't kill him.

But then the CONDITION trilogy will shock the reader with just how easily we will all come to accept the unacceptable.
After suffering a terrible accident, pilot Dan Steward wakes up in a hospital not being able to remember his past. The doctors advice him to take the red pill to recover his memory, but Dan is very suspicious about this new treatment.
After reading the blurb I was taken aback at listening the first half of the book. I really enjoyed the story and thought it was well written, but I was not able to connect the book to the summary. I think the blurb gives away too much about not only this one but future books, and I think modifying it would help  to preserve the intrigue.
The story is told from Dan's point of view, and although it may seem confusing at times, I really enjoyed how Birri played with Dan's perception to show the reader only what he wanted. I think it was done in a very clever way, since the reader can start guessing at some point that there is something amiss with Dan, but it's not easy to point out what, and even for those who can make a guess, I sure the outcome will surprise everyone.
The characters are not fully developed but we have to take into account that they are all seen from Dan's distorted point of view. I usually tend to prefer a further character development, but I have to say that the way Birri did it here worked really well in order to transmit how confusing things were for Dan. His mood swings and perception changes were fantastically reflected in the book, making empathizing with Dan easy.
The last part of the book opens the reader's eye to the truth about the condition and the red pill. There were some glimpses here and there but we only see the truth here. This was interesting and sets the basis for future books, but I felt that both parts of the story (Dan's story and the implications of the pill) were not very well interconnected. I felt them disjointed somehow, but it could just be a personal appreciation.
Jonathan Keeble's voice and style were the perfect for this book, delivering a clear narration and very good character's interpretations. Keeble did a good job in bringing the characters to life, especially Dan.
I am looking forward to books two and three and see what Birri has come up with regarding such an interesting and controversial subject.
I received this audiobook as part of my participation in a blog tour with Audiobookworm Promotions. The tour is being sponsored by Alec Birri. The gifting of this audiobook did not affect my opinion of it.
Author Bio:
Alec Birri served thirty years with the UK Armed Forces. He commanded an operational unit that experimented in new military capabilities classified at the highest level (Top Secret Strap 3) and it is this that forms the basis of his novels. Although semi-autobiographical, for national security and personal liberty reasons, the events and individuals portrayed have to be fiction but are still nonetheless in keeping with his experiences.
Narrator Bio:
If you regularly enjoy listening to audiobooks then this Shakespearean actor will need no introduction. Winner of a 2016 SOVAS award, Jonathan's voice is rightly recognized as being one of the best, and his narration of The Condition Trilogy is no exception.
Giveaway:
The Condition Trilogy Giveaway: $100 Amazon Gift Card

Schedule:
Book One
Mar. 6th:
Dab of Darkness Audiobook Reviews
Mar. 7th:
Mar. 8th:
Mar. 9th:
Mar. 10th:
Mar. 11th:
Mar. 12th:
Carolyn M. Walker, Fiction Author
Book Two
Mar. 13th:
Dab of Darkness Audiobook Reviews
Mar. 14th:
Mar. 15th:
Mar. 16th:
Mar. 17th:
Mar. 18th:
Mar. 19th:
Carolyn M. Walker, Fiction Author
Book Three
Mar. 20th:
Dab of Darkness Audiobook Reviews
Mar. 21st:
Mar. 22nd:
Mar. 23rd:
Mar. 24th:
Carolyn M. Walker, Fiction Author
Mar. 25th:
Mar. 26th: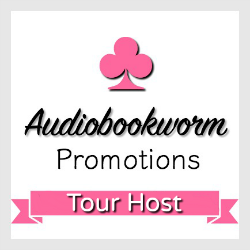 ➜Sign up as a host here
| | |
| --- | --- |
| Story (Plot) | |
| Narration | |
| Overall: | |
My name is Elena. Since I was a little child I loved science fiction and fantasy, and I can't resist a good novel. In 2015, while wait I started to listen to audiobooks and I discovered the pleasure in being able to read while doing my daily tasks, so there's always an audiobook playing on my phone. If you see me with my Bluetooth headphones on, please be gentle, I get easily startled.
I live with my boyfriend, which I met during my six-year stay in Belgium, four cockatiels, eight lovebirds, and a hamster in Madrid, Spain; and I like to spend my free time knitting and sewing while listening to audiobooks.