The Curing Begins...
by
Alec Birri
Narrator:
Jonathan Keeble
Series:
Condition #2
Published by
Essential Music Limited
on 01-24-18
Genres:
Science-Fiction
Length:
6 hrs and 39 mins
Source:
Audiobookworm
Buy on Amazon/Audible
Goodreads
Overal Rating:
This book goes to the origins of the the Condition, mixing a bit of history with dystopia. I don't want to explain more to avoid revealing too much.
It was really interesting to learn about how it all started but the execution could have been a bit better in my opinion. This book feels like two different books, one after the other. I think it would have worked better to have both stories, present and past, told alternating them. The beginning of the first part felt also a bit rushed, and a bit more character development would have helped me to connect to the characters and care for the story. There is a sudden romance in that first part that felt absolutely forced. The two characters were just acquaintances and suddenly she was the love of his life. Having a build up would have helped here.
The story and implications are amazing, and this is totally worth a listening. It's clear that Birri has a lot of experience in top secret operations, but I think he may need to work a bit on his storytelling skills.
Jonathan Keeble's style was the appropriate for this kind of story, and he delivered great character's interpretations. The only setback I want to mention is his pronunciation of Vazquez. In Spanish the 'u' after 'q' is mute, something Keeble did not apply here. I would have passed this if the character pronouncing it were an English speaker, but in this case all characters were Argentinian. Keeble's accents were acceptable, but not spot on.
I received this audiobook as part of my participation in a blog tour with Audiobookworm Promotions. The tour is being sponsored by Alec Birri. The gifting of this audiobook did not affect my opinion of it.
Author Bio:
Alec Birri served thirty years with the UK Armed Forces. He commanded an operational unit that experimented in new military capabilities classified at the highest level (Top Secret Strap 3) and it is this that forms the basis of his novels. Although semi-autobiographical, for national security and personal liberty reasons, the events and individuals portrayed have to be fiction but are still nonetheless in keeping with his experiences.
Narrator Bio:
If you regularly enjoy listening to audiobooks then this Shakespearean actor will need no introduction. Winner of a 2016 SOVAS award, Jonathan's voice is rightly recognized as being one of the best, and his narration of The Condition Trilogy is no exception.
Giveaway:
The Condition Trilogy Giveaway: $100 Amazon Gift Card

Schedule:
Book One
Mar. 6th:
Dab of Darkness Audiobook Reviews
Mar. 7th:
Mar. 8th:
Mar. 9th:
Mar. 10th:
Mar. 11th:
Mar. 12th:
Carolyn M. Walker, Fiction Author
Book Two
Mar. 13th:
Dab of Darkness Audiobook Reviews
Mar. 14th:
Mar. 15th:
Mar. 16th:
Mar. 17th:
Mar. 18th:
Mar. 19th:
Carolyn M. Walker, Fiction Author
Book Three
Mar. 20th:
Dab of Darkness Audiobook Reviews
Mar. 21st:
Mar. 22nd:
Mar. 23rd:
Mar. 24th:
Carolyn M. Walker, Fiction Author
Mar. 25th:
Mar. 26th: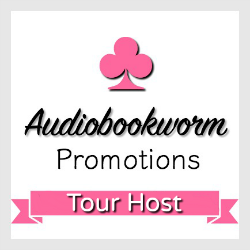 ➜Sign up as a host here
| | |
| --- | --- |
| Story (Plot) | |
| Narration | |
| Overall: | |
My name is Elena. Since I was a little child I loved science fiction and fantasy, and I can't resist a good novel. In 2015, while wait I started to listen to audiobooks and I discovered the pleasure in being able to read while doing my daily tasks, so there's always an audiobook playing on my phone. If you see me with my Bluetooth headphones on, please be gentle, I get easily startled.
I live with my boyfriend, which I met during my six-year stay in Belgium, four cockatiels, eight lovebirds, and a hamster in Madrid, Spain; and I like to spend my free time knitting and sewing while listening to audiobooks.