Author: JC Miller
Narrator: Curt Simmons
Length: 7h 28m
Publisher: JC Miller Writer
Released: July 14, 2017
Genre: Contemporary Fiction

Synopsis:
Dr. William Koval, a pragmatist with little faith in humanity, prefers to dwell in the eerily comforting microscopic realm, where he is master of his domain. But his worldview is upended when he decides to go on the English walking tour his wife had been planning before her murder three years earlier. Only when William confronts his past, including his troubled marriage, will he find a way to rejoin the living, to move forward, and perhaps love again. The real journey, he discovers, lies within.
Buy Links:


Author Bio:
JC (Jeanne) Miller is a freelance essayist, the author of five novels, including the best-seller, Vacation. An avid reader, aspiring traveler and table tennis enthusiast, JC resides in Northern California.
Narrator Bio:
Curt lives in Seattle and produces and narrates audiobooks in his home studio. He began his performing career in college as a stage actor and radio personality. After college, in addition to acting, Curt also did voiceovers for commercials, which he also wrote, directed, and edited for broadcast TV. Following the birth of his daughter in 1984, he left the performing arts to pursue a more "stable" profession managing projects. Then, in 2014 he returned to the professional stage for the first time in over 30 years as Walter Flood in Becky's New Car by Stephen Dietz. He has also appeared recently as Lyman in Other Desert Cities by Jon Robin Baitz and Ralph in The Last Romance by Joseph DiPietro. Vacation is Curt's eighth audiobook.
Audio Excerpt:

Giveaway:
Vacation Giveaway: 2 Free Audiobooks of Your Choice

Schedule:
Aug. 13th:
Lomeraniel
CGB Blog Tours
Aug. 14th:
Buried Under Books
Dab of Darkness
Aug. 15th:
Jazzy Book Reviews
Aug. 16th:
Between the Coverz
WTF Are You Reading?
The Literary Apothecary
Aug. 17th:
The Bookworm Lodge
Aug. 18th:
The Book Addict's Reviews
Bean's Bookshelf and Coffee Break
Aug. 19th:
Lynn's Romance Enthusiasm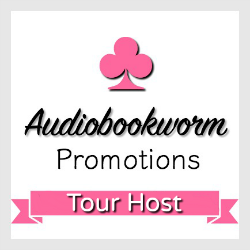 ➜Sign up as a host here
My name is Elena. Since I was a little child I loved science fiction and fantasy, and I can't resist a good novel. In 2015, while wait I started to listen to audiobooks and I discovered the pleasure in being able to read while doing my daily tasks, so there's always an audiobook playing on my phone. If you see me with my Bluetooth headphones on, please be gentle, I get easily startled.
I live with my boyfriend, which I met during my six-year stay in Belgium, four cockatiels, eight lovebirds, and a hamster in Madrid, Spain; and I like to spend my free time knitting and sewing while listening to audiobooks.