Author: William F. Wu
Narrator: Anthony Lee
Length: 7 hours and 41 minutes
Publisher: Moira Nelligar
Released: July 6, 2018
Genre: Fantasy

Synopsis:
A young guy named Jack Hong hitchhikes throughout America following the keilin, a mystical unicorn out of Chinese mythology. The keilin leads him to ten adventures with ghosts and other supernatural figures. These experiences reveal to him not only parts of American history he never knew, but also his own identity and the role he will choose for his life.
Buy Links:

Author Bio:
William F. Wu may be best known for his contemporary fantasy short stories, such as "Wong's Lost and Found Emporium," a multiple award nominee that was adapted into an episode of the Twilight Zone in 1985. When he started his career, he decided that he would write some stories on universal issues and some about Chinese American ethnic matters. All of his novels and short stories have a character of East Asian descent, usually the protagonist.

When he was young, he did some long-distance hitchhiking throughout the nation, though he makes no claim to experiencing the supernatural.

He has had thirteen novels, one short story collection, one book of literary criticism, and over sixty short stories published by traditional publishers and is in the process of bringing out much of his backlog through Boruma Publishing. Wu has spoken for over thirty years on panels at science fiction conventions, and he has also been guest of honor and toastmaster. He has participated in and hosted writers' workshops frequently over the years and taught fiction at the college level.

A 5-time finalist (and a sixth time as part of the group of Wild Cards authors) for the Hugo, Nebula, and World Fantasy Awards, Wu is also a finalist for the Sidewise Award for alternate history and for Canada's Aurora award. He's the author of the six-volume young adult science fiction series titled Isaac Asimov's Robots in Time, the first series in Asimov's universe licensed by his estate after his death. His novel Hong on the Range was based on another Hugo and Nebula Award nominee, the short story "Hong's Bluff." Hong on the Range was chosen for the Wilson Library Bulletin's list of science fiction "Books Too Good to Miss, 1980 – 1989," and was a 1990 selection for the American Library Association list of Best Books for Young People, for the New York Public Library's recommended Books for the Teen Age, and was a Young Adult Editor's Choice by Booklist Magazine. Wu adapted the novel for a three-issue comic book series brought out by Image Comics and Flypaper Press in 1996.

He has upcoming stories in Texas Hold'em: A Wild Cards Novel, edited by George R.R. Martin, due out in the fall, and in Isaac Asimov's Science Fiction Magazine.

Wu was born and raised in the Kansas City area, and educated at the University of Michigan, where as a student he represented the third generation in his family. He has an A.B. in East Asian Studies and an A.M. and Ph.D. in American Culture; his dissertation was published as The Yellow Peril: Chinese Americans in American Fiction, 1850 – 1940. He and his wife live in Southern California.
Narrator Bio:
Anthony Lee has been told that his voice is deep, resonant, smooth, and clear. Yet, it would be years before he would finally embrace that gift and start using it artistically.

A native of California, Anthony grew up with an equal fascination for knowledge and leisure. He would enjoy studying various subjects in school as well as doing fun things in his spare time. His motivation for success and happiness helped him achieve a solid education, a successful job, and a new life to live as his reward for years of hard work.

His decision to try voice acting came after receiving plenty of compliments about his vocal quality over a short amount of time. Whether those words came from friends or strangers, he could no longer deny the possibility that there may be something special about his voice. Hence, from October 2015 to June 2016, Anthony enrolled in night and weekend classes at Elaine Clark's Voice One academy in San Francisco, where he trained in the art of voiceover for narrations, commercials, and characters. He thoroughly enjoyed honing his voice for things like audiobooks, technical materials, corporate narrations, e-learning modules, documentaries, commercials, promos, animations, video games, and talking products. Overall, he considers his journey into voiceover to be very rewarding, not just for what he learned but also for the great instructors and classmates he met along the way.

Now with professional voice training, Anthony is stepping out into the world to lend his voice. He loves to take virtually any kind of script and work to deliver the message in a suitable way. His enthusiasm for voiceover makes him strive to be a versatile actor in the craft. Every time he is given an opportunity to provide a voice, he hopes to leave a lasting positive impact.

When he is not doing voice work, Anthony enjoys playing chess, ice hockey, pool, Sudoku, and video games, as well as watching movies, reading about random topics on the Internet, and traveling. He lives in Northern California.
Schedule:
Sep. 20th:
Sep. 21st:
Sep. 22nd:
Sep. 23rd:
Sep. 24th:
Sep. 25th:
Sep. 26th: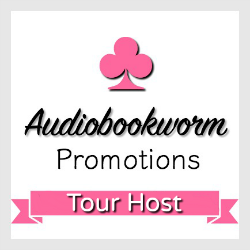 ➜Sign up as a host here
My name is Elena. Since I was a little child I loved science fiction and fantasy, and I can't resist a good novel. In 2015, while wait I started to listen to audiobooks and I discovered the pleasure in being able to read while doing my daily tasks, so there's always an audiobook playing on my phone. If you see me with my Bluetooth headphones on, please be gentle, I get easily startled.
I live with my boyfriend, which I met during my six-year stay in Belgium, four cockatiels, eight lovebirds, and a hamster in Madrid, Spain; and I like to spend my free time knitting and sewing while listening to audiobooks.