West (History Interrupted #1)
by
Lizzy Ford
Narrator:
Lillian Yves
Series:
History Interrupted #1
Published by
Lizzy Ford Books LLC
on 07-31-17
Genres:
Fantasy
,
Fiction
,
Historical
,
Time Travel
,
Ucrony
Length:
7 hrs and 50 mins
Format:
Audiobook
Source:
Audiobookworm
Goodreads
Overal Rating:
If you could change history, would you?

College graduate Josephine "Josie" Jackson answers 'yes' to the question on a survey while visiting an Old West tourist trap. The next morning, she wakes up in Indian Territory in the 1840s, where she's given a mission to complete before she can return to her time: to reset history by finding and stopping the man responsible for a horrific massacre.

It seems easy enough, until she discovers that three other women have been sent back to the same time period. When Josie uncovers what happened to them, she realizes the chances of her getting out of the past alive are not good.

To survive, she'll have to trust the very man she's there to stop, someone who has every reason to distrust her and only one reason to help her - to prove he's not the monster she claims he'll become.

STANDALONE novel in the History Interrupted series.
During a visit to an Old West tourist attraction, Josie is requested by a man named Carter to fill in a survey in exchange for some money to help her pay her studies. Later on both go out for a drink and Carter tells her about the need to change the past in order to prevent a great massacre. Half drunk, Josie accepts, just to suddenly find herself appear in the 1940s. Why does everybody seem to know her? Will she have what it takes to change the course of history?
Despite the fact that this book is categorized as Romance, it is not, or it is not its main genre. This is about time travel, not very sci-fy but more in a fantastic way, like Doctor Who, show that is mentioned several times throughout the book, as one of Josie's favorites. What I mean about more fantastic is that there is not even a mere attempt to explain anything of what happens in a scientific way, and I almost laughed at the fact that Josie was going to get a vaccine that would cover any past, present, and future disease known to man. It is kind of ludicrous, but this is one of the concessions we usually give to the Time Travel genre, especially when it is inspired by Doctor Who.
Josie's real mission is unknown to her and us, and Lizzy Ford built up the intrigue in a very smart way, giving us pieces here and there, while also tricking us to think what she wanted. This has worked very well, and this was a book I couldn't put down, since I needed to know why some things were like they were presented and how we could be deceived.
Even though I think Josie was a bit too naive at the beginning, I was able to connect to her later on. The story is written in first person from her point of view, and as she is the only character, apart from Carter, from our time, it was easy to follow her train of thought and understand her motivations. Apart from her, the rest of characters were not very developed, but this did not stop some of them from being very interesting. I especially liked the two Indian twins.
I said that this was not a Romance book, but there is romance in it. I am not sure about the need of it, and for me it felt a bit forced, but I guess the romance and sex scenes will be appreciated by those who expect some romance in this book. Somehow I wanted to know Taylor better, and I think the ending would have felt a bit stronger for me if he would have been a bit more developed.
What did not work very well for me was Lillian Yves narration. Yves gave a clear and emotive narration, but I found some little issues that were distracting when put together. First, Yves tended to introduce pauses in the middle of sentences, like reading in slow bursts, and then the pauses between sentences felt like artificially shortened (probably during the editing part). This caused that some pauses between sentences were even shorter than the pauses within sentences, which gave the narration a robotic feel. If it was not for the expressive narration by Yves, it would have sounded exactly like Text-To-Speech. I find it weird that nobody has mentioned this on any review, since this bothered me from beginning to end. Another minor issue was that all voices sounded similar to the ear, and this coupled with the previous issue, made following dialogs difficult, since the shortened pauses between sentences and paragraphs did not make it clear when a character stopped talking and another one started.
All in all, it was a wonderful audiobook, and the tension and the intrigue were so well built that I couldn't stop listening. I am looking forward to the next in the series.
I received this audiobook as part of my participation in a blog tour with Audiobookworm Promotions. The tour is being sponsored by Lizzy Ford. The gifting of this audiobook did not affect my opinion of it.
 Author Bio:
I breathe stories. I dream them. If it were possible, I'd eat them, too. (I'm pretty sure they'd taste like cotton candy.) I can't escape them – they're everywhere! Which is why I write! I was born to bring the crazy worlds and people in my mind to life, and I love sharing them with as many people as I can.

I'm also the bestselling, award winning, internationally acclaimed author of over sixty titles and counting. I write speculative fiction in multiple subgenres of romance and fantasy, contemporary fiction, books for both teens and adults, and just about anything else I feel like writing. If I can imagine it, I can write it!

I live in the desert of southern Arizona with a pack of spoiled dogs and Tubbs, the Godfather cat who rules them all.
Narrator Bio:
Lillian Yves grew up in Oklahoma, went to school in NYC and now lives in Southern California. She considers herself from the East, West and somewhere in the middle. She is a graduate of The American Musical and Dramatic Academy in NYC for Musical Theater. She adores acting and performing so much that she teaches an after school program for the local school system. She got her start working in audio books when she narrated her own novel, Yonder- A Southern Haunting and shortly after the release of Yonder she was contacted by Warren Adler (The War of the Roses) to narrate two novels for him and after entering the world of narration, she has never looked back. She performs on most weekends and does play readings through out the Los Angeles area. Her main hobbies include her husband and her cats. She loves to hear from listeners.
Schedule:
Oct. 25th:
SERIESous Book Reviews
Notes from 'Round the Bend
Lomeraniel

Oct. 26th:
Kasia Burlakoff

Oct. 27th:
Lilly's Book World
Desert Rose Reviews
The Book Junkie Reads . . .

Oct. 28th:
Literature Approved

Oct. 29th:
Dab of Darkness Audiobook Reviews

Oct. 30th:
History from a Woman's Perspective

Oct. 31st:
The Book Addict's Reviews Reviews
Smada's Book Smack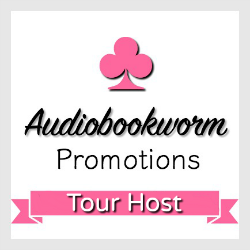 ➜Sign up as a host here
| | |
| --- | --- |
| Story (Plot) | |
| Narration | |
| Overall: | |
My name is Elena. Since I was a little child I loved science fiction and fantasy, and I can't resist a good novel. In 2015, while wait I started to listen to audiobooks and I discovered the pleasure in being able to read while doing my daily tasks, so there's always an audiobook playing on my phone. If you see me with my Bluetooth headphones on, please be gentle, I get easily startled.
I live with my boyfriend, which I met during my six-year stay in Belgium, four cockatiels, eight lovebirds, and a hamster in Madrid, Spain; and I like to spend my free time knitting and sewing while listening to audiobooks.