The Sigma Surrogate
by
J.T. Lawrence
Narrator:
Jean Ann Douglass
Series:
When Tomorrow Comes #0.5
Published by
Fire Finch Press
on 07-03-18
Genres:
Cyberpunk
,
Dystopian
,
Science-Fiction
Length:
4 hrs and 1 min
Format:
Audiobook
Source:
Audiobookworm
Buy on Amazon/Audible
Goodreads
Overal Rating:
The Handmaid's Tale meets Mr. Robot in this smart, sexy, cyberpunk thriller.

2021. A tribe of surrogates. A terror cult. A deal struck in desperation.

Keke is a biopunk journalist who won't stop till she exposes the truth. Will her reckless ambition help the surrogates, or harm them?

Join Keke on her mission to uncover the biggest story she's ever encountered. You'll meet Jasmine and Marko and get pulled under with Kirsten, who's on the cusp of her own nail-biting story.

Ready for your new pause-resisting addiction? Grab the prequella for the futuristic conspiracy thriller series When Tomorrow Calls now.
In a world where the infertility rate is extremely high, there is a group of protected women who are selected to carry other people's children. They are an elite group within the society in South Africa. Keke is a journalist in search for the truth, even risking her own life. When one of the surrogates is almost killed, Keke will start investigating who could have done it.
This novella is a prequel to the series When Tomorrow Comes. Ideally it should be read before the series, since it introduces the characters and world events that will be important later on. I have listened to it afterwards though, and I found it totally valid. It's true that I know what's going to come next, but this allowed me to have a deeper reading of this book. The end of the series is a clear eye opener and game changer, so a second read of these books is a must.
While the rest of the series is mainly focused on Kristen, the main character in this story is Keke. One of the things I enjoy most from J.T. Lawrence books is how real the characters feel, and how vivid the descriptions are. It's like watching a scene folding in front of your eyes where you can see real people.
There's plenty of action in the story, and several twists and turns that will leave you mulling about what you've just read.
I quite enjoyed Jean Ann Douglass' narration, although I missed Roshina Ratnam, whose voice has become for me a very important part of this series. Douglass kept my attention at all times, providing great character interpretations. The only thing that I missed was some more differentiation between characters styles and voices. Keke and Kristen sounded exactly the same, and this made their dialogs a bit confusing.
I'm loving J.T. Lawrence writing, and this series in particular. I seem not to get enough of it, so if Lawrence is considering broadening the subject, she can count me in.
I received this audiobook as part of my participation in a blog tour with Audiobookworm Promotions. The tour is being sponsored by JT Lawrence. The gifting of this audiobook did not affect my opinion of it.
Author Bio:

JT Lawrence is a bestselling Amazon author, playwright and bookdealer based in Parkview, Johannesburg. She is the mother of two small boys and a baby girl, and lives in a house with a red front door.
Narrator Bio:
Jean Ann Douglass is an actor, playwright, producer, and voice artist living in Brooklyn, NY. She has recorded regional and national commercials, and numerous apps that assist kids learning how to read. She performs and co-creates work with Eric John Meyer for Human Head Performance Group, an internationally touring theater company. As a writer, her work will be seen at Underbelly at the Edinburgh Fringe this August.
Giveaway:
When Tomorrow Calls Giveaway: Audiobook & eBook Set

Schedule:
PREQUEL
Aug. 7th:
Dab of Darkness Audiobook Reviews
Aug. 8th:
Aug. 9th:
Aug. 10th:
Aug. 11th:
Aug. 12th:
Carolyn M. Walker, Author of Thrilling Fiction
Aug. 13th:
BOOK ONE
Aug. 14th:
Dab of Darkness Audiobook Reviews
Aug. 15th:
Aug. 16th:
Aug. 17th:
Aug. 18th:
Aug. 19th:
Aug. 20th:
Carolyn M. Walker, Author of Thrilling Fiction
BOOK TWO
Aug. 21st:
Dab of Darkness Audiobook Reviews
Aug. 22nd:
Aug. 23rd:
Aug. 24th:
Aug. 25th:
Aug. 26th:
Aug. 27th:
Carolyn M. Walker, Author of Thrilling Fiction
BOOK THREE
Aug. 28th:
Dab of Darkness Audiobook Reviews
Aug. 29th:
Aug. 30th:
Sep. 1st:
Sep. 2nd:
Carolyn M. Walker, Author of Thrilling Fiction
Sep. 3rd: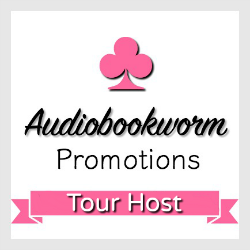 ➜Sign up as a host here
| | |
| --- | --- |
| Story (Plot) | |
| Narration | |
| Overall: | |
My name is Elena. Since I was a little child I loved science fiction and fantasy, and I can't resist a good novel. In 2015, while wait I started to listen to audiobooks and I discovered the pleasure in being able to read while doing my daily tasks, so there's always an audiobook playing on my phone. If you see me with my Bluetooth headphones on, please be gentle, I get easily startled.
I live with my boyfriend, which I met during my six-year stay in Belgium, four cockatiels, eight lovebirds, and a hamster in Madrid, Spain; and I like to spend my free time knitting and sewing while listening to audiobooks.