The Culling
by
Ramona Finn
Narrator:
Stacey Glemboski
Series:
The Culling #1
Published by
Relay Publishing
on 03-21-18
Genres:
Dystopian
,
Science-Fiction
,
Young Adult
Length:
8 hrs and 39 mins
Format:
Audiobook
Source:
Audiobookworm
Buy on Amazon/Audible
Goodreads
Overal Rating:
What happens to a girl trained as a executioner, who finds out her life is a lie?

In a solar system where The Authority decides who lives and who dies, only one of their own executioners can stop them.

Glade Io is a trained killer. Marked at a young age as an individual with violent tendencies, she was taken from her family and groomed to be a Datapoint—a biotech-enabled analyst who carries out the Culling. She is designed to identify and destroy any potential humans that threaten the colonies: those marked as lawbreakers, unproductive or sick. But when she's kidnapped by rogue colonists known as the Ferrymen, everything Glade thinks she knows about the colonies, and The Authority that runs them, collapses into doubt.

Pulled between two opposing sides, and with her family's lives hanging in the balance, Glade is unsure of who to trust—and time is running out.
In a galaxy controlled by the Authority, for which Glade Io is one of the people in charge of executing violent and rogue citizens remotely with the help of technology and the power of her mind, things are not what they seem. Was Glade's father really violent and was his death 'fair'? Amidst all these doubts, Glade is kidnapped by Ferrymen, people from a rogue planet that believe in very different things than the Authority.
This was a good dystopian story, with a good world building and some original things. I found the role of Data Points quite interesting, and I liked the idea of a database supporting their decisions. Although the story is good by itself, what I really enjoyed was the character development. Ramona Finn writes good scifi but part of that is thanks to fully fleshed characters, with actions that it is easy to connect to, and great dialogs and interactions.
As I have said, despite being a dystopian book, this is a strong character driven story. The are important things at stake here, but there is also a clear love triangle that at times seems to matter more to the story than the real conflict. I think this is mainly due to this book being aimed at a young adult public, and it did not bother me, but I could have done without it.
At times, the book reminded me of 'Ender's Game', and I almost expected some of the tricks that were used there to appear here too, but I am glad Ramona Finn has decided to stay far from that.
Although I really liked this book, there are a couple of things that I would like to mention. I missed some more world building and knowing more about how the society and the Authority worked. I know this was hidden mostly because the story is told from Glade's point of view, but I missed some more information from her side. Also, I wanted to know more about the quarters where she lived in, since it seemed very easy to sneak in unseen.
What I absolutely loved was Stacey Glemboski's narration. She is one of my favorite narrators, able to transport me to distant worlds and make me believe that I am listening to a whole bunch of different characters. She has an ample voice range, but she can also transmit the characters emotions multiplied by ten, bringing them to life in a way that you feel you are listening to real people.
I am curious about where this story is going so I am looking forward to the rest of the series. I think this would delight anyone into science-fiction.
I received this audiobook as part of my participation in a blog tour with Audiobookworm Promotions. The tour is being sponsored by Ramona Finn. The gifting of this audiobook did not affect my opinion of it.
Author Bio:
Ramona Finn writes about courageous characters who fight to live in broken, dystopian worlds. She believes a person's true characters is often revealed in times of crisis, and there is no greater crisis than the worlds that she drops her characters into!

She grew up sitting cross-legged on her town's library floor–completely engrossed in science fiction books. It was always the futuristic world or the universe-on-the-brink-of-extinction plotlines that drew her in, but it was the brave characters who chose to fight back that kept her turning the pages.

Her books create deep, intricate worlds with bold characters determined to fight for their survival in their dystopian worlds–with a little help from their friends. And, of course, romance is never out of the question ;).
Narrator Bio:
Stacey is an accomplished audiobook narrator and voice actor who has recorded books for many best-selling authors. Many of her favorite books have been for kids and teens, but all genres of narration appeal to her. For Stacey, narration is about having fun breathing life into characters and getting as lost as possible in the story she's telling. Outside the studio, Stacey is an avid tennis player and fitness enthusiast. She enjoys dog walks, paddle boarding, and most any outdoor activities.
Schedule:
Jul. 15th:
Dab of Darkness Audiobook Reviews
Jul. 16th:
Jul. 17th:
Jul. 18th:
Jul. 19th:
Jul. 20th:
Jul. 21st: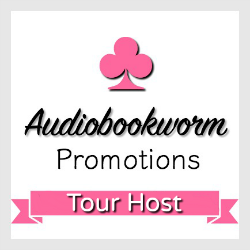 ➜Sign up as a host here
| | |
| --- | --- |
| Story (Plot) | |
| Narration | |
| Overall: | |
My name is Elena. Since I was a little child I loved science fiction and fantasy, and I can't resist a good novel. In 2015, while wait I started to listen to audiobooks and I discovered the pleasure in being able to read while doing my daily tasks, so there's always an audiobook playing on my phone. If you see me with my Bluetooth headphones on, please be gentle, I get easily startled.
I live with my boyfriend, which I met during my six-year stay in Belgium, four cockatiels, eight lovebirds, and a hamster in Madrid, Spain; and I like to spend my free time knitting and sewing while listening to audiobooks.