by
R.K. Gold
Narrator:
Kyle Tait
Genres:
Fantasy
Format:
Audiobook
Source:
Audiobookworm

Author: R.K. Gold
Narrator: Kyle Tait
Length: 4 hours 3 minutes
Publisher: Earl of Plaid
Released: Aug. 3, 2017
Genre: Paranormal

Synopsis:
Neville Canton was about as average as any man can be. He had a mediocre job, a pleasant wife, an on-going feud with his sister, and an average case of cancer that took his life.

But death wasn't the end of his problems and even average people have to learn to overcome.

Now trapped in a cloud between the living and the dead, he must find his way to the afterlife.

With the help of a spiritual guide he navigates through seven challenges; seven tasks to sever his final connections to the mortal world.

If he fails, he forfeits his eternity and the consequences may be worse than death.
Buy Links:


Author Bio:
R.K. Gold graduated from the University of Maryland in 2014 with a B.A. in English and is now pursuing a M.S. in Economics from the University at Buffalo.
He is a non-genre specific author who enjoys reading and writing about characters searching for their purpose in life.
Narrator Bio:
Kyle is a professionally trained voice actor and narrator based in Atlanta, GA. He got his start working in sports radio, spending six seasons as a broadcaster in the Atlanta Braves' organization. He started doing audiobooks on a part-time basis in 2013, and he enjoyed telling stories so much that he transitioned into voice acting full-time three years later. He's performed more than 20 titles on Audible across a variety of fiction and non-fiction genres. He also once had a video go viral after he took the pitch at a baseball-themed gender reveal party.
Audio Excerpt:
Review:
Neville Canton had an average life, and unfortunately, died of cancer. This is the story of his pass to the afterlife, of the trials he will have to overcome to avoid getting lost in the clouds.
I think this is a very personal book. The afterlife and the journey towards it has a different meaning to everybody. This books is kind of original in the way that it proposes different kinds of ordeals than the ones we are used to.
While I enjoyed the story, I think I was not able to get all the meaning Gold had pour onto it. it could be that I don't really believe in anything like this, or just that the story kept me expecting something… else.
I did enjoy Kyle Tait's narration. He really became Neville in this story, and was also good with voices. I just found the spiritual guide's a bit overdone. For the rest, his voice is clear and his audio production skills are very good.
I am not sure if I could recommend this book to anyone. I think it will be enjoyed by those with an open mind and who believe in the afterlife.
I received this audiobook as part of my participation in a blog tour with Audiobookworm Promotions. The tour is being sponsored by Kyle Tait. The gifting of this audiobook did not affect my opinion of it.
Giveaway:
Schedule:
Sep. 24th:
Blogger Nicole Reviews

Sep. 25th:
Dab of Darkness Audiobook Reviews

Sep. 26th:
Lomeraniel

Sep. 27th:
The Literary Apothecary
The Bookworm Lodge

Sep. 28th:
It's Novel to Me
abookandalattee

Sep. 29th:
My Creatively Random Life
The Book Addict's Reviews

Sep. 30th:
Bound 4 Escape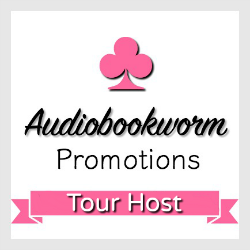 ➜Sign up as a host here
My name is Elena. Since I was a little child I loved science fiction and fantasy, and I can't resist a good novel. In 2015, while wait I started to listen to audiobooks and I discovered the pleasure in being able to read while doing my daily tasks, so there's always an audiobook playing on my phone. If you see me with my Bluetooth headphones on, please be gentle, I get easily startled.
I live with my boyfriend, which I met during my six-year stay in Belgium, four cockatiels, eight lovebirds, and a hamster in Madrid, Spain; and I like to spend my free time knitting and sewing while listening to audiobooks.