Lost in the Reflecting Pool
by
Diane Pomerantz
Narrator:
Katie Mitchell
Published by
Self-published
on 03-22-18
Genres:
Memoirs
Length:
9 hrs and 37 mins
Format:
Audiobook
Source:
Audiobookworm
Buy on Amazon/Audible
Goodreads
Overal Rating:
When Diane, a psychologist, falls in love with Charles, a charming and brilliant psychiatrist, there is laughter and flowers--and also darkness. After moving through infertility treatments and the trials of the adoption process as a united front, the couple is ultimately successful in creating a family. As time goes on, however, Charles becomes increasingly critical and controlling, and Diane begins to feel barraged and battered. When she is diagnosed with aggressive breast cancer, Charles is initially there for her, but his attentiveness quickly vanishes and is replaced by withdrawal, anger, and unfathomable sadism. What Diane previously thought were just Charles' controlling ways are replaced by clear pathologic narcissism and emotional abuse that turns venomous at the very hour of her greatest need. A memoir and a psychological love story that is at times tender and at times horrifying, Lost in the Reflecting Pool is a chronicle of one woman's struggle to survive within--and ultimately break free of--a relationship with a man incapable of caring about anyone beyond himself.
I was looking forward to this book and Diane's story. Even though I have never been in the same situation it was so graphically explained that it was easy to relate to. Diane's story is a hard one, a story of psychological abuse and gaslighting. More than a memoir, this book feels like a personal journal, and at times I found some events a little confusing.
The writing style is okay. I found some expressions repeated again and again, but we have to keep in mind that Diane Pomerantz is a psychologist, not a professional writer. Even with those little setbacks I think this book has real value, and it may help other in similar situations.
Katie Mitchell did a wonderful job transmitting the emotions poured on the text by Diane Pomerantz. I just missed some more voice range and consistence on the narration. There were some noticeable audio edits, but they were not too distracting.
I was moved by this story and how hard things became for Diane Pomerantz. I think this book is worth a listen to get inspired, get over difficult times, and thrive.
I received this audiobook as part of my participation in a blog tour with Audiobookworm Promotions. The tour is being sponsored by Diane Pomerantz. The gifting of this audiobook did not affect my opinion of it.
Author Bio:
For more than thirty-five years, Dr. Diane Pomerantz has been a practicing psychologist, teacher, supervisor, and speaker in the Baltimore-Washington metropolitan area. Dr Pomerantz has published articles on topics of childhood trauma and personality development. Lost in the Reflecting Pool is her first book and it has received the following awards: 2017 Foreword Indies Book of the Year Finalist; 2017 Human Relations Indie Book Awards: Gold in the Memoir category
Gold in the Marriage-Relationship category; Silver in Reflection category; Bronze in Life Challenges category; and 2017 Readers Favorite Finalist award.
Dr. Pomerantz is a twenty-year cancer survivor, has two grown children and lives in the woods in Maryland with Rug, her shaggy dog.
Narrator Bio:
Katie Mitchell is a southern girl, born and raised in New Orleans. She comes from a long line of dreamers, storytellers, and men who weep. Katie has been an actress for over 30 years in television, stage, and voice-overs. For this career choice she blames Helen Keller. But that is a story for another time.

She has turned her attention to writing, which is what she truly wanted to do all along.
Currently finishing a novel, BIG DADDY'S KNEE, set in 1969 Louisiana. She has 2 essays printed in the book Deliver Me. You can read more of her work on Medium.com .

​​​She lives in Los Angeles with the kid.
Schedule:
Jul. 18th:
Jul. 19th:
Jul. 20th:
Jul. 21st:
Jul. 22nd:
Jul. 23rd: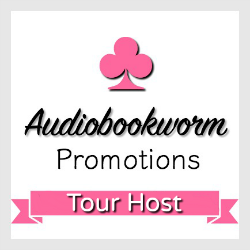 ➜Sign up as a host here
| | |
| --- | --- |
| Story (Plot) | |
| Narration | |
| Overall: | |
My name is Elena. Since I was a little child I loved science fiction and fantasy, and I can't resist a good novel. In 2015, while wait I started to listen to audiobooks and I discovered the pleasure in being able to read while doing my daily tasks, so there's always an audiobook playing on my phone. If you see me with my Bluetooth headphones on, please be gentle, I get easily startled.
I live with my boyfriend, which I met during my six-year stay in Belgium, four cockatiels, eight lovebirds, and a hamster in Madrid, Spain; and I like to spend my free time knitting and sewing while listening to audiobooks.