A Looming of Vultures (Ruritanian Rogues #1)
by
Richard Storry
Narrator:
Jake Urry
Series:
Ruritanian Rogues #1
Published by
Self-published
on 10-05-17
Genres:
Fantasy
Length:
4 hrs and 57 mins
Format:
Audiobook
Source:
Audiobookworm
Buy on Amazon/Audible
Goodreads
Overal Rating:
While an ugly war with its neighbouring realm continues to rage, the insulated members of Ruritania's upper class laugh and dance their way through their superficial lives. Some people, increasingly disillusioned by the pointless conflict, start to consider how the King might be persuaded - or forced - to end it. Meanwhile, an increasing number of items of great value are going missing from those attending these high society gatherings. At whom will the finger of suspicion point? Who can be trusted? With so many competing, yet intertwined, agendas, what will be the outcome of this looming of vultures?
Ruritania, a country described as laying somewhere East of France and the North of the Mediterranean, has been for a long time at war with Germania. In the midst of this tumult, the upper class is worried about some thefts occurred recently, and the best way to prevent them.
It is not specified when the events in this book occur, but the mention of electricity as a novelty and only within reach of the king, it could translate into late 19th century or early 20th. Being Ruritania an imaginary country, I couldn't help by try to guess in what countries it was inspired. Some names sounded Russian, but other could also have been Prussian. I know this is not relevant to the story but I always wonder about these things!
This book was really enjoyable. The characters were very well depicted, and each one had their own quirks. I especially liked the weird pair formed by Baron Rudolf and Wilhelm, with their never-ending arguments to the point that they resulted really endearing. I didn't share the motivations of the characters but I could understand them and I think Storry did a really good job in creating very vivid characters with down to earth imperfections that made them real.
The plot was cleverly exposed and had a nice pace. The book had me really entertained for more than the first half just to be surprised with interesting twist. I guess this is exactly what happened to the upper class of Ruritania, too busy with meaningless things (but important to them) to be able to see what was really in front of them.
Some things were not explained, like how the bad guys managed to do what they did, but this is part of the charm of this story, which feels sometimes like a fairy tale. I loved every moment of this it, and I enjoyed being distracted by a clever plot, like the people from Ruritania.
Jake Urry's performance was, as always, wonderful. He really brought the characters to life giving the impression of facing real people. He set the right atmosphere with his poweful and velvet-like voice, transporting me to a far away country. Urry has become of of my favorite narrators!
I received this audiobook as part of my participation in a blog tour with Audiobookworm Promotions. The tour is being sponsored by Jake Urry. The gifting of this audiobook did not affect my opinion of it.
Author Bio:
Richard studied at the Royal Academy of Music for five years, between 1984-89, graduating with high honours and a recital diploma – the only guitarist in eight years to be awarded such an honour – and winning the Julian Bream prize.
After recently being adapted for the stage, Richard's first novel, "The Cryptic Lines" has now been published and is available for download from the kindle store at Amazon here; and his song "Until You're Safely Home" is being performed frequently by various Military Wives Choirs in many different parts of the world.
Richard's second novel, "Order of Merit" was published in September 2015. His third novel, "The Black Talisman" was published in January 2016, and his fourth – "The Virtual Lives Of Godfrey Plunkett", was published in April 2016. You can find out more about Richard's books at the Cryptic Publications website here.
Narrator Bio:
Jake Urry has been narrating and producing Audiobooks since February 2016, and in that time has released 28 titles, including The Cryptic Lines by Richard Storry, White is the Coldest Colour and A Mind to Kill by John Nicholl, the PI Harlan Ulrich series by Ambrose Ibsen, The Tesla Gate by John D. Mimms, and The Dragon Apocalypse Series by James Maxey. In 2018 Jake will be working on a wide range of Audiobooks across the genres of Mystery, Thriller, Fantasy, Horror and Sci-Fi.
Giveaway:
A Looming of Vultures Giveaway: $10 Amazon Gift Card

Schedule:
Jan. 23rd:
Dab of Darkness Audiobook Reviews
Jan. 24th:
Jan. 25th:
Jan. 26th:
Jan. 27th:
Jan. 28th:
Jan. 29th: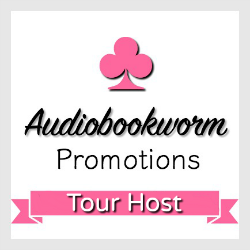 ➜Sign up as a host here
| | |
| --- | --- |
| Story (Plot) | |
| Narration | |
| Overall: | |
My name is Elena. Since I was a little child I loved science fiction and fantasy, and I can't resist a good novel. In 2015, while wait I started to listen to audiobooks and I discovered the pleasure in being able to read while doing my daily tasks, so there's always an audiobook playing on my phone. If you see me with my Bluetooth headphones on, please be gentle, I get easily startled.
I live with my boyfriend, which I met during my six-year stay in Belgium, four cockatiels, eight lovebirds, and a hamster in Madrid, Spain; and I like to spend my free time knitting and sewing while listening to audiobooks.