Author: Leslie North
Narrator: D.C. Cole
Length: 3h 34m
Publisher: Relay Publishing
Series: Karev Brothers, Volume One
Genre: Romantic Suspense

Synopsis:
Born into a Russian Mafia family, Vlad Karev is no stranger to violence…but this time it's personal. Someone has murdered his father and Vlad can't rest until he finds the killer. When the trail leads to an art gallery, Vlad wants to dig deeper, but he needs help from the owner's daughter. The pretty redhead is far too innocent for a man like Vlad, but he'll do what it takes to get the information he needs. His obligations are to the family, even if that means using the fiery woman.
Madison O'Connor works hard to keep her family's gallery going, although secretly she has little interest in art. But when she discovers her father's been laundering money for the Russian Mafia, she'll do everything she can to keep him out of jail. She hates to lie, but she has a plan…seduce the Russian bad boy to learn the mob's secrets. Never mind his dangerous exterior or icy blue eyes, Madison's going to get her family free of the mob, even if she has to use Vlad Karev to do it.
As the killer gets closer, so do Vlad and Madison. But is their connection just the means to an end, or could their romance be real?
Buy Links:

Author Bio:
Leslie North is the pen name for a critically-acclaimed author of women's contemporary romance and fiction. The anonymity gives her the perfect opportunity to paint with her full artistic palette, especially in the romance and erotic fantasy genres.

The truth of the matter is she loves her fictional persona, Leslie North, more than her normal, day-to-day persona! Her bestselling books focus on strong characters and particularly women who aren't afraid to challenge an alpha male. Inspired after years of travel, her stories are set all over the world, from the tough streets of Russia to the beautiful beaches of the middle east.

Leslie fell in love with romance when she first picked up a scrappy, dog-eared romance book from her local library. She began writing soon after and the rest, as they say, was history. She now lives in a cozy cottage on the British coast and enjoys taking long walks with her two Dalmatians, George and Fergie.
Narrator Bio:
D.C. Cole, originally an actor from California, has spent the last dozen years wandering the globe in search of…something. Self-awareness? Eternal truth? Magic, perhaps? (Cheap beer, probably.)

Once, on a Tibetan mountain top, he spent an entire month in silence to better understand the sound of a whisper. He spent a year in a small village in the Shandong Province of China, learning the ancient art of erotic mumbling. And one week out of every year, D.C. travels to Sanchi Stupa Temple in Madhya Pradesh, India, to perform one hundred thousand pushups, using only his tongue. (Actually, none of that's true, but it sounds better than "He spent twelve years getting drunk in strange places with strange people while wearing a backpack.")

D. C. has recently settled down in Brazil, where he enjoys collecting tattoos and drinking caipirinhas.

When not telling tall tales, D. C. locks himself inside his closet-sized studio and reads romantic and erotic stories into a microphone. Some people seem to enjoy his voice.


Audio Excerpt:

Giveaway:
Her Ruthless Russian Giveaway: $10 Amazon Gift Card

Schedule:
Jul. 19th:
CGB Blog Tours
Oh My Shelves
Jul. 20th:
The Book Junkie Reads
Lomeraniel
Jul. 21st:
Book Reviews by Jasmine

Jul. 22nd:
The Book Addict's Reviews
Between the Coverz
Jul. 23rd:
Up 'Til Dawn Book Blog
Jul. 24th:
Haddie's Haven
Jul. 25th:
Tales of the Ravenous Reader
Lynn's Romance Enthusiasm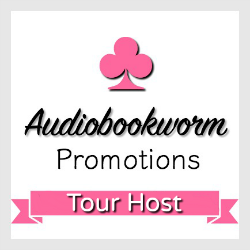 ➜Sign up as a host here
My name is Elena. Since I was a little child I loved science fiction and fantasy, and I can't resist a good novel. In 2015, while wait I started to listen to audiobooks and I discovered the pleasure in being able to read while doing my daily tasks, so there's always an audiobook playing on my phone. If you see me with my Bluetooth headphones on, please be gentle, I get easily startled.
I live with my boyfriend, which I met during my six-year stay in Belgium, four cockatiels, eight lovebirds, and a hamster in Madrid, Spain; and I like to spend my free time knitting and sewing while listening to audiobooks.