This post contains affiliate links you can use to purchase the book. If you buy the book using that link, I will receive a small commission from the sale.
Deadly Shadow: A Paranormal Suspense Thriller (The Assassin Chronicles Book 1)
by
Kim Cresswell
Narrator:
Robin Siegerman
Series:
The Assassin Chronicles #1
Published by
Self-published
on 08-07-18
Genres:
Mystery
,
Thriller
Length:
6 hrs and 17 mins
Format:
Audiobook
Source:
Audiobookworm
Buy on Amazon/Audible
Goodreads
Overal Rating:
The Assassin Chronicles TV series is in development with Council Tree Productions




Two recent murders. Two serial killers. A conspiracy that reaches beyond the physical world.

Consumed with grief over the tragic death of her husband, FBI agent Victory McClane is obsessed with finding Ohio's serial killer, "The Wrapper".

When another young woman turns up dead and the victim is linked to Derrick Lynn, son of the Secretary of Defense, Victory finds Derrick has all the right answers and is a little too helpful.

Derrick has a secret: He's a government assassin who uses his unusual paranormal skills to eliminate targets. Determined to keep his own secrets buried, he offers to help find The Wrapper.

But can Victory trust him?

As the body count rises, Victory must cross a dangerous line--into a world of government cover-ups, murder, and betrayal--a decision that will test her limits. And everything she believes in.

Deadly Shadow is an action-packed paranormal, supernatural, suspense thriller for mystery and detective fiction lovers!
Detective Kate Becket meets X-Men. There's a serial killer named "The Wrapper" kidnapping and torturing young women to death on the streets of Ohio. Agent Victory McLane is on the case, while also going after another killer called "The Shadow" due to the ability of not leaving any trace behind on his murders. This Shadow is closer to Victory than she thinks, and may be of great help in finding "The Wrapper".
I enjoyed this book from beginning to end. The two parallel cases in the story got me hooked, and the several twists and turns kept my attention. The characters are likable, and they are developed enough to make me care for them.
I like murder mysteries but I don't always enjoy paranormal stories. This was an exception. The paranormal factor in this story added another layer of complexity and interest, and Derek was so charismatic that I couldn't resist his charm. Another thing I liked was that, instead of having your typical young main characters, here Victory and Derek are on his forties, which, I think, makes for a more interesting read for people my age.
Robin Siegerman was the perfect match for this story. Her voice sounds mature, very appropriate for Victory, but she also did great in performing the rest of characters, delivering different voices and using sound effects when on phone calls, so that listening to this audiobook almost felt like watching a movie.
Great story, plot, writing, characters, and narration. What more can anyone as for? I would absolutely recommend it to anyone into murder mysteries, even though they are not into paranormal.
I received this audiobook as part of my participation in a blog tour with Audiobookworm Promotions. The tour is being sponsored by Kim Cresswell. The gifting of this audiobook did not affect my opinion of it.
Author Bio:
Kim Cresswell resides in Ontario, Canada and is the bestselling and award-winning author of the action-packed WHITNEY STEEL series. Kim recently signed a 3-book German translation deal with LUZIFER Verlag for the first three books in the series: Reflection, Retribution and Resurrect. The popular series will be published in German beginning in 2018/2019.

Her romantic thriller, Reflection (A Whitney Steel Novel – Book One), has won numerous awards: RomCon®'s 2014 Readers' Crown Finalist (Romantic Suspense), InD'tale Magazine 2014 Rone Award Finalist (Suspense/Thriller), UP Authors Fiction Challenge Winner (2013), Silicon Valley's Romance Writers of America (RWA) "Gotcha!" Romantic Suspense Winner (2004), Honourable Mention in Calgary's (RWA) The Writer's Voice Contest (2006).

Lethal Jouney won RomCon®'s 2014 Readers' Crown (Thriller) and was a finalist in From the Heart Romance Writers (FTHRW) Golden Gate Contest.

The Assassin Chronicles TV series is in development with Council Tree Productions, a feature film and TV production company located in Los Angeles, California. The TV series: THE ASSASSIN CHRONICLES is based on Kim's upcoming 4-book paranormal/supernatural suspense thriller series: Deadly Shadow (published May 2018), Invisible Truth, Assassin's Prophecy, and Vision of Fire.
Narrator Bio:
Robin Siegerman was trained as an actor by the acclaimed William Esper in New York, vocally trained by Albert Hague, a Tony award-winning, Broadway composer, and trained in speech and dialects by dialect coach to the stars, Timothy Monich.

Robin has a wide range of voices, accents, dialects and characters to give voice work color. Noteably, in the spring of 2018, she was nominated for the narration of the WWII documentary Harry's Story in the Best International Performance category at the One Voice Awards in England.

Robin also has extensive on-camera experience as a spokes-person for a series of corporate training videos; a decor expert on various TV and radio broadcasts; a frequently requested keynote speaker at home and consumer trade shows, libraries and private industry events; has hosted her own internet radio show; wrote and voiced a daily home renovation information series for radio; and wrote and voiced a regular feature on green living radio.

Currently Robin writes & produce promo videos with VO for small to medium size businesses, along with narrating audiobooks from her broadcast-quality home studio.
Giveaway:
Prize: The Whitney Steel Trilogy On Audiobook
Deadly Shadow Giveaway: The Whitney Steel Trilogy Audiobooks

Schedule:
Nov. 13th:
Nov. 14th:
Nov. 15th:
Nov. 16th:
Nov. 17th:
Nov. 18th:
Nov. 19th: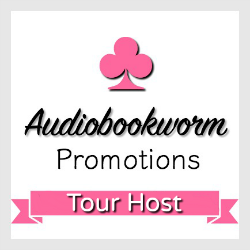 ➜Sign up as a host here
| | |
| --- | --- |
| Story (Plot) | |
| Narration | |
| Overall: | |
My name is Elena. Since I was a little child I loved science fiction and fantasy, and I can't resist a good novel. In 2015, while wait I started to listen to audiobooks and I discovered the pleasure in being able to read while doing my daily tasks, so there's always an audiobook playing on my phone. If you see me with my Bluetooth headphones on, please be gentle, I get easily startled.
I live with my boyfriend, which I met during my six-year stay in Belgium, four cockatiels, eight lovebirds, and a hamster in Madrid, Spain; and I like to spend my free time knitting and sewing while listening to audiobooks.