This post contains affiliate links you can use to purchase the book. If you buy the book using that link, I will receive a small commission from the sale.
Beneath
by
Maureen A. Miller
Narrator:
Brandy Skelly
Series:
Beneath #1
Published by
Self-published
on 08-17-18
Genres:
Fantasy
,
Mystery
,
Urban Fantasy
,
Young Adult
Length:
8 hrs and 12 mins
Format:
Audiobook
Source:
Audiobookworm
Buy on Amazon/Audible
Goodreads
Overal Rating:

From USA TODAY bestselling author Maureen A. Miller comes this young adult adventure that will plunge you deep into the Atlantic Ocean.


It was Stella Gullaksen's final break before starting her freshman year at college. Joining her best friend, Jill, and Jill's family aboard the STARKISSED, Stella wakes to a violent storm that capsizes the boat over a hundred miles off the New Jersey shore.

As the waves haul her under Stella knows that she is going to die. Instead, an unusual current drags her deep into the underwater canyons of the Atlantic Ocean. Powerless against the raging waters, she is suddenly sucked into a ventilated cave. One by one, Jill and her family also emerge in the sunken cavern.

With only a faulty diving flashlight to keep oblivion at bay Stella and her best friend's brother, Colin, search the cave in hope of finding a way back to the surface. What they discover, however, is that they are not alone. There are other survivors in this subterranean grotto–survivors spanning decades of maritime disasters.

Will this discovery prove salvation, or have they all been condemned to the same fate? A grim finale at the bottom of the sea?

On an alliance forged by friendship and attraction, Stella and Colin battle to escape the danger that lies beneath.
Stella used to go often with her friend Jill and Jill's family on their boat. This was a time like many others until a sudden storm capsized their boat and a strong current pulled them to the bottom of the ocean. They awoke inside a cave in the depths of the sea, a cave where no one seemed to be able to escape from.
This story had me so intrigued that I listened to it almost in one go. The unique setting and conditions the characters were in made me want to continue just to know more. The book is well written and the two main characters are well depicted. I would have liked some more character development on some secondary characters, but it was fine nonetheless. I had troubles understanding Jill's father's actions and words, but it's also true that some people may react in unpredictable ways under stress.
There are several moments of tension and many unanswered questions that had me on the edge of my seat. I think what attracted me the most from the story was the strange place they arrive in, and the secrets that its inhabitants kept from the new arrivals. I think I'm just a sucker for weird locations.
There is also some romance in this book, as in any YA story, but it didn't bother me since the plot is mainly centered on the place and the people living there.
Now, after all these good comments, why am I not giving 5 stars to this book? There were some things that bothered me a bit. One one hand: evolution! I'm not going to give any spoilers, but to anyone who has read the book, this must mean something. The other thing that bothered me was the 'easy' way out and how indolent the people living in the Underworld were. It just didn't sit very well with me, especially those who knew more.
Brandy Skelly's voice and style were the perfect match for this story. She did a great job interpreting the characters and voicing them with subtle differences. The audio production could have been better though, and it's what prevented me from getting into the story from the start. There were several background noises all throughout the book, and her breathing and swallowing were also audible. The 'sh' sounds also bothered me a bit at first, but I think I got used after a while. Checking Audible, this is the only book I see narrated by Skelly, so I'm impressed at her narration skills, and I would just advise her to polish her audio production or at least have it edited by someone with experience.
All in all, I loved this book, even though I felt there was a lot of building up and it seemed deflated when we reached the end. I also know how difficult is to finish a story that was very original and different to begin with.
I've just discovered that this is meant to be a series, so I definitely want to know what happens next! I guess I'm hooked.
I received this audiobook as part of my participation in a blog tour with Audiobookworm Promotions. The tour is being sponsored by Maureen A. Miller. The gifting of this audiobook did not affect my opinion of it.
Author Bio:

USA TODAY bestselling author, Maureen A. Miller worked in the software industry for fifteen years. She crawled around plant floors in a hard hat and safety glasses hooking up computers to behemoth manufacturing machines. The job required extensive travel. The best form of escapism during those lengthy airport layovers became writing.

Maureen's first novel, WIDOW'S TALE, earned her a Golden Heart nomination in Romantic Suspense. After that she became hooked to the genre. In fact, she was so hooked she is the founder of the JUST ROMANTIC SUSPENSE website.

Recently, Maureen branched out into the Young Adult Science Fiction market with the popular BEYOND Series. To her it was still Romantic Suspense…just on another planet!
Narrator Bio:
I studied theatre in college, and even participated in storytelling festivals when I was growing up. I'm a practicing attorney, and love to participate in ACX projects to keep my creative side happy and fulfilled. I can perform fiction and non-fiction, in neutral-American or Southern-American accents.

I live in North Carolina with my husband, toddler, and pound puppy. I have a soft spot for romance and I love a good laugh!
Giveaway:
Prize: $25 Amazon Gift Card
Beneath Giveaway: $25 Amazon Gift Card

Schedule:
Oct. 2nd:
Oct. 3rd:
Oct. 4th:
Oct. 5th:
Oct. 6th:
Oct. 7th:
Oct. 8th: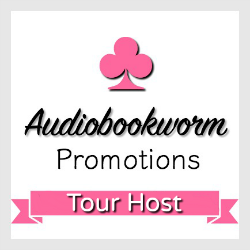 ➜Sign up as a host here
| | |
| --- | --- |
| Story (Plot) | |
| Narration | |
| Overall: | |
My name is Elena. Since I was a little child I loved science fiction and fantasy, and I can't resist a good novel. In 2015, while wait I started to listen to audiobooks and I discovered the pleasure in being able to read while doing my daily tasks, so there's always an audiobook playing on my phone. If you see me with my Bluetooth headphones on, please be gentle, I get easily startled.
I live with my boyfriend, which I met during my six-year stay in Belgium, four cockatiels, eight lovebirds, and a hamster in Madrid, Spain; and I like to spend my free time knitting and sewing while listening to audiobooks.