Dragonia: Rise of the Wyverns
by
Craig A. Price Jr.
,
Reuben Corbett
Narrator:
Reuben Corbett
Series:
Dragonia Empire Series #1
Published by
Self-published
on May 30, 2018
Genres:
Fantasy
Length:
5 hrs and 46 mins
Format:
Audiobook
Source:
Audiobookworm
Buy on Amazon/Audible
Goodreads
Overal Rating:

Listening Length: 5 hrs and 46 mins

USA Today Bestselling Author, Craig A. Price Jr. presents, Dragonia: Rise of the Wyverns, Book 1 in the Dragonia Empire Series.

The Resistance struggles to find a way to defeat the Dragonia Empire, all hope seems lost against the dragonriders, until they discover an island full of wyverns.


Devarius has lost everything. His parents murdered, his sister kidnapped, and the new village he called home: destroyed.

The Dragonia Empire has gotten out of control, destroying anything and everything in their path searching for the Resistance. Devarius is left with little choice but to find the Resistance, join them, and hope he can help them defeat the Dragonia Empire once and for all to bring peace to the land of Kaeldroga.
A group of people, after suffering the oppression by their lords mounted on dragons, are in search for the sneaky resistance, but in their way, they found the wyverns.
This is a little and endearing story about how dragons and wyverns change the course of history. I'm ashamed that I didn't know about wyverns before now since they are the coolest and cutest creatures ever, at least as they are described in this book.
The story is entertaining. The places they visit and the way they bond and trained the wyverns was my favorite part. I have the feeling though, that this book could have been so much better and bigger. There were some repetitions along the story, like the encounters with the first dragon and the first wyvern. I found also some repeated expressions in the text, and a lot more tell than show than I would like.
I would have also liked the characters were more developed, and that there were more interesting female characters. There are only two in the book: one became a traitor quite at the beginning of the book, and the other one was kind of involved in a romantic relationship with the main character and was overprotected at all times.
Something that bothered me a bit, but it could have been just an homage, is that there were a couple of character names that felt like copies of two Tolkien's characters.
Reuben Corbett did a fantastic job with the narration, delivering very good character interpretations and showcasing a good deal of accents and styles in order to differentiate characters.
It was a light book, but I think it would have worked better as an extended and more elaborate version, with a bit more world building and character exploration. It was very enjoyable, though, and I am curious to see where the story is going in future books.
I received this audiobook as part of my participation in a blog tour with Audiobookworm Promotions. The tour is being sponsored by Craig A. Price Jr.. The gifting of this audiobook did not affect my opinion of it.\
Author Bio:
Craig A. Price Jr. is a USA Today Bestselling Author. His novel, The Crimson Claymore, an Epic Fantasy Adventure novel that has garnered millions of reads, was featured in fantasy, had more than 17,000 votes, and more than 1,000 comments/reviews on the social networking platform for readers and writers, Wattpad.
Narrator Bio:
Reuben Corbett is a professional voice actor and narrator. He has a very dynamic voice with a general American accent. He does high-quality voice-overs.
Giveaway:
Prize: 3-month Audible Membership
Dragonia Giveaway: 3-Month Audible Membership

Schedule:
Sep. 23rd:
Sep. 24th:
Sep. 25th:
Sep. 26th:
Sep. 28th:
Sep. 29th: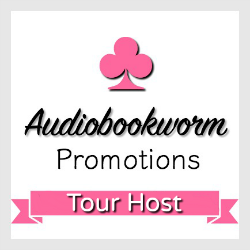 ➜Sign up as a host here
| | |
| --- | --- |
| Story (Plot) | |
| Narration | |
| Overall: | |
My name is Elena. Since I was a little child I loved science fiction and fantasy, and I can't resist a good novel. In 2015, while wait I started to listen to audiobooks and I discovered the pleasure in being able to read while doing my daily tasks, so there's always an audiobook playing on my phone. If you see me with my Bluetooth headphones on, please be gentle, I get easily startled.
I live with my boyfriend, which I met during my six-year stay in Belgium, four cockatiels, eight lovebirds, and a hamster in Madrid, Spain; and I like to spend my free time knitting and sewing while listening to audiobooks.