This post contains affiliate links you can use to purchase the book. If you buy the book using that link, I will receive a small commission from the sale.
Fever Rising
by
K.M. Riley
Narrator:
Audra Cook
Published by
Trifecta Publishing House
on 09-14-18
Genres:
Fantasy
,
Young Adult
Length:
6 hrs and 5 mins
Format:
Audiobook
Source:
Audiobookworm
Buy on Amazon/Audible
Goodreads
Overal Rating:
"I don't save, I kill. I don't build, I break. I don't run, I chase. And I won't rest until a new society is built on the System's ashes." Cassidy Havok

Kaden Valens' world is kill or be killed. Such is the life of a Challenger, the property of a Citizen. Fight or die. When Kaden is ordered to face his sole family member, his sister Nix, he chooses a different battle—one against the Federacy that owns him.

Rebel Cassidy Havok is the Federacy's worst nightmare. Her only goal is to bring down the government, doing whatever it takes to eradicate the slave-based society. When Kaden defies the Federacy publicly, she hopes to make an ally out of him, turning the tide in the resistance's favor.

Cassidy helps Kaden escape the clutches of the Citizenry, and they flee to the Wilds, the world outside the Federacy's reach. There they plan for the fight of a lifetime. Can they take on a nation, or is their cause a lost one?
The story is set in a world with a slave caste system, where some individuals have special powers that make them especially interesting for gladiator-like fights. Kaden, one of the champions meets Cassidy, a rebel that lives in the Wilds, where nothing should thrive, and she tries to convince him that things can change and this sick society should be overthrown.
I'm usually picky about fantasy and YA, but I enjoyed this story. The powerful images which the story opens with got me hooked and made me automatically care for the two siblings. There were many details missing in the world building but I found the ideas so interesting and original that I overlooked this.
The characters were likable and it was easy to relate to them, even though they were not ultra-developed. With more character development this would have been a 5-star book.
The narration by Audra Cook was correct, and her voice was pleasant. There was some differentiation between voices but I found a bit upsetting that Kaden and Cassidy, two of the main characters, sounded almost exactly the same. I found it confusing, especially because one is male and the other is female.
It was a good story, well worth a listen.
I received this audiobook as part of my participation in a blog tour with Audiobookworm Promotions. The tour is being sponsored by K.M. Riley. The gifting of this audiobook did not affect my opinion of it.
Author Bio:
K.M. Riley is not only a lover of stories, but she's a game designer, artist, and fan of all things imaginative. If she's not writing, she's daydreaming or doodling about more worlds and characters that will make great tales. With a background in Creative Writing, she's always busy creating new adventures, or taking part in them.
Giveaway:
Prize: $50 Amazon Gift Card
Fever Rising Giveaway: $50 Amazon Gift Card

Schedule:
Nov. 13th:
Nov. 14th:
Nov. 15th:
Nov. 16th:
Nov. 17th:
Nov. 18th:
Nov. 19th: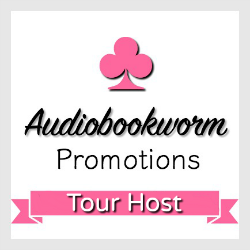 ➜Sign up as a host here
| | |
| --- | --- |
| Story (Plot) | |
| Narration | |
| Overall: | |
My name is Elena. Since I was a little child I loved science fiction and fantasy, and I can't resist a good novel. In 2015, while wait I started to listen to audiobooks and I discovered the pleasure in being able to read while doing my daily tasks, so there's always an audiobook playing on my phone. If you see me with my Bluetooth headphones on, please be gentle, I get easily startled.
I live with my boyfriend, which I met during my six-year stay in Belgium, four cockatiels, eight lovebirds, and a hamster in Madrid, Spain; and I like to spend my free time knitting and sewing while listening to audiobooks.