Author: Jennifer LeBlanc
Narrator: James Oliva
Length: 4 hours 28 minutes
Series: August Barton, Book 1
Publisher: Jennifer LeBlanc
Released: Apr. 20, 2018
Genre: Humor

Synopsis:
August Barton could never have mentally prepared himself for his freshman year of college: not only has his anxiety increased, but his parents are divorcing, his new roommate thinks Augie is the biggest nerd in existence, and his grandma, a retired prostitute named Gertie, has taken to running away from her nursing home. Augie just wants to hole up in his dorm room with his Star Wars collectables and textbooks, but Gertie is not about to let that happen. What ensues is a crazy ride including naked trespassing, befriending a local biker gang, and maybe-just maybe-with Augie defeating his anxiety and actually getting the girl.
Buy Links:


Author Bio:
Jennifer LeBlanc was born and raised in South Dakota and has always had a knack for story-telling. When not slaying zombies in the gaming world or writing, she can be found getting lost in a good book, doing something crafty, indulging in photography, or relaxing with her husband, two cats, and chihuahua. Jennifer loves animals and supports saving species on the verge of extinction. She currently works in merchant banking and credit services while writing her next project.
Narrator Bio:
James Oliva is the creator/writer/director of the audio drama podcast What's The Frequency? He's also the voice of Michael Tate on audio podcast drama Greater Boston, Willard on Oak Podcast. James has also had guest appearances on ars Paradoxica, The Strange Case of Starship Iris, Seminar, Big Data, Jim Robbie and the Wanderers, The Haven Chronicles, and Radiation World. He was a finalist for a 2016 and 2017 Audio Verse Award in the acting category.
Schedule:
Jun. 17th:
Jun. 18th:
Jun. 19th:
Jun. 20th:
Jun. 21st:
Jun. 22nd:
Jun. 23rd: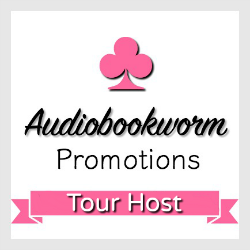 ➜Sign up as a host here
My name is Elena. Since I was a little child I loved science fiction and fantasy, and I can't resist a good novel. In 2015, while wait I started to listen to audiobooks and I discovered the pleasure in being able to read while doing my daily tasks, so there's always an audiobook playing on my phone. If you see me with my Bluetooth headphones on, please be gentle, I get easily startled.
I live with my boyfriend, which I met during my six-year stay in Belgium, four cockatiels, eight lovebirds, and a hamster in Madrid, Spain; and I like to spend my free time knitting and sewing while listening to audiobooks.