Author: Jesikah Sundin
Narrators: Sunil Patel
Length: 12 hours 30 minutes
Publisher: Forest Tales Publishing
Released: Dec. 11, 2017
Genre: Science Fiction

Synopsis:
She is from the past, locked inside a world within a world.
He is from the future, haunted by her death.

A sensible young nobleman and his fiery sister live in an experimental medieval village. Sealed inside this biodome since infancy, Leaf and Willow have been groomed by The Code to build a sustainable world, one devoid of Outsider interference. One that believes death will give way to life.

All is ideal until their father bequeaths a family secret with his dying breath, placing an invisible crown of power on Leaf's head. Now everyone in their quiet town is suspect. Risking banishment, the siblings search for clues, leading them to Fillion Nichols, an Outsider with a shocking connection to their family. Their encounter launches Fillion into battle with his turbulent past as he rushes to decode the many secrets that bind their future together–a necessity if they are all to survive.

Cultures clash in an unforgettable quest for truth, unfolding a story rich in mystery, betrayal, and love.

Are you ready to discover what is real?
Buy Links:



Audio Excerpt:
Author Bio:
Jesikah Sundin is multi-award winning a sci-fi/fantasy writer mom of three nerdlets and devoted wife to a gamer geek. In addition to her family, she shares her home in Monroe, Washington with a red-footed tortoise and a collection of seatbelt purses. She is addicted to coffee, laughing, and Dr. Martens boots and shoes … Oh! And the forest is her happy place.

Other Interesting tidbits:
Jesikah owns Forest Tales Photography, and boasts a varied background in business administration and marketing, though her heart has always belonged to the arts and sciences. In college, she pursued a degree in geophysics and oceanography. And, as a teenager, she attended a performing arts school for musical theater and opera, performing in several theater productions, while also serving as editor-in-chief of her high school's newspaper. She is married for over twenty years to her high school sweetheart and raising three awesomely geeky children. When not writing, she's often found in her garden, hiking, gaming, baking, fangirling over all things Star Wars and Firefly, or attending various conventions in cosplay, notably Comicon and FaerieCon.
Narrator Bio:
My name is Sunil Patel and I am a professional British male Voice-Over artist. I was born and bred in London, UK, and woke up with a deep, rumbling voice when I neared adulthood. As a result I have pursued the lifestyle of a Voice Actor / Voice-over artist, not wanting my unique voice to go to waste. I have recorded for multinational companies like Herbal Life, and organisations like The Billy Graham Evangelist Association. I have also narrated an audiobook called Legacy: The Biodome Chronicles. I can also do voice-overs in other languages, which includes Hindi and Gujarati.

I have been voice trained by coach and mentor, Gary Terrza (https://www.vomasterclass.com), a successful and and well-known voice actor who has been doing his craft for over 25 years. I have also received additional voice training by my acting mentor and coach, Gavin MacAlinden, (https://www.actinggymnasium.co.uk/)

Other interesting facts about myself: I worked as a Police Community Support Officer for the London Metropolitan Police for four years; Travelled to 16 countries; Climbed 3 mountains, including a Himalayan peak; I speak 5 languages and most importantly I am also pursuing a career in acting and have performed in local theater in Camden, London.
Schedule:
Feb. 8th:
Dab of Darkness Audiobook Reviews
Feb. 9th:
Feb. 10th:
Feb. 11th:
Feb. 12th:
Feb. 13th:
Feb. 14th:
Pregnant, Barefoot, in the Kitchen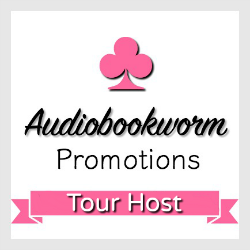 ➜Sign up as a host here
My name is Elena. Since I was a little child I loved science fiction and fantasy, and I can't resist a good novel. In 2015, while wait I started to listen to audiobooks and I discovered the pleasure in being able to read while doing my daily tasks, so there's always an audiobook playing on my phone. If you see me with my Bluetooth headphones on, please be gentle, I get easily startled.
I live with my boyfriend, which I met during my six-year stay in Belgium, four cockatiels, eight lovebirds, and a hamster in Madrid, Spain; and I like to spend my free time knitting and sewing while listening to audiobooks.