Author: J.P. Wright
Narrators: Claire M. James
Length: 7 hours 30 minutes
Publisher: J.P. Wright
Released: Dec. 12, 2016
Genre: Humor

Synopsis:
Here is a country house murder mystery of sorts, for daughters and their mothers, and anyone else who wants to learn the correct way to eat a scone.

Violet has to prepare for her Home Economics assessment, but with a house full of guests and a lunatic sister playing detective, how will she ever get it done? And if the dog did not destroy her mother's cake, who did? Did she really see someone lurking down at the gatehouse? Which one is the bay tree, and what does nutmeg look like anyway? Should self-confessed teachers be allowed out into society?

All these questions must be answered before the weekend is over.
Buy Links:


Author Bio:
JP Wright lives in the south of England. Between the demands of his day-job, his duties as amanuensis to the Tickham girls, digging his garden, cycling, running and spending time with his own beautiful girls, he sometimes finds time to write for himself.
Narrator Bio:
I am UK based London trained actress who now focuses on audiobook narration, writing and voice-over work. My natural accent is RP, but I can also meander happily around the British Isles. I have lived in Australia, so can give it a go…but I'm not native by any means! And let's not forget that any English person worth their salt can fling a few phrases around in a Southern American Drawl.

Y'all have a good day now, y'all.

I'm always happy to hear from authors, producers, readers and listeners!
Audio Excerpt:
Giveway:
Home Economics For Girls Giveaway: $50 Amazon Gift Card

Schedule:
Dec. 7th:
The Audiobookworm
Dec. 8th:
Dec. 9th:
Dec. 10th:
Dec. 11th:
Dec. 12th:
Dec. 13th: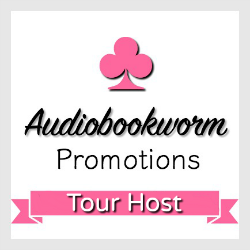 ➜Sign up as a host here
My name is Elena. Since I was a little child I loved science fiction and fantasy, and I can't resist a good novel. In 2015, while wait I started to listen to audiobooks and I discovered the pleasure in being able to read while doing my daily tasks, so there's always an audiobook playing on my phone. If you see me with my Bluetooth headphones on, please be gentle, I get easily startled.
I live with my boyfriend, which I met during my six-year stay in Belgium, four cockatiels, eight lovebirds, and a hamster in Madrid, Spain; and I like to spend my free time knitting and sewing while listening to audiobooks.