Format:
Audiobook

Author: Jake G. Panda
Narrators: Full Cast
Length: 2 hours 34 minutes
Publisher: Woolly Family Studios
Released: Oct. 3, 2016
Genre: Family Audio Drama

Synopsis:
Listen up. If you're looking for trouble, you've found it. His name's Jake G. Panda and he's a wildlife investigator. This hard-boiled bear works at a flophouse for endangered critters called the Last Resort. He's the hotel snoop. The resident fuzz. It's his job to keep these unusual guests safe and outta harm's way.

This hilarious first installment of The Endangered Files is a wild and woolly mystery involving a missing guest, a green bird, and a bunch of double-crossing critters all hot on the trail of The Cursed Dodo. It's designed to introduce young listeners to the subject of endangered species in a fun and informative way.

So join this tough talking panda detective and a cast of endangered creatures on a globe-trotting audio adventure that will appeal to young and old alike.
Buy Links:
Author Bio:
Jake G. Panda is a wildlife investigator. A hardboiled Winnie-the-Pooh. He likes bamboo and saving endangered animals. He is the author of The Endangered Files, a mystery series about his misadventures in the protection business.

His partner in crime, the fella who helps write these books because, let's be honest, it's not easy typing with big, clunky bear paws, resides somewhere in New England. He has written his fair share of stuff, mostly for the big screen. And some of it has actually been projected. He likes to keep a low profile and lets Jake do all the talking.
Schedule:
Dec. 10th:
Lomeraniel

Dec. 11th:
AudioSpy
Hall Ways Blog

Dec. 12th:
Lynn's Romance Enthusiasm

Dec. 13th:
Bound 4 Escape

Dec. 14th:
Desert Rose Reviews

Dec. 15th:
The Book Addict's Reviews

Dec. 16th:
Life as Freya
Notes from 'Round the Bend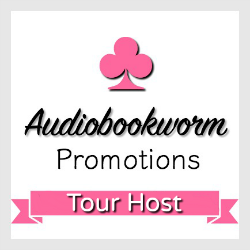 ➜Sign up as a host here
My name is Elena. Since I was a little child I loved science fiction and fantasy, and I can't resist a good novel. In 2015, while wait I started to listen to audiobooks and I discovered the pleasure in being able to read while doing my daily tasks, so there's always an audiobook playing on my phone. If you see me with my Bluetooth headphones on, please be gentle, I get easily startled.
I live with my boyfriend, which I met during my six-year stay in Belgium, four cockatiels, eight lovebirds, and a hamster in Madrid, Spain; and I like to spend my free time knitting and sewing while listening to audiobooks.