Author: Joy Penny
Narrator: Susan Marlowe
Series: Stay in Touch, Book One
Length: 8 hours 17 minutes
Publisher: Snowy Wings Publishing
Released: July 12, 2017
Genre: Contemporary Romance

Synopsis:
Four friends. Four college grads. Four people figuring out that life doesn't always turn out the way you expected.

Brielle Reyes may not have post-college life planned out like some of her friends do, but she figures she'll work for her mother's home cleaning service while job hunting for something that makes use of her history and philosophy degrees. It'll work out as long as she doesn't fall in love. Her last relationship was a disaster and she has no idea where she'll be in a few weeks, let alone the rest of her life. Since the only guy in her age range she sees now on a regular basis is cantankerous if handsome client Archer Ward, she probably won't have a hard time sticking to that vow. Probably.

Archer Ward likes very few things: illustrating as a somewhat-celebrated comic artist and his privacy. When his meddling mother hires him a cleaning service on an almost daily basis because she doesn't fully trust her son to live on his own with his disability, he's at first annoyed – even if his house cleaner is the most beautiful woman he's ever spent more than a few minutes with. When he realizes her dreams may take her far outside of his restricted orbit, he has to decide whether to stifle his interest in her or risk messing up her plans to explore if there's something more between them.

Neither can deny they're growing a little fond of each other, even if falling in love just now makes no sense whatsoever. But how often does love ever make perfect sense?
Buy Links:

Author Bio:
Joy Penny writes books, devours stories, and geeks out about everything from classic romance books to manga. When she's not working as a freelance writer and book editor, she's probably immersed in her favorite TV shows, period dramas, and anime series. She also writes YA speculative fiction as Amy McNulty, and one of her books, Nobody's Goddess, won The Romance Reviews' Summer 2016 Readers' Choice Award for Young Adult Romance.
Narrator Bio:
Susan Marlowe is an audio book narrator/voice artist. For more information, contact her at [email protected].
Audio Excerpt:

Giveaway:
Touch of Fondness Giveaway: $10 Amazon Gift Card

Schedule:
Sep. 10th:
What Is That Book About
Lomeraniel

Sep. 11th:
The Book Junkie Reads
Shh I Am Reading
Sep. 12th:
Up 'Til Dawn Book Blog
Desert Rose Reviews

Sep. 13th:
Jazzy Book Reviews
Lilly's Book World

Sep. 14th:
Between the Coverz
abookandalattee
Haddie's Haven
Sep. 15th:
Smada's Book Smack
Simply Kelina

Sep. 16th:
The Book Addict's Reviews
Anniebooks
Working Mommy Journal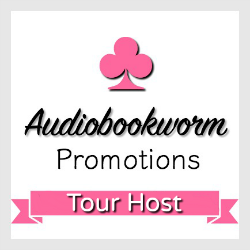 ➜Sign up as a host here
My name is Elena. Since I was a little child I loved science fiction and fantasy, and I can't resist a good novel. In 2015, while wait I started to listen to audiobooks and I discovered the pleasure in being able to read while doing my daily tasks, so there's always an audiobook playing on my phone. If you see me with my Bluetooth headphones on, please be gentle, I get easily startled.
I live with my boyfriend, which I met during my six-year stay in Belgium, four cockatiels, eight lovebirds, and a hamster in Madrid, Spain; and I like to spend my free time knitting and sewing while listening to audiobooks.