Author: Christine Evelyn Volker
Narrator: Gabrielle de Cuir
Length: 12 hours 6 minutes
Publisher: Christine Evelyn Volker
Released: Mar. 27, 2018
Genre: Mystery

Synopsis:
Struggling to forget a crumbling marriage, 40-year-old Anna Lucia Lottol comes to Venice to visit an old friend – but instead of finding solace, she is dragged into the police station and accused of murdering a money-laundering count with whom she had a brief affair. A US Treasury officer with brains and athleticism, Anna fights to clear her name in a seductive city full of watery illusions. As she works to pry information from a cast of recalcitrant characters sometimes denying what she sees and hears, she succeeds in unleashing a powerful foe bent on destroying her. Will she save herself and vanquish her enemies, including her darkest fears?

A captivating tapestry of murder, betrayal, and family, Venetian Blood is a story of one woman's brave quest for the truth – before it's too late.

"A riveting whodunit that makes full use of its dramatic setting." (Kirkus Reviews)
Buy Links:



Author Bio:
Christine Evelyn Volker became intrigued by foreign cultures at an early age, which propelled her to study Spanish, German, and Italian. After securing a BA in Spanish and an MLS at University at Albany – SUNY, followed by an MBA at UC Berkeley, she was drawn to international banking and became a senior vice president at a global financial institution. Her career brought her to Italy, where she immersed herself in the language and made frequent visits to Venice. Venetian Blood marks a return to her roots in the humanities, and just won the Sarton Women's Book Award for contemporary fiction.

She is currently at work on her second international mystery, this one set in the rainforest of Peru.
Narrator Bio:
Gabrielle has narrated over 400 hundred titles specializing in fantasy, humor, and titles requiring extensive foreign language and accent skills. Her "velvet touch" as an actors' director has earned her a special place in the audiobook world as the foremost choice for best-selling authors and celebrities. Short list of those directed: Anne Hathaway, Emilio Estevez, Wil Wheaton, Dr. Daniel G. Amen, Elijah Wood, Deepak Chopra, Eric Idle, Nancy Cartwright, Michael York, Ed Herrmann, and Joe Mantegna. She is the writer and director of the Award winning short film THE DELIVERY, which deals with an Alice-in-Wonderland version of audio books. She spent her childhood in Rome growing up with her wildly artistic and cinematic father, John de Cuir, four-time Academy Award winning Production Designer, an upbringing that her to be fluent in Romance languages and to have an unusual appetite for visual delights.)
Giveaway:
Venetian Blood Giveaway: Kindle Fire HD8

Schedule:
May 8th:
Dab of Darkness Audiobook Reviews
May 9th:
May 10th:
May 11th:
May 12th:
May 13th:
May 14th: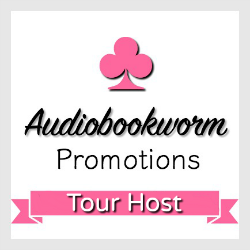 ➜Sign up as a host here
My name is Elena. Since I was a little child I loved science fiction and fantasy, and I can't resist a good novel. In 2015, while wait I started to listen to audiobooks and I discovered the pleasure in being able to read while doing my daily tasks, so there's always an audiobook playing on my phone. If you see me with my Bluetooth headphones on, please be gentle, I get easily startled.
I live with my boyfriend, which I met during my six-year stay in Belgium, four cockatiels, eight lovebirds, and a hamster in Madrid, Spain; and I like to spend my free time knitting and sewing while listening to audiobooks.