Salvage Rat
by
Larry N. Martin
Narrator:
Jeffrey Kafer
Published by
Tantor Audio
on 09-19-18
Genres:
Science-Fiction
,
Space Opera
Length:
8 hrs and 56 mins
Format:
Audiobook
Source:
Audiobookworm
Buy on Amazon/Audible
Goodreads
Overal Rating:
Star Force pilot and hero Wyatt McCoy left his medals and career behind after the Rim Wars, disillusioned and bitter when he learns the truths behind the conflict. He takes his converted gunship, the Nellie B, and heads to the Near Fringe, salvaging derelict ships and abandoned stations and mining colonies. Dr. Beth Parker is a space archeologist, documenting the history of planetary expansion and colonization for Kalok Enterprises and the Interplanetary Mining Guild. A piece of alien technology embeds itself in Beth's arm, giving her the ability to see the energy impressions of long ago people and events. When Beth uncovers proof of genocide that could bring down the big mining companies, she's the target of assassins. Wyatt makes a split-second decision to intervene, launching them both into a high-stakes cat-and-mouse game with some of the most powerful organizations in the system. They can prove Kalok and Interplan killed millions—but can they live long enough to tell their story?
Ex-military Wyatt McCoy, now surviving as a salvager, gets mixed in a conflict of huge proportions when trying to protect dr. Beth Parker. Beth is more than what she seems, and the big corporations are behind her because she knows their darkest secrets, and the best way of silencing someone is killing.
I had a great time listening to this audiobook, pure adventure in a space odyssey book with interesting characters and a conflict that matters. Captain McCoy is your typical ex-hero which now looks like an antihero, and is terribly attached to his ship, the Nellie B, an older model but with enough customization to make it unique, speedy, and special. Beth is not only a smart and courageous woman. She has an alien technology attached to her body that allows her to see how people died. Together they will try to uncover the truth and end Kalok enterprises for good.
The book is a rollercoaster of adventure, emotions, and secrets. I had a great time listening to it and couldn't put it down. There were several twists and truths revealed along the way, and I'm impatient to continue listening to the series.
Jeffrey Kaffer was the perfect narrator for this story, creating an atmosphere of suspense at the right moments but also transmitting the character's personalities with the right dose of humor, emotions, and seriousness. Voice changes were subtle but enough to follow dialogs easily.
I loved this audiobook, and I hope we get the rest of the series soon enough!
I received this audiobook as part of my participation in a blog tour with Audiobookworm Promotions. The tour is being sponsored by Larry N. Martin. The gifting of this audiobook did not affect my opinion of it.
Author Bio:
Larry N. Martin is the author of the new sci-fi adventure novel Salvage Rat. He is the co-author (with Gail Z. Martin) of the Spells, Salt, and Steel/New Templars series; the Steampunk series Iron & Blood; and a collection of short stories and novellas: The Storm & Fury Adventures set in the Iron & Blood universe. He is also the co-author of the upcoming Wasteland Marshals series and the Joe Mack Cauldron/Secret Council series.
Narrator Bio:
Jeffrey Kafer – Jeffrey Kafer is a full-time SAG-AFTRA audiobook narrator. He has narrated over 450 books in almost every genre for such authors Clive Barker, Steve Alten, Maya Banks, Gregg Olsen and many others. He has 2 degrees in cinema and broadcasting and spent the first part of his career as a video game tester for Microsoft before following his true passion of acting. He's been on stage since he was 13 (his mom still has the bellhop costume she made) and currently lives in Los Angeles with his family and dog.
Free CD copies of the Salvage Rat audiobook are available to reviewers through the Adopt-An-Audiobook program.
Giveaway
Prize: 3-month Audible membership
Salvage Rat Giveaway: 3-month Audible subscription

Schedule
Feb. 28th:
The Book Junkie Reads . . .

Mar. 1st:
Dab of Darkness Book Reviews
Mar. 3rd:
Turning Another Page
Mar. 4th:
Book Addict
Jazzy Book Reviews
Mar. 5th:
Lomeraniel
Lynn's Romance Enthusiasm
Mar. 6th:
Lilly's Book World
The Book Addict's Reviews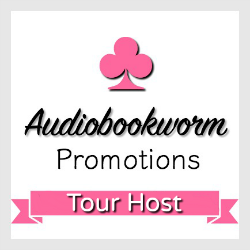 ➜Sign up as a host here
| | |
| --- | --- |
| Story (Plot) | |
| Narration | |
| Overall: | |
My name is Elena. Since I was a little child I loved science fiction and fantasy, and I can't resist a good novel. In 2015, while wait I started to listen to audiobooks and I discovered the pleasure in being able to read while doing my daily tasks, so there's always an audiobook playing on my phone. If you see me with my Bluetooth headphones on, please be gentle, I get easily startled.
I live with my boyfriend, which I met during my six-year stay in Belgium, four cockatiels, eight lovebirds, and a hamster in Madrid, Spain; and I like to spend my free time knitting and sewing while listening to audiobooks.