November Rain (Bad Bloods, #1)
by
Shannon A. Thompson
Narrator:
Jonathan Johns
Series:
Bad Bloods #1
Published by
Clean Teen Publishing
on 09-12-17
Genres:
Dystopian
,
Science-Fiction
Length:
5 hrs and 15 mins
Format:
Audiobook
Source:
Audiobookworm
Buy on Amazon/Audible
Goodreads
Overal Rating:
Seventeen-year-old Serena isn't human. She is a bad blood, and in the city of Vendona, bad bloods are executed. In the last moments before she faces imminent death, a prison guard aids her escape and sparks a revolt. Back on the streets determined to destroy her kind, Serena is spared by a fellow bad blood named Daniel. His past tragedies are as equally mysterious as her connection to them.

Unbeknownst to the two, this connection is the key to winning the election for bad bloods' rights to be seen as human again. But Serena is the only one who can secure Vendona's vote. Now, Daniel must unite with her before all hope is lost and bad bloods are eradicated, even if it means exposing secrets worse than death itself. United or not, a city will fight, rain will fall, and all will be threatened by star-crossed love and political corruption.
In the year 2089 bad bloods are hunted and killed in the electric chair. They live in groups called flocks, but from the initial four, only two remain: the Northern and the Southern flocks. Serena is one of these bad bloods who, helped by a stranger, gets to escape the electric chair. She will be decisive in the future of all the bad bloods.
The premises of this book were really interesting. Young people with special powers, chased and outcasted by the society. We have two main characters in this story: Serena and Daniel. Both are strong willed, courageous, and strong. And they put their flocks' well-being over their own.
There are quite a great amount of secondary characters, which totally blended into each other for me. We got some brief information about each one, but not enough to make them distinguishable.
The book is written in first person, with alternating POV. Each chapter is narrated from the point of view of either Serena or Daniel, and it is mentioned which one at the beginning of the chapter, something that helped.
It is a character driven story, something I usually enjoy, but I missed some world building. We are in the year 2089, but we have no information about the technology available to the regular people or the bad bloods. We also don't know how the city of Vendona is, whether people live in houses or large buildings. We essentially know nothing apart from the fact that there is political tension due to the bad bloods. Even this 'war' between flocks is not even explained. It is clear that it is an important fact in the story, but I have no idea why. Somebody would think that it would be useful to join each other, or at least try not to kill each other.
Unfortunately all this questions are not answered, because the book is in fact just half of the story. It is not that the book ends on a cliffhanger, it is just that it feels unfinished, like if the book was divided in two.
Jonathan Johns delivered a wonderful narration, subtle but also loaded with emotion. His characters' interpretations were masterful, and his tone kept my attention throughout the book. It would have been perfect if the book was not written with changing POV. This book would have benefited from dual narration, since one of the characters is male and the other is female. Somehow it was confusing having both parts narrated by the same person, and I had to pay extra attention to know who was talking. It was good that the chapters started with the character's name, but if I paused my player in the middle of a chapter, whenever I came back it took me some time to realize who was talking.
I received this audiobook as part of my participation in a blog tour with Audiobookworm Promotions. The tour is being sponsored by Clean Teen Publishing. The gifting of this audiobook did not affect my opinion of it.
Author Bio:
Shannon A. Thompson is a young adult author, avid reader, and a habitual chatterbox.
As a novelist, poet, and blogger, Thompson spends her free time writing and sharing ideas with her black cat, Bogart, named after her favorite actor, Humphrey Bogart. Her other two cats bring her coffee. Between writing and befriending cats, Thompson graduated from the University of Kansas with a bachelor's degree in English with an emphasis on creative writing, and her work has appeared in numerous poetry collections and anthologies. Represented by Clean Teen Publishing, Thompson is the best-selling author of the Timely Death trilogy and the Bad Bloods series. When she is not writing, she is climbing rooftops, baking cookies, or watching KDramas in the middle of the night, often done with her cats by her side.
Narrator Bio:
Jonathan Johns is a professional audio book narrator, voice actor and family man.

As an audio book narrator he spends most of his time in front of a microphone spouting written words into Audacity. In his spare time he looks after his daughter Aria. He is currently recording all his audio books in Aria's bedroom! Jonathan is known for his character work and spends far too much of his time using other characters voices in daily life. He currently has over 20 audio books to his name and has voiced hundreds of characters in them (all with varying degrees of success!). Be it Male, Female, American, British, Elderly, Youthful or anything in between, Jonathan has a voice for you.
Giveaway:
November Rain Giveaway: Clean Teen Publishing Mystery Box

Schedule:
Nov. 19th:
Dab of Darkness Audiobook Reviews
Nov. 20th:
Nov. 21st:
Nov. 22nd:
Nov. 23rd:
Nov. 24th:
Nov. 25th: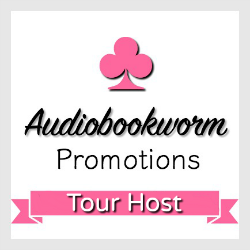 ➜Sign up as a host here
| | |
| --- | --- |
| Story (Plot) | |
| Narration | |
| Overall: | |
My name is Elena. Since I was a little child I loved science fiction and fantasy, and I can't resist a good novel. In 2015, while wait I started to listen to audiobooks and I discovered the pleasure in being able to read while doing my daily tasks, so there's always an audiobook playing on my phone. If you see me with my Bluetooth headphones on, please be gentle, I get easily startled.
I live with my boyfriend, which I met during my six-year stay in Belgium, four cockatiels, eight lovebirds, and a hamster in Madrid, Spain; and I like to spend my free time knitting and sewing while listening to audiobooks.