Author: Shéa MacLeod
Narrator: Yvette Keller
Length: 4 hours 47 minutes
Series: The Viola Roberts Cozy Mysteries, Book 1
Publisher: Shéa MacLeod
Release date: Aug. 29, 2016
Genre: Cozy Mystery

Synopsis
Sassy, snarky Viola Roberts quit her boring accountant job to pursue her dream of writing novels, even if it meant eating ramen noodles every day. Now that her career has taken off, she's headed to a writers' conference at an exotic Florida resort complete with white-sand beaches and swaying palm trees, where she plans to lounge in the shade drinking frosty beverages with little umbrellas. And, of course, no sojourn to tropical climes would be complete without her boozy, wise-cracking best friend, Cheryl.

When Viola discovers the diva of the author world dead (as a doornail) of unnatural causes, the police immediately consider Viola their prime suspect. But when the head detective turns a gimlet eye on Viola's best friend, the author has had enough! Along with help from hunky fellow writer Lucas Salvatore, Viola is determined to ascertain who killed the corpse in the cabana before she or Cheryl winds up in jail. Or worse.

Viola Roberts cozy mysteries:

The Corpse in the Cabana
The Stiff in the Study
The Poison in the Pudding
The Body in the Bathtub
The Venom in the Valentine
The Remains in the Rectory
The Death in the Drink
Buy Links

Author Bio
Shéa MacLeod writes urban fantasy post-apocalyptic sci-fi paranormal romances with a twist of steampunk. Mostly because she can't make up her mind which genre she likes best so she decided to write them all.
After six years living in an Edwardian town house in London just a stone's throw from the local cemetery, Shéa headed back to her hometown of Portland, Oregon. She plans to live out her days eating mushroom pizza, drinking too many caramel lattes, exploring exotic locales, and avoiding spiders.
Shéa is the author of the Viola Roberts Cozy Mysteries and the bestselling Lady Rample Mysteries.
Narrator Bio
Yvette Keller's first job as a narrator was reading aloud to keep her little brother out of trouble. Her favorite party trick is reading words upside down. Little kids need to see the pictures. Yvette lives in her beloved home town of Santa Barbara, using a lifetime of vocal stamina in her home studio. She produces technical VO industrials for Mesa Steps Consulting clients in addition to audiobooks. A lifetime of reading and speaking has proven one thing: Yvette loves stories. She is thrilled to be making books accessible and engaging through her narration work.
Schedule
THE CORPSE IN THE CABANA
May 9th:
May 10th:
May 11th:
May 12th:
May 13th:
May 14th:
May 15th:
THE STIFF IN THE STUDY
May 16th:
May 17th:
May 18th:
May 19th:
May 20th:
May 21st:
May 22nd:
THE DEATH IN THE DRINK
May 23rd:
May 24th:
May 25th:
May 26th:
May 27th:
May 28th:
May 29th: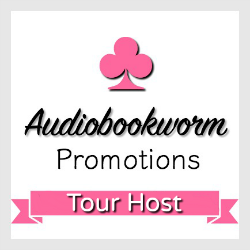 ➜Sign up as a host here
My name is Elena. Since I was a little child I loved science fiction and fantasy, and I can't resist a good novel. In 2015, while wait I started to listen to audiobooks and I discovered the pleasure in being able to read while doing my daily tasks, so there's always an audiobook playing on my phone. If you see me with my Bluetooth headphones on, please be gentle, I get easily startled.
I live with my boyfriend, which I met during my six-year stay in Belgium, four cockatiels, eight lovebirds, and a hamster in Madrid, Spain; and I like to spend my free time knitting and sewing while listening to audiobooks.