Author: Sandra Kyle
Narrator: Kelley Hazen
Series: DIY, Book One
Length: 8h 14m
Publisher: Sandra Kyle
Released: June 27, 2017
Genre: Contemporary Fiction

Synopsis:
Vanessa moves to Savannah to pick up the pieces of her once very certain existence after her fiancé cheats on her. An independent and self-sufficient accountant, Vanessa also has a knack for DIY. When she purchases a ramshackle property in need of repair, she crosses paths with Daniel, a sexy and skillful carpenter. Daniel is a ladies' man who plays the field and has his own romantic issues to conquer. As Vanessa embarks on a journey to embrace her new community and rehab her new home, she enlists Daniel's help. Tackling the house is the easy part, but can two do-it-yourselfers find a way to work together to fix their love lives as well?
Buy Links:



Author Bio:
Born to Italian parents, Sandra is a "first generation" American. Her parents came to America in search of a better life. Along with their dreams they brought with them wonderful tales that Sandra recalls told time and time again around the kitchen table.
Though not sure where her love of writing originated, she can admit to having penned stories (i.e., fanfic) about New Kids on the Block back in the late 80s – scribbling pages and pages in notebooks shared before school by lockers and passed in between classes. It was fiction that included classmates and heartbreaking romance only a teenage girl filled with unbearable angst could summon.
An avid movie lover and introvert, she reads anything from Austen to King. She is an east coast gal and currently resides (when not immersed in the fictional worlds that occupy her headspace) with her husband and bipolar feline.
Narrator Bio:
Kelley Hazen is an actress, blogger and audiobook narrator living in Los Angeles with her husband and their two awesome dogs. The Los Angeles Times describes Kelley's work – "…listen to Kelley Hazen, so poised and well spoken, so in command of this room full of strangers you wonder why she isn't off winning Oscars…." Kelley received recognition from Audible.com as 'Best New Audiobook Talent'. She twice received the Audiofile Magazine 'Earphones Award' for her narration. She holds an MFA from The Asolo Conservatory for Professional Actor Training. Kelley isa lecturer in astronomy for the world-renowned Griffith Observatory. She was recently invited to participate in "A Celebration of Mark Twain" as part of the annual HEAR NOW Festival in her hometown of Kansas City, MO. Kelley owns and operates Storyteller Productions, an intimate, boutique, recording studio carved into a San Gabriel Mountain hillside.
Audio Excerpt:

Giveaway:
A Building Passion Giveaway: $25 Amazon Gift Card

Schedule:
Aug. 16th:
CGB Blog Tours
The Literary Apothecary

Aug. 17th:
What Is That Book About?
The Book Junkie Reads
Aug. 18th:
Jazzy Book Reviews
The Bookworm Lodge
Aug. 19th:
Between the Coverz
Aug. 20th:
Up 'Til Dawn
Lomeraniel
Aug. 21st:
Bookwormerz
Lynn's Romance Enthusiasm
Aug. 22nd:
The Book Addict's Reviews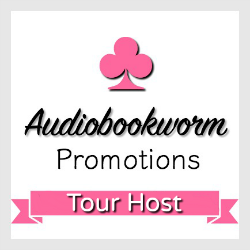 ➜Sign up as a host here
My name is Elena. Since I was a little child I loved science fiction and fantasy, and I can't resist a good novel. In 2015, while wait I started to listen to audiobooks and I discovered the pleasure in being able to read while doing my daily tasks, so there's always an audiobook playing on my phone. If you see me with my Bluetooth headphones on, please be gentle, I get easily startled.
I live with my boyfriend, which I met during my six-year stay in Belgium, four cockatiels, eight lovebirds, and a hamster in Madrid, Spain; and I like to spend my free time knitting and sewing while listening to audiobooks.