Author: S.M. Blooding
Narrator: Kalinda Little
Series: Whiskey Witches, Book 2
Length: 9 hours 17 minutes
Publisher: Whistling Book Press
Released: Jul. 5, 2017
Genre: Supernatural Thriller

Synopsis:
Going back to Denver should have been easy. Old life. Old routine. Ten kinds of "all good." However, with her gifts open, the paranormal world isn't going to let her have that easy life. It turns out her partner of the last five years is a vampire and has been for several decades. He's also the regional paranormal protector. So when a few shapeshifters go missing, he gets the case. But there's also a demon killing those shapeshifters, a demon she can't hunt because she's still an open target for possession. Not to complicate matters, Dexx isn't about to let Paige out of his sight. Bringing a demon hunter to a shapeshifter party only makes things that much more interesting. But when he gets bitten, the entire game changes.
Buy Links:


Author Bio:
Frankie lives in beautiful Montana with her Darling Dork, his two part-time girls, and their cat, Tesla. She enjoys creating with her wonderful husband, doing everything from crochet, to sewing, to art, and, of course, writing. She's lived a pretty colorful life, giving breath to her stories.

She's dated vampires, werewolves, sorcerers, weapons smugglers, U.S. Government assassins, and slingshot terrorist. No. She is not kidding.
Narrator Bio:
Kalinda Little is a 28 year old web developer who started playing around with audio and never stopped. Currently based out of Portland Oregon, she has spent time all up and down the West Coast, including several years is Ashland where she worked backstage at the Oregon Shakespeare Festival. She is a chapter leader for the Nine Bridges Writers, a nonprofit that aims to assist and support writers in all genres, by providing resources and critique.

While she only started recording professionally in April of 2016, she had over two hundred hours of amature recording and editing available before that point. To date, she has narrated 27 books, with another 3 set to come out before the end of 2017.

Giveaway:
Whiskey Witches Giveaway: 3-Month Audible Membership

Schedule:
Whiskey Witches, Book 1
Oct. 29th:
Dab of Darkness Audiobook Reviews
Oct. 30th:
Oct. 31st:
Nov. 1st:
Nov. 2nd:
Nov. 3rd:
Nov. 4th:
Blood Moon Magick, Book 2
Nov. 5th:
Dab of Darkness Audiobook Reviews
Nov. 6th:
Nov. 7th:
Nov. 8th:
Nov. 9th:
Nov. 10th:
Nov. 11th: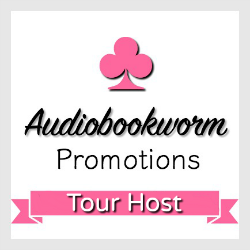 ➜Sign up as a host here
My name is Elena. Since I was a little child I loved science fiction and fantasy, and I can't resist a good novel. In 2015, while wait I started to listen to audiobooks and I discovered the pleasure in being able to read while doing my daily tasks, so there's always an audiobook playing on my phone. If you see me with my Bluetooth headphones on, please be gentle, I get easily startled.
I live with my boyfriend, which I met during my six-year stay in Belgium, four cockatiels, eight lovebirds, and a hamster in Madrid, Spain; and I like to spend my free time knitting and sewing while listening to audiobooks.